We had the opportunity to fly business class on Qatar Airways's gigantic A380. While time is limited for these monsters of aerospace engineering, there's still no sign of these plane's retiring anytime soon on the inside. Here's what we thought to our 11-hour 30-minute flight on the best business class product in the sky:
Flight Details
Flight No: QR901
From/To: Perth (PER) to Doha (DOH)
Final destination: Oslo
Departure time: 23:05
Aircraft: A380-800
Ticket Class: Business
Seat: 16k
Flight time: 11 hours 20 minutes
OneWorld Tier Points: 140
Check-in & Fast Track
Qatar Airways has dedicated check-in desks and staff at Perth Airport. Check-in at Perth was efficient with lanes for business and first passengers, with little in the way of queues. We weren't directed through any fast-track security, although lines moved quickly.
Lounge
Qatar Airways use the Qantas lounge at Perth Airport. It was empty when we arrived, but got very busy before we left because Qantas and Cathay Pacific flights were leaving shortly after ours. From the decor, the lounge felt relatively new. Food was provided in the form of a limited, but average quality buffet – one of us ladled out the Laksa soup only to find it was stone cold. We quickly aborted and stuck to the cheese and biscuits (and wine, of course). A selection of hot and cold beverages were available, but more importantly there were 3 red and 3 white wines on offer, alongside a selection of beers and spirits. The lounge had toilet facilities inside and also sported a couple of showers. Arriving early meant we were able to grab a quick rinse without much of a wait. The facilities were of a good standard with soaps and towels provided, but likely to be insufficient when the lounge is busy. Overall, not a bad lounge to spend an hour or two, but not somewhere we'd like to be stuck any longer!
Boarding
After boarding was announced in the lounge, we were quite disappointed to arrive at the gate to find it hasn't started. Fortunately, the wait wasn't too long and we managed to avoid a crush at the gate by being efficiently filtered into a priority lane – we were in boarding group 1 after all! We boarded the aircraft through an air bridge directly onto the top deck of the aircraft, where we were greeted by the familiar burgundy uniform and welcoming smile. We were shown to our seats and left to settle in. After receiving a glass of champagne, amenity kit, food and wine menus, and pyjamas – which they offered in medium and large sizes – it was time to buckle-up for take-off and decide what food and drink we would order.
Aircraft Configuration
Aircraft type: Airbus A380-800
Number of classes: 3
Number of seats in flying class: 48
Position: Top deck, just behind first class (8 seats). The entirety of the lower deck is economy… 461 seats!!
Amenity Kit
Brics is still in-vogue on the Qatar Airways long-haul routes. We didn't get one of the original hard-shelled mini cases on this route; instead we got a soft, zip-up version of pouch. Inside the designer leather-effect, zip pouch was a selection of Castello Monte Vibiano Vecchio (nope, me either) cremes and sprays aimed at making you feel a little more refreshed, even if you don't look it. It also contained the necessary eye patch, ear plugs and socks. What we also like about Qatar is additional amenity items such as razors, toothbrushes and toothpaste being available in the onboard toilets.
Seat
The business class seats were the reverse-herringbone type (Collins Super Diamond), now standard on all their 787s, A380s, and their early A350-900s. Seats were lie-flat and all aisle access, in a 1-2-1 configuration. Because of the flight times, we opted for window seats and sat one behind the other. This decision did affect our food service negatively – read on to find out more.

Because we were up on the top deck, it was particularly quiet, with little engine noise and zero vibrations through the seat – something we have a habit of noticing when flying right on the wing. Entering the seat, there was approximately 2ft of space between the base of the seat and the back of the seat in front. The low arm rest increases the accessibility of this seat type from the aisle. One thing we also like about this seat is the ease in which you can exit it during meal service – you can push the tray table back and slide out to the side without the risk of a single spillage. The seat converted to a lie-flat bed at the touch of a button; the mattress topper, and duvet were super comfortable, although the pillow was insufficient. Luckily, there were spare seats in the cabin, so we "acquired" those pillows. Storage was sufficient, with a decent-sized ledge along one side, a compartment under the armrest, and a little drawer for your shoes. Overhead bin storage easily provides room for 3 carry-on bags per seat.
What is the best seat in this cabin? Well, not in the middle unless you want disjointed service. Don't sit too near the back of the cabin as you're closer to the bar and toilets. Our suggestion is any seat on Row 12. See the seating plan on SeatGuru.
In-flight Entertainment
The In-flight Entertainment system on the flight was a large, highly-responsive touch-screen display that didn't have to be folded away during take-off and landing, thereby offering a gate-to-gate entertainment experience. The movie list was fairly exhaustive, with 20+ recent Hollywood releases, complimented by back catalog of nostalgic classics. TV on flights can be a tricky one, as taste is far more region-specific. That said, there were your usual American sitcoms, natural history documentaries, and kids content. There were also 20+ audio channels.
The Qatar noise cancelling headphones were reasonably good at removing cabin noise, and can help to ensure a quieter sleep. They were, however, rather uncomfortable after a couple of hours wear.
Drinks Service
Wine time! Opening the drinks menu for the first time has to be one our favourite moments on any Qatar Airways flights. Have they changed their champagne? Where will the Sauvignon Blanc be from? Will it be a St Emilion or will this be the rare flight with a Pomerol?
Within seconds of receiving the menu we had our answers and discovered we'd be getting a Marlborough NZ Sauvignon Blanc and a Pomerol! It wasn't all cause for celebration, though.
Lallier (£30 bottle) and Atair Rosé (£23) were both a step down, both in price and taste, from the Lanson we drank on the last trip -although nowhere near as bad as the Drappier fizzy vinegar they tried serving in 2017. Champagne is currently QR's weak spot in onboard dining. Suffice to say, we limited ourselves to one glass before take-off, then focused on the rest of the wine list. We also considered some food to accompany it…
At this point, we have to mention the bar tucked behind the business class cabin; what a fabulous way to waste space on an A380! We say this only because some airlines have wasted space in far less fabulous ways (see Asiana's lounge room) Honestly, the bar is such nice place to grab an aperitif or just hang-out and chat while the cabin is sleeping. Cocktails and canapés served alongside the usual drinks menu. We had an Old Fashioned and Bloody Mary. Delicious.
Food Service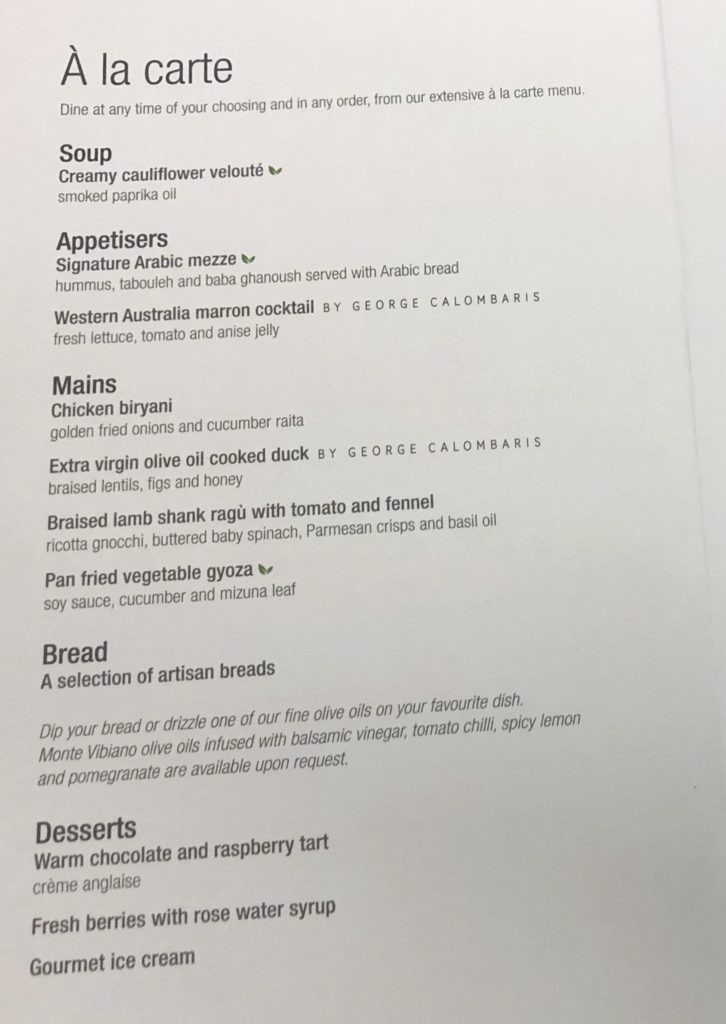 As it was a late night flight the meal service was dinner/breakfast, with dinner being served approximately 90 minutes after take-off and breakfast starting about 2 hours before landing (the final food being offered one hour before landing). Shortly after take-off, when the crew were released, they came to our seats to take our drink and dining orders. Sometimes the crew on smaller aircraft manage this before take-off, but we suspect the sheer size of the A380 business cabin made it near-impossible for them to achieve this with all passengers.

The menu on this route was thankfully different to other routes we've recently flown with Qatar Airways. Alongside the rather pervasive Arabic Mezze were guest dishes from Australian chef George Calombaris. Having not eaten Marron before, let alone on a plane, there was no chance we were going to pass-up the opportunity! The verdict? Slightly chewier than lobster; one of us gave it a big thumbs-up while the other is still entirely undecided! The Spier South African chardonnay made for tasty pairing.
The duck, lentils, figs and honey main course was exceptionally good, especially when paired with the Baily & Baily Shiraz. We ended with the warm chocolate and raspberry tart, which came with a very light creme anglais. As with all Qatar Airways flights, we found the wines easy to pair the with the food – a sign a lot of thought goes into the menus. Finishing our wine with a movie, we did what we both do at this point on a Qatar Airways flight… Pass out! Because of this habit, we always ask the crew on the night flight help us make our bed straight after dessert, which they're always happy to do as it signals that we won't be needing their service for a while!

As this point, we need to call out the service of the meal. One of us was being served dessert at the same time the other was just having starters cleared. While we fully-appreciate service must be staggered, we hadn't bargained for the cabin being split in half right between our seats. Both halves were served front to back, so while my traveling partner in 17K was cleared and drifting off to sleep, I was still finishing my main. In future, we'll make a point of avoiding the rows midway along the cabin, or sit either side of the same aisle.

After some much-needed sleep (hopefully not too much snoring), the crew kindly woke us for some breakfast before we landed in Doha.
Qatar Airways will stick to the rule book when it comes to breakfast, making sure they can cater to the morning habits of most. The granola with yoghurt and granola always hits the spot here. You can be sure whatever you order comes with a selection of mini pastries, butter, jam, and marmalade. The warm course is almost always includes an omelette/sausage plate. What caught our eye on this flight was the abundance of veggie options, a crowd often consigned to the special meal service, but very well catered for here.

If you're not a breakfast eater or prefer your sleep, the good news is that coffee is good and served until about 30 minutes before landing.
Arrival
After a long taxi to the stand, the arrival at Doha Hamad International airport was typically efficient; an air bridge was connected from the top deck straight into the terminal. An added bonus with connections at Doha is you don't have to clear immigration when transiting. We breezed through Premium Passenger Security and directly up the lift into the Al Mourjan lounge. There, we headed straight for the sandwich bar area at the back to top-up the champagne levels, freshen-up, and idle the short wait on the free the WiFi.
BGI Verdict
This was the third sector in a round-trip journey to Australia that originated in Oslo. Why Oslo and not London? It was 40% cheaper to depart from Oslo than London Heathrow or Gatwick airport! We spent a small number of BA avios points to fly to Oslo. You can read about the rest of our flights on this trip on our blog.
Overall, it was good hard product and rarely would you ever feel a bump in flight. The air filtration and conditioning weren't as good as the A350, so we still arrived feeling like we'd had 50% of the moisture sucked out of us. The seat was comfortable to lounge in, but a better pillow is needed to make it a truly comfortable bed. The big let down on Qatar A380 is service. The crew work incredibly hard but they always seemed to be on the back foot in a cabin of 48 demanding passengers. It's a recurring theme on A380 and should really be addressed.

It's easy to become complacent, though. Qatar Airways offer the best business class product in the skies and comparable only to first class products on other airlines. With the cabin space, extra large WCs, and a premium bar allowing you to relax away from your seat, business class on Qatar Airways A380 is still one we'll fly again.
BG1 Tip
Not only is the cabin so big that they split it left and right, they also split service front and back. This means the person you're flying with may eat at different times. To avoid this, try not to sit halfway along the cabin, or on opposite aisles. If you and a companion find yourself in rows 16/17, or in the middle two seats (E and F) let the cabin manager know you want to dine together before they start service.
Be sure to make time for the bar, don't order a post take-off drink at your seat. Instead, tell the crew to come and get you from the bar when dinner is ready and have a pre-dinner aperitif getting to know your fellow passengers in one of the snazziest bars in the air.