Embarking on our marathon journey to Perth, we boarded a brand-spanking-new Qatar Airways Airbus A350 at Oslo Airport, bound for Doha's Hamad International Airport. Here's what we thought to our 7-hour flight on a much-hyped aircraft and in the world's best business class.
Flight Details
Flight No: QR0176
From/To: Oslo (OSL) to Doha (DOH)
Final destination: Perth
Departure time: 16:10
Aircraft: A350-900
Ticket Class: Business
Seat: 3E
Flight time: 7 hours
OneWorld Tier Points: 140
Check-in & Fast Track
Qatar Airways had a couple of dedicated check-in desks at Oslo airport that were staffed by a combination of Qatar Airways and Menzies aviation personnel. There were no lines and we were able to pass through a premium security lane with relative speed; although, be sure to discard all liquids BEFORE entering the line or the security staff will get pretty irate.
Lounge
Qatar Airways use the OSL Lounge, which is shared with a number of other airlines and allows paid entry, so can get quite busy. Presenting your invitation to the reception staff actually reveals there are 2 lounges in one. As a Qatar Airways business class passenger, you're permitted to use a separate lounge behind the reception desk available only for business/first class passengers to use. It's quieter and has better food and drink – a cold buffet of crudités, salads, and cheeses, plus a soup station. The open bar had 1 white and 1 red wine, plus a small selection of branded spirits (Vodka, Gin, Whiskey). We did our usual check for ice, tomato juice, tabasco, Worcester sauce, lemon and pepper. They were all present and correct, so we made a couple of punchy Bloody Marys.
Boarding
One thing we like about Qatar Airways is how they get boarding started nice and early. Allowing everyone plenty of time to board avoids crowds at the gate and makes for a much better boarding experience, no matter where you're sitting on the plane. This flight was no exception and boarding commenced 50 minutes before departure. We made our way to the gate about 35 minutes before departure and found no-one but the gate staff. Were we the last?! After being welcomed at the door we turned left under the striking A350 vestibule (which becomes an in-flight help yourself bar area) and were shown to our seats on row 3.
The whole cabin was illuminated in pink, so it seemed appropriate that we ordered a welcome glass of rose champagne with our hot towel. We then saw two other passengers board and the door was closed. Phew, we weren't the last!
Aircraft Configuration
Aircraft type: Airbus A350-900
Number of classes: 2
Number of seats in flying class: 36
Position: 3 rows from the front of the aircraft
Amenity Kit
The amenity kit was a soft, zip-up Bric's pouch that is exclusive to Qatar Airways. Inside was a selection of Castello Monte Vibiano Vecchio cremes and sprays. It also contained an eye mask, ear plugs and socks. Additional amenity items such as razors, toothbrushes and toothpaste, were also stocked in the onboard washrooms, alongside Rituals hand wash, moisturisers, and mist spray.
Seat
The A350 business class seats were the reverse-herringbone type (Collins Super Diamond), now standard on all Qatar Airways 787s, A380s and this, one of their early A350-900s. Seats were lie-flat and all aisle access, in a 1-2-1 configuration. Because if was a daytime flight, we opted to sit together in the middle, so we could dine and chat.

The A350 is a beautifully quiet machine, with little engine noise and zero vibrations through the seat – we notice this on older aircraft, like the 777. Entering the seat, there was approximately 2ft of space between the base of the seat and the back of the seat in front. The low arm rest increases the accessibility of this seat type from the aisle. Something we keep saying we love about this seat is the ease at which you can exit it during meal service – you can push the tray table back and slide out to the side without the risk of a single spillage. You won't be trapped if you have to run-pee! The seat converted to a lie-flat bed at the touch of a button; the crew provide a mattress topper, duvet, pillow, and even cotton pyjamas! As it was a day flight, we didn't do the proper sleep thing and just reclined for a day nap after dinner. Storage around this seat type is good; there's a decent-sized ledge along one side, a compartment under the armrest, and a little drawer for your shoes. Overhead bin storage easily provides room for 3 carry-on bags per seat.
What is the best seat on Qatar Airways A350 business class? Row 3 was great for us; not too close to be affect by the noise from the galley at the front and not too close to toilets and bar in the vestibule area. So, if you want a window seat, take 3A or 3K. If you're traveling together like we were, you might prefer 3E and 3F. See the seating plan on SeatGuru.
In-flight Entertainment
The In-flight Entertainment system on Qatar Airways' A350 business class was a large, highly-responsive touch-screen display that didn't have to be folded away during take-off and landing, thereby offering a gate-to-gate entertainment experience. The movie list was fairly exhaustive, with 20+ recent Hollywood releases, complimented by back catalog of nostalgic classics. TV on flights can be a tricky one, as taste is far more region-specific. That said, there were your usual American sitcoms, natural history documentaries, and kids content. There were also 20+ audio channels.
The Qatar noise cancelling headphones were reasonably good at removing cabin noise, and can help to ensure a quieter sleep. They were, however, rather uncomfortable after a couple of hours wear.
Drinks Service
Qatar Airways is consistent with its wine menu; 3 white, 3 red, 1 dessert, and 1 port and all sitting around the £20-£30 mark. On this flight we were offered:
While we're bigger fans of reds than whites, the Matanzas Creek Chardonnay from Alexander Valley (£30 bottle) and the Laurenz V Charming Gruner Veltliner (£19 bottle) were both excellent.
The champagnes in Qatar Airways haven't been anything to write home about for a while, but there was a slight difference. While we had the standard Lallier (£30 bottle) brut champagne, the Atair Rosé was replaced by the Tattinger Prestige Rose (£40 bottle). It was quite quaffable, so we enjoyed several glasses!
Food Service
There were two meals served on the 7-hour flight to Doha: Dinner about 90-minutes after taking off from Oslo, followed by afternoon tea about an hour before our late-evening landing.
Dinner
Dinner was 3 courses. We started with a amuse-bouche of tuna, followed scallops dressed with shrimps, and paired with the Sauvignon Blanc. The main course was Chicken Kabsa, a traditional Arabian rice dish served with a delicious raita. What it lacked it looks it more than made up for in taste. We paired this with the Astélia Côtes du Rousillion Syrah (£25).
Scallops, shrimp with apple vinaigrette

Amuse-bouche

Chicken Kabsa
After all that, we decided to share a cheese plate and dessert between us, or we'd likely need wheeling off at Doha. We sampled both the Château de Myrat (£20) dessert wine and the Vallado Tawny Port (£29) with this course.
Berries with mint syrup

Cheese board
Afternoon Tea
We love afternoon tea on a plane! British Airways do this exceptionally well in First, although Qatar are giving it an equally good show in their business class. While there were no tiered cake towers or doilies, there were finger sandwiches, scones with jam & cream, bubble, and tea. It was delicious.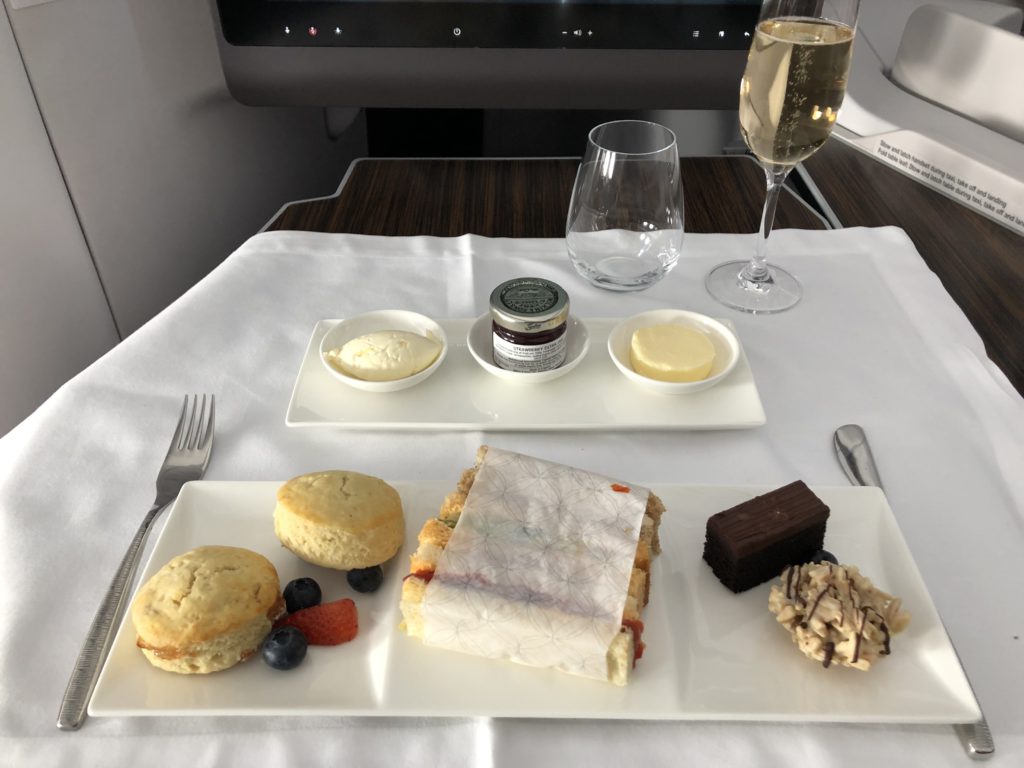 Arrival
With no first class passengers to wait for, we were practically first off the plane and into the terminal via an air bridge. You don't have to clear immigration when transiting in Doha, so we flew through Premium Passenger Security and directly up the lift into the Al Mourjan lounge within 10 minutes. There, we headed up to the first floor buffet restaurant for an Old Fashioned, a glance at the food, and a freshen-up ready for the overnight flight to Perth.
BGI Verdict
This was our first sector on a round-trip journey to Australia. Why Oslo and not London? It was 40% cheaper to depart from Oslo than London Heathrow or Gatwick airport! We spent a small number of BA avios points to fly to Oslo. You can read about the rest of our flights on this trip on our blog.
This was a fantastic flight and a shining example of why Qatar Airways business class is not only the best in the skies, but also the best value. We will be booking more trips on Qatar's A350 business class product soon, especially now that they're rolling out QSuites on them.
BG1 Tip
There are multiple fast track security lanes at Oslo Airport, but only one that Qatar Airways passengers can use. Ask the check-in staff to direct you to it. Grab an extra pillow from the crew before you take-off, one isn't enough!