This was my first flight in a four sector return trip to Sao Paulo. Beginning at London Heathrow, I flew TAP Air Portugal to Lisbon in business class on a fairly new A320 neo aircraft. I'd heard mixed reviews about TAP, particularly their customer service, so I was interested to see if I'd bagged a bargain with the fairly cheap business class fare.
Flight Details
Flight No: TP1351
From/To: London (LHR) to Lisbon (LIS)
Departure time: 08:15
Ticket Class: Business
Flight time: 2 hours 25 mins
Aircraft: CS-TVB
Aircraft type: Airbus A320neo
Number of classes: 2
Number of seats in flying class: 28
Seat: 1F
Position: Front row on right-hand side of the aircraft.
In this review:
Airport Experience
I arrived at Heathrow's terminal 2 just after 6am. The TAP check-in area was quiet. 3 desks were open, one for business and Star Alliance status passengers.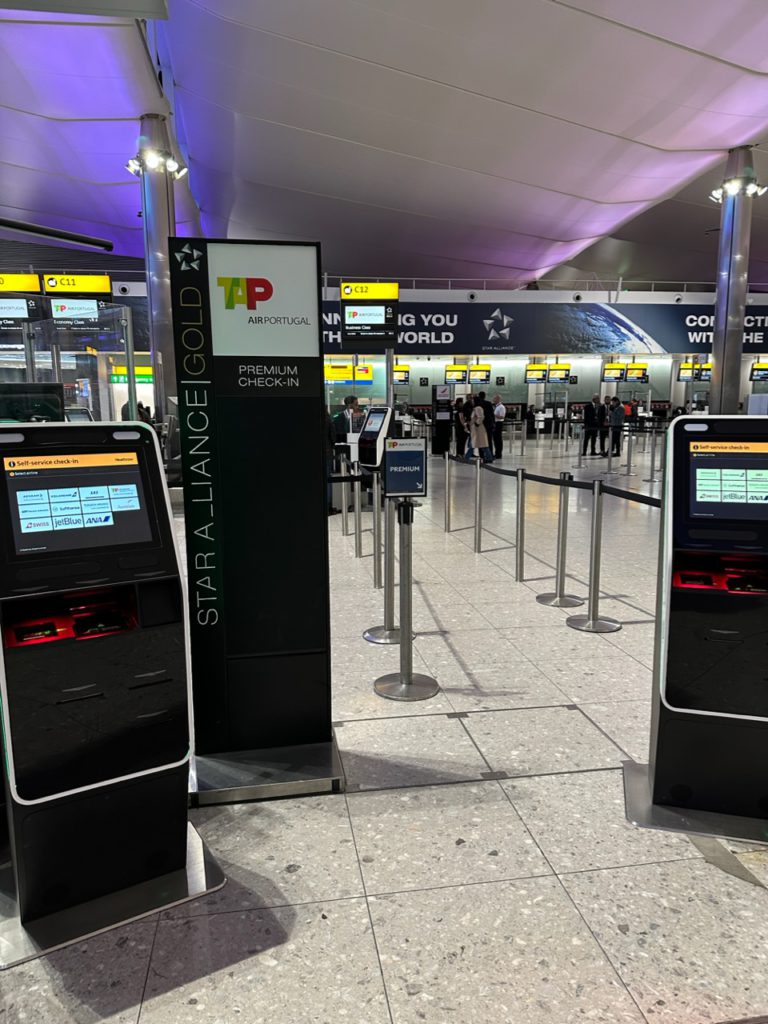 Because I was travelling on a business class ticket, I was able to use the Star Alliance fast track security lane. While there was a queue to pass through, both screening lanes were open and delays were mainly due to unprepared passengers becoming stroppy with the friendly security staff.
The check-in staff had said that TAP flights generally depart from B gates and so I ceased the opportunity for a change of scenery! As a relative newbie to premium travel on Star Alliance, I was excited to try two new lounges on this visit – Singapore Airlines Silver Kris lounge and the Air Canada Maple Leaf lounge. These lounges are located at the B gates, which is a brisk 15-minute walk from the main terminal building. This was too far when I've travelled with Lufthansa and Aer Lingus – their lounges are the main terminal and flights depart from A gates.
Because the Air Canada lounge didn't open until 7am, I headed to the Singapore lounge first. Breakfast was being served, although I just grabbed a coffee as I'd heard the breakfast in the Maple Leaf Lounge was very good. I moved across at 7am and enjoyed the famous waffles shaped like maple leafs, Lavazza coffee and a fresh orange juice.
You can read more details of the Heathrow Silver Kris and Maple Leaf lounges in the dedicated reviews.
Boarding & Welcome
The gate was right next to the lounges. I timed it quite well, arriving 40 minutes before departure and being able to board right away with the premium passengers. Gate formalities seemed organised and efficient. After a short walk down the connected air bridge, I was greeted at the aircraft door by a member of the crew. My seat was immediately on the right side of the cabin.
Like most short-haul business class experiences, no welcome drink or at-seat service was provided prior to take-off.
Seat
The seat in the TAP A320 business class cabin was a standard European business class seat. That is, economy seats in a 3-3 configuration with the middle seat left empty. There wasn't a table or space filler on the empty seat. I sat by the window and another passenger was seated in 1D, adjecent to the aisle.
Legroom was tight because I was sat in the bulkhead – no room to stretch out but perfectly fine for a short hop to Portugal.
The seat reclined a small amount.
A power socket and USB charging socket were located just above floor level under the seat.
There's no storage space above seats 1F and 2F. I had to stow my carry on in the over head bins above row 3. All the space at the front on the right-hand side seemed to be reserved for crew and aircraft equipment. Limited/no overhead storage is becoming all-too common for front row seats in short haul premium cabins. When configuring new aircraft, airlines should consider ways to provide the right storage options for their paying passengers.
Coat hooks on the bulkhead wall meant passengers in row 1 seats could hang a jacket without it getting too close to the food during service.
What is the best seat on TAP A320 business class?
Seats on the left-hand side of the cabin are the same as the right, but there is stowage space above rows 1 and 2. I'd therefore recommend 1A and 2A over 1F and 2F.
See the seating plan on SeatGuru.
Onboard Experience
There was one toilet at the front of the cabin. It was very clean but only stocked with basic paper products. The tap was defective and wouldn't stop running. One toilet for 28 people could become problematic on later flights when more people may be drinking – no issues on this early morning flight though!
The aircraft pushed back from the gate on time and departed from Heathrow's north runway following a very short taxi.
Crew were released 5 minutes after take-off and the seat belt sign was turned off 15 minutes later, only once the aircraft had reached cruising altitude over France!
I used the crew call button once to enquire about a short connection that I needed to make in Lisbon. They were quick to respond and happy to help.
Food & Drink
Service began 25 mins after take-off. A cold breakfast was served on a tray, along with warm bread, tea, coffee, and fruit juices. There was no fresh milk for tea and coffee, only powdered creamer.
The main plate was cheese, quiche, sliced chicken with roasted zucchini and sun-dried tomatoes. It was very nice, especially the fluffy quiche and the cheese.
There was a poached pear that I ate with natural yoghurt – again very good.
The pistachio-topped brownie was perhaps a little bit much for breakfast, but I tried a corner with my coffee. Delicious. Portuguese tart (Pastel de Nata) sadly didn't feature on this flight, but I did get one on the return sector.
Food and drink were served on Vista Alegre china, which is a premium brand in Portugal.
We encountered mild turbulence during the journey, which was too much for my poorly-supported tray table. It bounced around with only the smallest bump. Liquids rarely stayed in their cups.
Once cleared, the crew didn't offer anything else and remained behind the curtain for the majority of the flight.
In-flight Entertainment
Like most European short-haul flights, there was no video or audio entertainment. Bring a book or download content onto your devices before you board the aircraft.
BG1 Verdict
The flight ran to schedule, which I'm told can be a problem with EU connections with TAP. The service was efficient, albeit limited, and the food was good, as far as cold plates go. The seat was standard for EU business class and everything worked as it should. Toilet amenities appear more like economy class. Overhead storage was a problem for the seat I was in. I wouldn't book seat 1F again. TAP business class is comparable to other carriers and have a modern fleet of Airbus A320 aircraft. I would choose TAP business class again for a direct European flight.
On the other hand, arriving at Lisbon airport I discovered what a complete mess I'd descended into. Departure screens aren't in the right places and 10s staff have to stand there pointing you in the general direction of "flights to Brazil or USA". They kept saying "check the screens" but the flight wasn't even displayed on the screens. Unnecessarily chaotic.
BG1 Tip
Avoid seats 1C and 1D as you're partially in the aisle and will keep being knocked by crew and people going to the washrooms. The lounges at Lisbon airport aren't very big and get very busy. The TAP lounge opens at 05:00 and becomes busy by 07:30.
Don't forget to sign-up to our newsletter to get our latest updates delivered straight to your inbox.