This non-stop route between London and Sao Paulo is notoriously expensive, so I was very fortunate to pick up a discounted ticket to fly home direct on LATAM 777 business class. It was my first long-haul flight with LATAM, so I was very excited to experience one of their newest business class products.
Flight Details
Flight No: TAM8084
From/To: Sao Paulo Guarulhos (GRU) to London Heathrow (LHR)
Departure time: 00:31
Ticket Class: Business
Flight time: 10 hours 40 mins
Aircraft: PT-MUJ
Aircraft type: Boeing 777-300ER
Number of classes: 2
Number of seats in flying class: 38
Seat: 5L
Position: right hand side of the aircraft, 5 rows from the front
In this review:
Airport Experience
I arrived very early direct from the office, but was pleased to find check-in already open and accepting bags. There was no obvious fast track security at the airport, but security and immigration lanes were flowing quickly.
LATAM has a large lounge at GRU that offered buffet dining and self-service beer, wines and spirits. There was ample seating in a variety of configurations – dining, lounge, sleep. I even found a quiet sleeping area that contained 4 beds and enabled me to have a 1-hour nap before the flight (it was a long week!)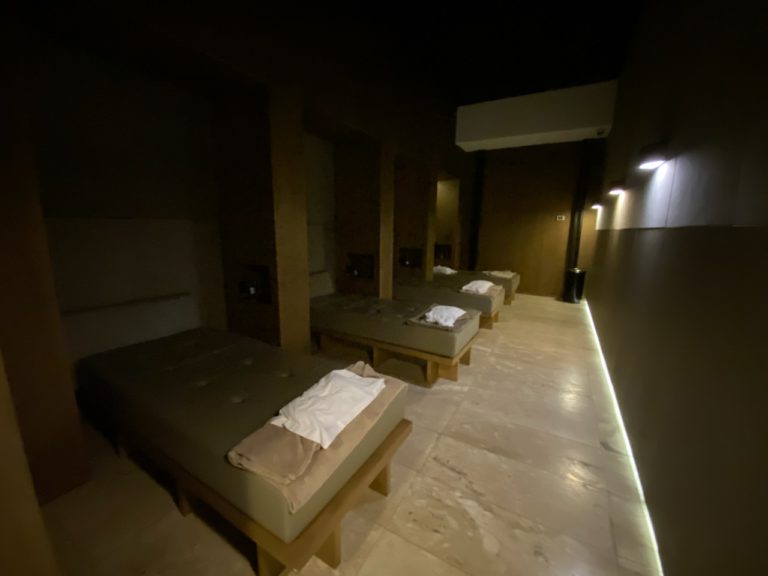 Boarding & Welcome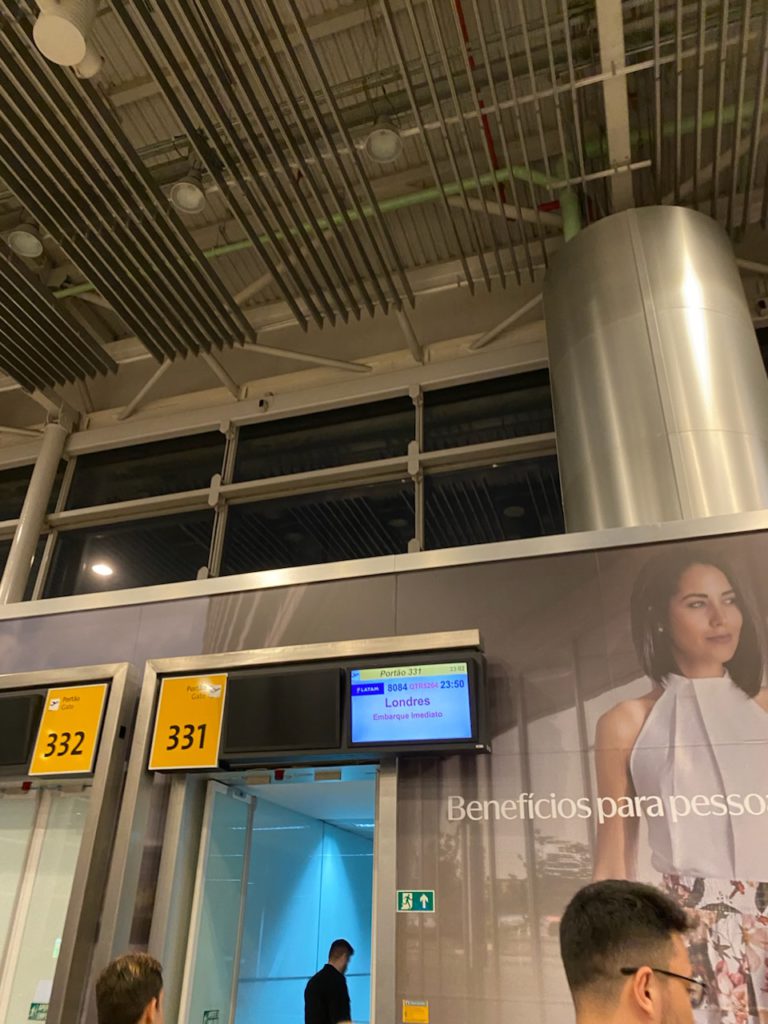 No matter where you are in the world, boarding a LATAM flight is an unnecessary melee. Everyone has a boarding group stamped on their boarding pass, but the gate staff seem incapable of operating an orderly boarding process. Boarding started over 90 minutes on both the outbound and inbound flights, yet the flights still departed (and arrived late). It's the usual scene of crowding around the gate, few audible announcements and long queues down the air bridge and through the cabin.
After being greeted at the door, I found my seat and was left to settle myself. After about 40 mins, a member of the crew came to ask me about my dinner choice. No drinks were offered while the aircraft was on the ground.
Seat
The 777 was fitted with LATAM's latest long-haul business class seats. These are positioned in a 1-2-1 staggered layout. The foot cubby is directly aligned in front of the seat, which allowed me to put my feet up straight.
One noteworthy quirk of this seat was the 3-point seat belt. While it must be worn over the shoulder for take-off and landing, it can be unclipped in flight and worn just as a lap belt.
The seat automatically reclined into a fully flat bed. I was able to grab an impressive 7 hours' sleep on the long 12-hour journey from São Paulo. The hardness of the seat against my boney hips woke me a couple of times, but I quickly dozed off again. The seat topper provided a little extra softness, although more would've helped. Sleep is what I wanted on an overnight service like this one and I think the hard product was almost perfect for this.
There were mains and USB power outlets at the seat.
What is the best seat on LATAM 777 business class?
A seat midway along the forward business cabin is the best choice for the least disturbance on an overnight flight. Anything between rows and 3 and 7 should be fine. Seats on rows 1, 3 and 5 are positioned further back from the aisle and nearer to the window – more privacy and a better view. Seats 3A and 3L are therefore the best.
I'd avoid the rear business cabin as most seats will experience galley and toilet noise. If you're travelling with a companion, try 3E and F or 4D and H.
See the seating plan on SeatGuru.
Onboard Experience
There were 3 business class washrooms – 1 at the front and two at the rear of the cabin. There was some basic hand soap but little else in terms of toiletry products. Paper products appeared to be well-stocked throughout the journey.
Cabin service commenced about 90 minutes after takeoff. By this time, I'd been sat in my seat for 2 and a half hours and hadn't even been offered a glass of water.
Service wasn't great. Everyone was friendly and polite. I just came away with the impression that the cabin crew were simply walking the motions, rather than focused on delivering good customer experience. I think this is an area where the airline should focus its training.
A cheerful amenity kit and slippers were waiting on the seat when I boarded.
Food & Drink
The first drink I received was served from the food trolley. Top-ups weren't offered, so I had to catch a crew member's attention as they came past. The saving grace was the quality of all the wines. Each one I tried was excellent and think LATAM should be commended on the selection, even if the range is on the small side.
I was pleased to see a menu on this flight. LATAM didn't provide one on outbound flight from London, which made for a confusing meal service.
Food was pretty basic and perhaps a little bizarre. The appetiser was a cheese plate – not something I'm used to starting a meal with! It arrived on the tray at the same time as the main, so I opted to eat it at the end.
For main, I had the slow-cooked beef with red wine sauce, which came with puréed carrot and some veg. It tasted OK, but nothing to write home about. I paired it with a delicious Syrah.
For dessert, I opted for a passion fruit ice cream that was served in a mini tub. It was a nice, albeit simple end to the meal.
I feel I should call-out the bizarre speed of service I experienced. There were a lot of crew working the business class cabin, yet they took what felt like an age to serve food. Frustratingly, once the tray was put in front of me then they were trying to clear it away. I lost track of the "I'm not quite finished yet" responses I was forced to give.
Cabin service resumed around 2 hours prior to landing in London.
In-flight Entertainment
I had a large touch screen display that was mounted into the back of the seat in front. There was plenty of movie and TV content loaded onto the system, as well as games and an interactive flight map.
Noise cancelling headphones were supplied.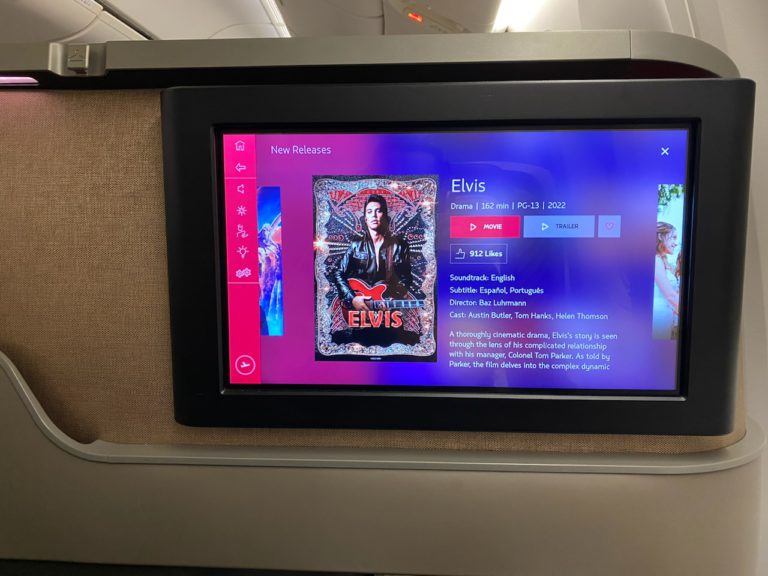 BG1 Verdict
All-in-all, I think this LATAM's 777 business class is a good hard product let down by the soft product. As an airline rated 4-star by SkyTrax, I was quite disappointed by the cabin service and food quality. It was strange to largely be ignored for the first hour of the flight, then see the crew rush through with a trolley before going to hide behind the curtain. Given it was an overnight flight, the seat was the most important aspect for me. LATAM clawed back some credibility with their new lie-flat business class seat, which afforded me a comfortable 7 hours of sleep. In my opinion, the LATAM seat is far superior to the seats on TAP's new A330 neo aircraft.
BG1 Tip
There's no fast track security/immigration at Sao Paulo GRU and lines can get very long at peak times. Arrive early if you want a good amount of time to experience the lounge. You won't be served a drink for a long time after the flight departs – have some fizz in the lounge and bring a bottle of water with you.
Don't forget to sign-up to our newsletter to get our latest updates delivered straight to your inbox.