As direct flight prices between London and Sao Paulo were prohibitively expensive, I decided to take a 4-sector trip with TAP Air Portugal, via their hub in Lisbon. After arriving on an early-morning TAP flight from London Heathrow, I had a very short connection with my lunchtime departure to Sao Paulo in business class on a new TAP A330. This was my first time flying with TAP, so I was curious to see how it would go.
Flight Details
Flight No: TP89
From/To: Lisbon (LIS) to Sao Paulo (GRU)
Departure time: 12:29 (12:00)
Ticket Class: Business
Flight time: 9 hours 37 mins
Frequent Flyer Points: 12,000
Aircraft: CS-TUL
Aircraft type: Airbus A330-900 (neo)
Number of classes: 2
Number of seats in flying class: 34
Seat: 5K
Position: right hand side of the aircraft, 5 rows from the front
In this review:
Airport Experience
I arrived in London on a connecting flight, with only one hour to spare before my onward flight. Due to the limited connection time, I decided to skip the lounge and proceed directly to the gate. I took the following photos at 6am on the return leg. The lounge became unpleasantly full shortly afterwards.
Upon entering the terminal, a staff member directed me to turn left for flights to Brazil and the US. I walked past several gates for other destinations and realized I needed to locate a screen. After searching around corners and behind pillars, I finally found a screen, but my flight information was not displayed. I returned to the gate where I arrived and asked the same staff member which gate I should go to. She responded with, "It's on the screen. You just need to look for it." However, when I informed her that it wasn't on the screen, she ignored me.
Halfway down the terminal pier, I encountered another person with a clipboard. They were more helpful and guided me to a nearby phone to call someone. After confirming my gate, they informed me that it was 44A, which was not displayed on the screen. I was relieved that I asked for assistance.
Boarding & Welcome
The gate area was heavily congested, and there was a fair amount of confusion among the passengers. The premium line passengers were boarded first.
Upon descending several staircases, I realized that it was a bus gate and we would not be boarding directly onto the aircraft. The bus was already full when I boarded, but the staff encouraged more passengers to try and squeeze in. Eventually, they conceded and directed others to an empty bus behind.
After a long wait on the packed bus, the doors were finally closed, and we were driven to the other side of the airport where a modern A330neo was waiting. At the top of the stairs, a gentleman dressed more like a pilot than a cabin crew member curtly directed me to the far side of the twin-aisle cabin.
Although the aircraft cabin looked new, my first impression was that it seemed quite cramped. I quickly located my seat and was able to settle in with relative ease. However, no welcome drink or service was provided at my seat prior to take-off, although a menu was left for me to peruse.
Seat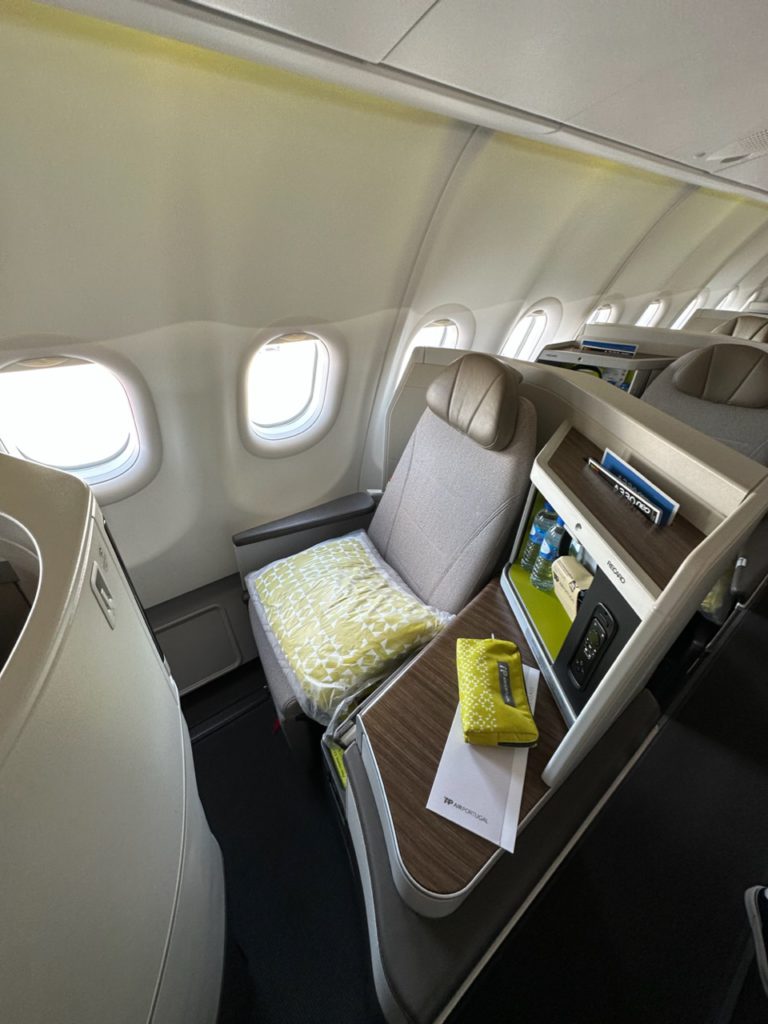 The TAP A330 business class cabin featured a 1-2-1 layout with reverse herringbone Zodiac Cirrus III lie-flat, auto-sliding seats. These seats are also present on Finnair A350s, Delta, Cathay Pacific, Vietnam Airlines, and KLM 787s. They have been known to be a little tight to get in and out of, but passengers of an average height and build should have no issues. However, taller or larger passengers may find the foot well size a bit restrictive while sleeping.
We have previously noted the limited accessibility of these seats for individuals with mobility impairments, and we must reiterate this point again. Although I enjoyed the private experience of being cocooned from the aisle, it does come at the expense of restricted aisle access.
When upright, the seat was very comfortable, much like an armchair, with armrests on both sides. There was no reachable footstool without moving the seat forward, which was not ideal since the TV screen was already too close. However, when I slid the seat fully forward with the controls, I could put my feet on the footrest.
The seat positions were restricted to the presets on the panel, including upright/landing, recline, or lie-flat. I could also raise the footrest or move the seat forward, closer to the screen. However, I found it strange that TAP did not offer a custom recline option like other airlines with this seat, which would have been a better option for lounging and watching movies.
It was possible to get out of the seat with the tray table in use, but I had to be very careful, especially when I had a full tray of food and wine. Therefore, I would not recommend attempting to get out with a full tray.
The overhead bins offered ample space, although they were not as spacious as those on A350s or 787s. There were two small storage compartments around the seat, along with a small netted pocket at floor level.
The seat storage contained two water bottles, which was a nice touch.
Below the floor, there was a mains power socket and two USB charging ports. I could charge my watch and phone simultaneously and store them in a compartment, which was convenient. However, I had to be careful that cables did not get caught in the seat mechanism and potentially damage my devices or expensive cables.
Wi-Fi was offered on the flight with different packages available, ranging from €10 for basic messaging for a limited time to €30 for browsing throughout the flight. However, I chose not to purchase it because the connectivity to the sign-up page kept dropping, which led me to believe that the satellite Internet signal might be unreliable.
What is the best seat on TAP A330 Business Class?
For solo travellers, I'd recommended choosing a window seat on rows 2-7 since they are located away from the high traffic areas of the cabin such as the lavatory and galley. On the other hand, couples who prefer to talk to each other should consider other options. It's best to avoid row 1 since it only has centre seats (no 1A and 1K) and there are no windows on either side of the row. Additionally, this row is located right next to the galley, which may result in more noise and disturbance during the flight.
See the seating plan on SeatGuru.
Onboard Experience
The aircraft was one of TAPs newest, the A330-900 (also referred to as the A330 neo). It's a twin-aisle, wide body jet that sits somewhere between the Boeing 787 and 777 in terms of size. The business class cabin was a single large cabin at the front of the aircraft.
There were 3 toilets for the cabin; one at the front and 2 at the rear before economy class. Passengers were routinely scalded by the crew for waiting in the door areas, or by the galleys. "Can't you use the toilet at the back?!" scalded one crew member, while pointing at the aisles blocked with trolleys. When I could reach them, the toilets were clean and well stocked with paper products. There were no other toiletries, soaps or moisturisers.
The colourful amenity kit was rather basic on the inside, but I was grateful for the facial moisturiser for my winter-chapped hands. It was quite a cheap product and wouldn't recommend putting it on your face.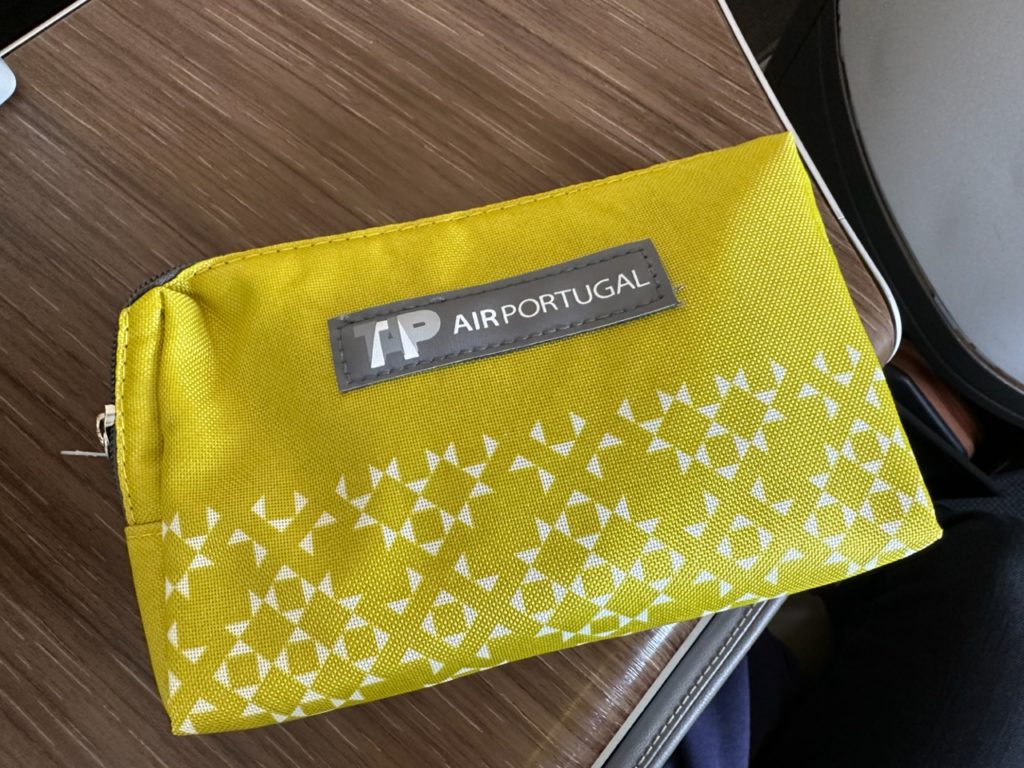 About 15 mins after the crew were released I was asked which main course I wanted. 5 mins later, I was handed a hot towel. The table was then laid for lunch and a trolley service commenced. Despite all this activity, the seat belt sign remained on for 50 minutes after takeoff. This seems to be a consistent
The cabin lights were dimmed and window blinds closed after the first meal service. The lights came on again 2 hours before landing.
Food & Drink
The crew served a drink and nuts trolley a long time after take-off from Lisbon.
Lunch
The octopus salad was a delicious and satisfying portion.
However, the grouper and shrimp dish was a letdown. Although it resembled a typical Portuguese plate, it was off-putting due to an overpowering fishy flavor that suggested poor storage. The jus on the plate was watery, oily, and flavorless, and clashed with the other textures. In fact, everything on the plate seemed to be a jarring combination. It also didn't pair well with the Sauvignon wine, which was strange. I started to feel a bit nauseous and had to ask them to clear it. Fortunately, the beef dish on the return flight was much better, and I will avoid ordering fish dishes on TAP in the future.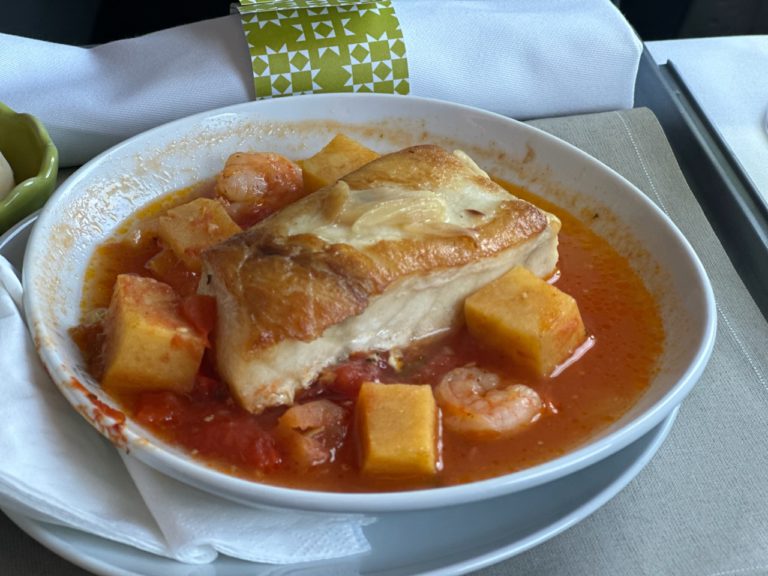 I almost gave up and went to sleep, but I'm glad I didn't because the pear and chocolate dessert was delightful. It was served with a small bowl of fruit and a chunk of Queijo São Jorge cheese, which tasted great with the accompanying crackers and Port wine.
Light snack before landing
The second meal service commenced 90 minutes prior to scheduled arrival.
It included chicken and ham slices, pickled carrots, mini quiches, a cheese plate, and a skewer of mozzarella and tomato. Warm white and brown bread was served on the side, and for dessert, there were Portuguese tarts (pastéis de nata) and fresh fruit. Tea, coffee, juices, and water were available from the trolley. Unfortunately, fresh milk was not offered, so I had to settle for coffee with powdered creamer.
In-flight Entertainment
The entertainment system on board the flight worked well. It offered a range of features to keep passengers occupied during their journey. For instance, the touch screen allowed for easy adjustment of brightness and even offered the option to turn off the screen entirely. The noise-cancelling headphones provided a good audio experience and were comfortable to wear (no headphones feel comfortable after several hours!). Additionally, the selection of movies was excellent, with new releases, classic films, and full back catalogs of popular franchises like Harry Potter, Fantastic Beasts, and Lord of the Rings. The relaxation videos were also a standout feature, featuring mesmerizing aquarium fish and jellyfish paired with calming sounds, perfect for helping passengers drift off to sleep. While there was no external camera feed, an interactive flight map provided passengers with real-time information on their flight's progress.
BG1 Verdict
TAP's experience proves that even with billions invested in a new fleet, things can still go wrong.
As for the service I received, it was functional and polite, but not particularly friendly. I felt like I had to make an effort to receive a smile and not come across as an inconvenience. The female crew members were more approachable than their male counterparts, and it seemed like the older male crew members were struggling to adjust to the shift in passenger expectations, longing for the glamorous heyday of flying. Everyone appeared happier when they were waving goodbye at the door.
While the wine was satisfactory, the food was below average. I rarely have to stop eating something due to nausea, but the main dish served on this flight made me feel that way. I was extremely disappointed that I didn't choose the beef, or that someone would recognize the problem and try to correct it, but no one seemed to care.
Upon reflection, I felt that the crew's job would have been significantly easier if the cabin was not full of irritating, paying passengers.
Furthermore, adding to the chaos was the state of the Lisbon airport, leaving me questioning why I would ever choose to fly with TAP again. Overcrowding in the lounges, at gates and buses to most aircraft are clear indications of an airport not designed for the number of passenger it receives. It reminded me of the old Doha Airport. However, if the price is dirt cheap and you can obtain a connection time of more than two hours, I can see why someone might consider TAP long-haul.
Despite everything, the A330neo is modern and peaceful (but not as good as the A350). The seating is adequate, and the wine is satisfactory. If you can spend less than €50 per hour of flying (~€1200 for a 12-hour round trip), it's probably worth the cost.
BG1 Tip
The TAP Premium lounge at Lisbon Airport isn't big enough for the volume of passengers it receives. You'll experience queues that don't warrant the food served, although the full service bar might be worth it, if you're wanting a drink. Lisbon Airport has a good number of cafes, restaurants and shops – spend your time there instead!
TAP leave their seat belt sign on for a very long time after take-off. Use the toilet and have everything you need beside you BEFORE the aircraft leaves the gate.
Don't forget to sign-up to our newsletter to get our latest updates delivered straight to your inbox.