There are two British Airways Club lounges at the main terminal for passengers travelling in business class from Terminal 5. The British Airways Galleries Club Lounge (as it's officially called) at the south-side of the main terminal is also open to Executive Club Silver / Oneworld Sapphire passengers.
As the home of British Airways, London Heathrow Terminal 5 is dedicated to the airline (apart from the few Iberia planes that use it too). It saw a lot of flights flying in and out of the terminal – 210,723 in 2018, to be exact – and served a grand total of 32.8 million passengers. To cater for these large passenger numbers, British Airways has five lounges dedicated to passengers travelling in premium cabins, or holding Executive Club status.
The five BA lounges at Terminal 5 are: the exclusive Concorde Room, Galleries First Lounge, Galleries Club South and North lounges, and the quiet lounge in satellite B. There are also rumours of a BA lounge opening soon in satellite C.
Reception
Getting to the British Airways Club lounge in the south-side of the terminal was a bit confusing. Most people naturally walk towards the lounge at the north-side of the terminal, as the entrance is clearly visible. To get to the BA lounge in the south-side of the terminal, we had to go down the escalators after security and up again to the second floor. On our way there, we went through the landing where the First Lounge and Concorde Room were (only for First Class and Gold Card holders). Once we reached the second floor we were met by a model A380 and horse with a lampshade on its head. We still don't know the significance of the horse with a lampshade, but it's dotted around the premium lounges. If you're in doubt, follow the signs to "BA Lounge" or refer to the map.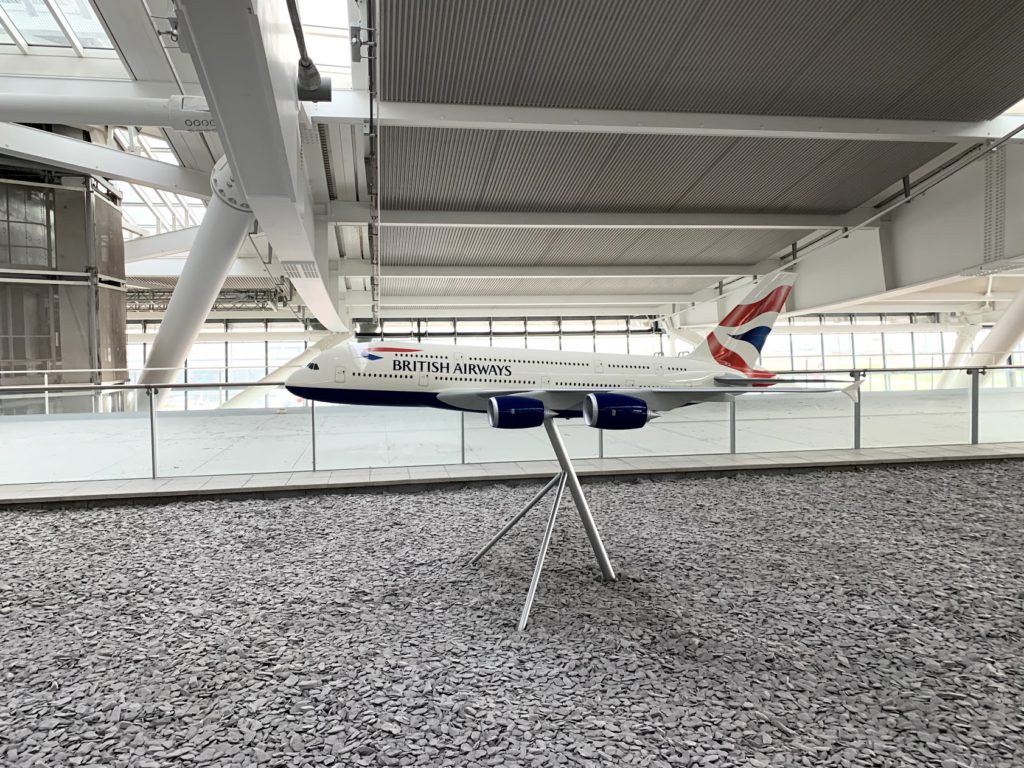 Although the lounge was busy inside, there wasn't a queue at reception. Entry to the lounge was fast and efficient, as there were two open reception desks. We received a polite welcome, before being beeped through. Having travelled through the terminal multiple times, the same thing can't be said for the Club Lounge at the north-sise of the terminal. The queues generally longer, and sometimes snake outside the entrance. If you asked us, we will say it's not a great luxury experience.
Score: 7/10
Comfort
The lounge was spacious, and there were multiple zones and seating areas. On entry, you're met with the buffet and canteen-style tables. There were also multiple work areas, but seating in the lounge was predominantly sofas. If you can find a seat, it's comfortable. Due to the cavernous lounge, it was also quite dark, so we sat by the windows to watch the planes go by and to get some natural light. As you walk around the cavernous lounge looking for a seat, we got a feeling of walking around a large waiting room.
It lacked the feeling of luxury that we've experienced in other business class lounges for BA and other airlines. The lounge was also starting to look quite tired. So we wondered if some of the £6.5 billion investment in customers would benefit from updates to their flagship lounge? Considering it's their Global flagship airport and lounge, it should probably showcase the best of BA.
Score: 6/10
People traffic
Busy airport = busy lounges = high people traffic. We arrived the lounge at breakfast time (~9:00 am) and it was busy. We had to walk around a few times before we found a seat. Of the two business class lounges at Heathrow Terminal 5, the south lounge was better for people traffic. We suspect the South lounge is usually quieter as it's more difficult to reach than the North lounge. We have also visited the lounge in the B terminal, and it was very quiet, perhaps the airline should direct passengers to the lounge to help manage the number of people.
Score: 5/10
Food Options
A buffet of pastries, porridge, cereal, fruit and a small selection of hot food (baked beans, hash browns and bacon rolls) were served to cater for passengers at breakfast time. The food was good and there was enough choice to keep us satisfied. The quality was decent and better than a lot of other lounges we've been to.
If you are travelling around lunch time, expect lunch to be served. Afternoon means afternoon tea, so if you're in the lounge between 15:00 and 18:00, expect to see scones with jam and clotted cream, Victoria sponge and finger sandwiches.
Score: 8/10
Beverage Options
Let's start with the non-alcoholic beverage options… it was 9:00 am when we were in the lounge, so it seemed appropriate. There were a good selection of juices, coffee machines and soft drinks readily available throughout the lounge. If, like us, you fancy something more exciting (and expensive!), a good selection of alcoholic beverages were available too. We all know the rules, the airport is the only place where early morning drinking is acceptable without people frowning! When we were pouring our first glass of Bloody Mary (Bloody Mary challenge ticked – all ingredients were available), other passengers already drinking smiled at us and said "I'm on holiday, it's never too early to start."
A great feature of the British Airways lounge is the free-pour alcohol, readily available to us on a fully stocked self-service bar. However, the choice of champagne/sparkling wine can often be questionable. It's also not readily available; you can only get champers by asking the staff to get it for you from the kitchen. If you're at the lounge and fancy a glass, look out for the staff walking around tidying up the tables – they're the ones to ask. They are usually friendly and will get you a glass or two.
The choice of wines on offer was decent, you usually get a choice of three different types of red or white wines. It's not usual, but when we were in the lounge, we were surprised to see five different types of red wines (cue 9:00 am wine tasting sessions!). A great lounge to start a holiday in!
Score: 9/10
Toilets and Showers
There are ample toilets in the lounge, but even with multiple toilets we had to queue. The high people traffic impacted on the facilities, but the wait wasn't too long, and when we got into the toilets, they were generally clean. There were multiple toilet attendants in the area cleaning as and when cubicles became vacant. Fresh smelling Elemis Botanicals hand soaps and moisturisers were provided for your comfort and cleanliness.
The showers were located on the first floor outside the Elemis Spa. When we visited, there was a big queue waiting to use the showers. The policy was to put your name down and wait until called – the wait was 30 minutes when we asked. The shower was clean and functional, with fresh white towels, shampoo and soap provided, it made showering in the lounge pleasant.
Score: 6/10
WiFi, Power & Productivity
The British Airways Club Lounge at the southern end of the terminal had multiple work areas and great for productivity. Charge points and desks were dotted around the lounge making it easy for those wanting to work. However, the space is open, so taking private conference calls may not be easy. The WiFi connection was stable for emails and video conferencing (↓ 3 Mbps ↑ 1 Mbps)
If you've ever needed to print anything, you'll know how valuable printers are! Well, the lounge offered complimentary access to printers, if you need to print anything urgently.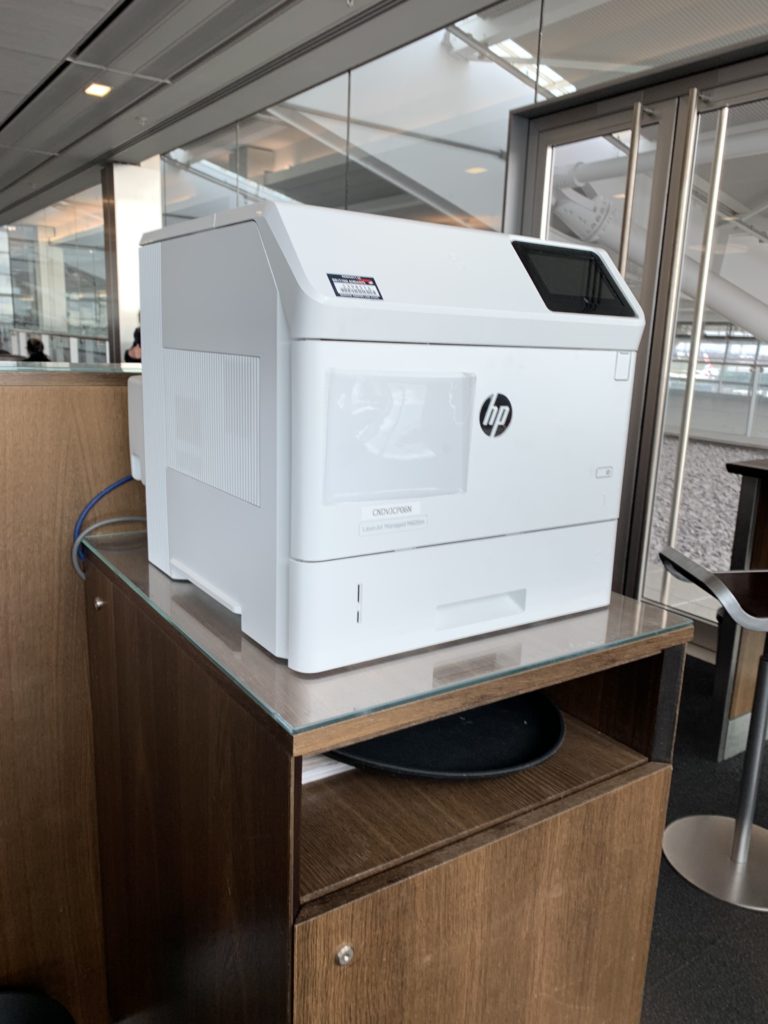 Score: 8/10
Little Extras
The British Airways Club Lounge on the south-side of Terminal 5 was both a functional and comfortable space. It has everything you need before a flight, but lacked some added features of other business class lounges we've been to. We thought the printers were a nice touch, but probably rarely used.
We thought the magazine and newspapers stands, were a nice touch and readily available for your browsing pleasure.
Score: 4/10
BG1 Verdict
Busy, but fully functional with everything you need before you fly. It has a great selection of non alcoholic and alcoholic beverages, enough to have a party with! It lacked the little extras to make it special, and it doesn't showcase the best of BA, considering it's the Global flagship lounge for the airline. So if you've paid quite a lot of money to travel in business class, and want to start your trip in luxury, be prepared to joins others in what might feel like a large waiting room. If you're flying from the satellite terminal B, consider using the lounge as it's quieter and it's easier to get champagne there.
The BA Club Lounge at Gatwick feels a bit more special and spacious, but given Terminal 5 is one of the busiest terminals in the world, it's no wonder the lounge is always busy.
Have you been to the lounge before? What did you think? Comment below as we would love to hear from you.
Total: 50/70 (71%)