After a hiatus from flying Virgin, we decided to give their Upper Class product another try on a London to Boston trip. The ticket included use of the Virgin Atlantic Clubhouse Heathrow, a lounge with a strong reputation for delivering excellent guest experiences. After checking in for our flight at the Upper Class wing, we took a short walk through Terminal 3 to Virgin's Clubhouse. Did it live up to its reputation? We think it surpassed it.
In this review:
Locating the lounge
We had to walk through the terminal to the H area to enter the lounge, even thought we'd checked-in at the dedicated Upper Class wing. This is perhaps one of the few parts of the lounge experience that BA does better. The Gold Lounge can be accessed directly from the First Wing check-in at Terminal 5. It's not a long walk from security to the Clubhouse, but you will need to suffer the duty free shops.
Reception
The Good

Impressive atrium staircase.
2 check-in desks were open and only one person in front of us.
A warm welcome with information provided about the lounge Wi-fi.
The Bad

The desks are right at the top of the staircase. Don't queue down the stairs. There's loads of room at the top so push your way up and stand somewhere safe. Take the lift up if you're uncomfortable walking past those insisting on waiting on the stairs.
We had a warm welcome at the counter. After a quick scan of our boarding cards and being given the Wi-Fi password, we were on our way inside.
Score: 70%
Comfort
The Good

The large space was very well-appointed. Lots of table and lounge seating spread across a number of levels and areas.
Very bright and airy – so many windows affording great views of the apron, tower and north runway. Spotters would enjoy this lounge.
"Acceptable" ambient music played throughout. Volume felt reasonable but might be a little distracting to some.
There was a small, quiet(ish) seating area where the spa used to be.
The Bad

Little in the way of places you could have a quiet nap.
The lounge seemed vast as we walked in. The decor was reminiscent of the heydays of commercial air travel. 60s and 70s airport chic – multi-level, sweeping curves surfaces and seating moulded and inset to the fixtures. It all seemed very cool. As we walked through, we realise there were further alcoves and even a mezzanine level. We doubt this lounge ever feels congested or there not being enough seating for everyone.
Score: 70%
People traffic
The Good

We arrived after the rush-hour of departures to the USA and Caribbean, and found the lounge wonderfully empty!
Plenty of staff to serve.
No flight announcements and plenty of screens to keep track of departures.

The Bad

Hard to grumble about a lounge with more staff than customers.
The quietness meant there wasn't much of a buzz about the place, but that didn't bother us at all.
Score: 90%
Food Options
The Good

Table service with very friendly and attentive servers.
Great variety of dishes on the menu – something for most pallets – delivered from what appeared to be a bustling kitchen.

Children's menu
Duck Bao and the baked cod fillet were very good.
The Bad

There wasn't any grab and go food. Passengers short of time may struggle to eat something.
Eating was very much a sit-down table service affair. No buffet slops in sight! Service was generally quick and courteous, although it was very quiet. The dinning options might not be as great for those who prefer self-service buffets or need a quick grab and go. We thought it was good and almost (but not quite) at same level as the dining experience at the Cathay Pacific First Class lounge.
Score: 70%
Beverage Options
The Good

Full service bar offering a wide range of beers, wines, spirits and non-alcoholic beverages.
The bar passed the Bloody Mary challenge with flying colours!

The Bad

We didn't see any bottles of water we could grab or places to fill a reusable bottle.
Boasting one of the biggest bars we've seen in an airport lounge, Virgin have made their full-service bar the focal point of the Clubhouse.
Score: 70%
Toilets and Showers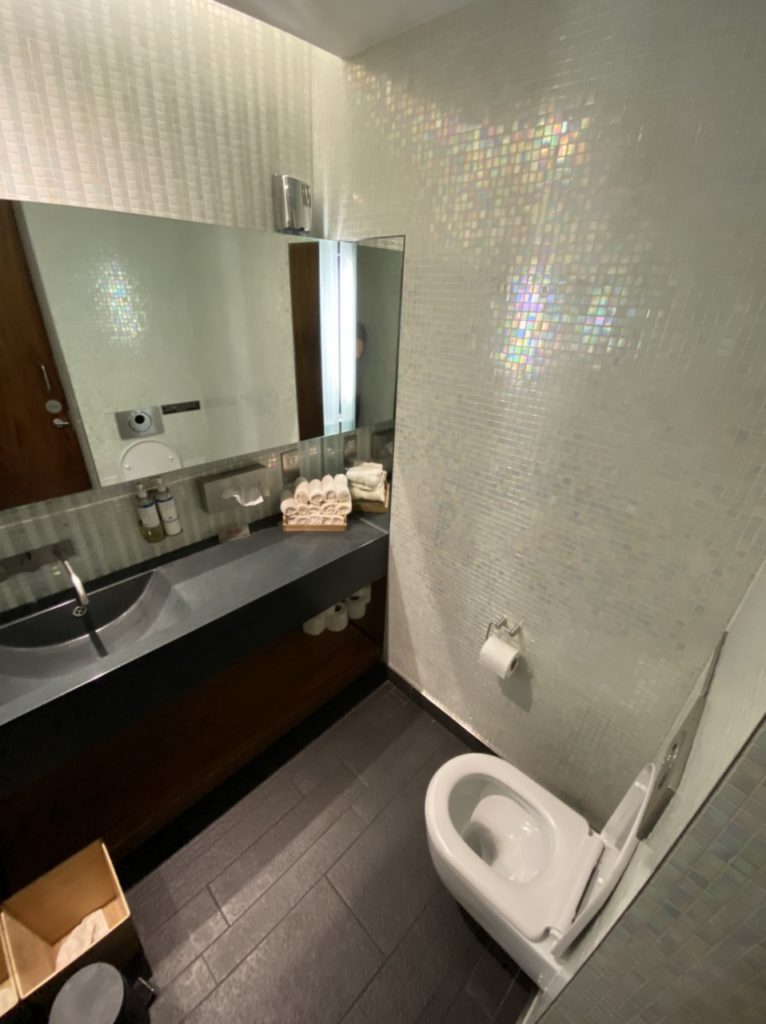 The Good

Nice hand soap and moisturiser.
Fabric hand towels rather than paper ones or hand dryers.
Individual washrooms for each guest.
5 shower rooms at the far end – appeared to be available on a first come first served basis.
The Bad

Limited number of washrooms at the restaurant end, which meant queues could easily form during busy periods. Alternative toilets were at the other end (by the showers).
A faint aroma of "toilet" periodically blew across the seating and dining areas near the toilets.
The washrooms looked a lot nicer than BA's hospital-styled toilets and were well-stocked with linen towels. There might not be enough of them for the busiest periods and there was definitely an unsanitary odour affecting the restaurant area.
Score: 60%
WiFi, Power & Productivity
The Good

Reasonable symmetric broadband Wi-Fi speeds (↓ 23.7 Mbps ↑ 23.8 Mbps).
Lots of tables to work on.
Sockets and charging points at fixed seating areas.

The Bad

Desk space may be at a premium when the lounge is busy.
The ambient music might be annoying if you're on a call or trying to focus.
Music aside, it looked like a good lounge to work in. Good for business travellers.
Score: 80%
Little Extras
The pool table on the sunny mezzanine level and the panoramic roof terrace were both unusual and welcome additions to a lounge.
They have a Peleton studio! That's right, 3 bikes setup in a dedicated area by the showers for you to have pre-flight burn. Unsurprisingly, none of them were in use!
Score: 80%
BG1 Verdict
We really liked Virgin's Clubhouse at Heathrow. The comprehensive bar and dining options, along with the can-do attitude of the service staff, made the lounge feel more like the reception area of an upmarket hotel. Want a specific cocktail? No problem. Have specific dietary needs? They'd see what they could rustle-up. With plenty of seating in a variety of configurations, it would be easy to burn a couple of hours here. Our departure time came a little too soon and we had to be on our way. We'll definitely be back.
Total: 74%
Don't forget to sign-up to our weekly newsletter to get our latest updates delivered straight to your inbox.