As our wonderful visit to incredible British Columbia came to an end, it was time to for us to board our British Airways 747 business class flight back to London. There aren't many occasions we'd delight about flying such an old BA aircraft in the Club World cabin. Having bagged the best seats on the top deck, we were feeling very optimistic about the return leg. Was that optimism justified? Well, it turned out the flight delivered, but other parts didn't.
Flight Details
Flight No: BA0084
From/To: Vancouver (YVR) to London (LHR)
Departure time: 21:10
Aircraft: 747-400
Ticket Class: Business (Club World)
Seat: 62A
Flight time: 8 hours 45 mins
Oneworld Tier Points: 140
In this review:
Check-in & Fast Track
The Good

Check-in was fast and efficient
The check-in agent was very friendly and provided full helpful advice
Short line for fast track security

The Bad

Security staff were shouting at people for unnecessary reasons
We arrived at the airport about 2 hours before departure. There was a sizeable queue for all check-in desks, but the efficient staff were working their way through quickly.
Our check-in agent was in BA uniform and seemed like he might have been the team leader. He told us about fast track security and where to find the BA lounge. Noting our BA Exec Club gold status, he also recommended we tried the Cathay Pacific lounge.
With our bags taken care of, and boarding passes in-hand, we headed straight up the escalator to security.
Like a lot of fast track security lanes, it was fairly well hidden. The line was short, probably due to it being late in the evening. While the whole process only took about 5 minutes, the guy marshalling bags onto the conveyor was very shouty. Yes, it was probably the end of his day, and yes, he had a job to do, but we saw no reason why he chose to do it in that manner. Anyway, we sped through and he hopefully went home to settle his hanger.
Score: 75%
Lounge
The Good

Comfortable and well-appointed space
Attentive service staff, offering food to us from the buffet

The Bad

The overzealous lounge manager was incredibly rude
It gets very busy in the two hours before departure
Cathay Lounge
As recommended to us at check-in, we first dropped into the Cathay Pacific lounge. British Airways gold and Oneworld emerald members were permitted access, so we thought it silly not to use the perk. Because all the Cathay Pacific flights had already departed the lounge, we expected the lounge to be closing imminently. Nope. Despite being dead, the lounge was very much open and the staff were very welcoming. We won't go into too much more detail now, as this lounge deserves a write-up of its own. We had some freshly prepared noddles from the bar, washed down with a nice glass of proper champagne. Very nice indeed!
After that quick Cathay pit stop, we headed to our main appointment of the evening at YVR – the BA lounge.
British Airways Lounge
Despite being 10 hours and 8 timezones away from London, the dedicated British Airways lounge at Vancouver Airport was distinctively BA. The furnishings, coffee station and BA swooshes made it easy to forget which airport we were in! That was until a dragon in the form of the lounge manager peered her head around the corner and demanded to know why we'd taken a picture of the food. Explaining our keenness to include the lounge in our write-up and paint it in a good light, she asked us why we hadn't come earlier. Confessing we'd decided to try the Cathay Lounge before we headed to the BA lounge, royally rattled her cage. "I think you should leave." Dumbfounded by the rudeness, we just shuffled out and headed to the aircraft, which was about to start boarding.
For the record, the lounge was nice. Canapés and snacks were offered by the other very welcoming and attentive lounge staff. Were it not for the unnecessary hostility from the overzealous boss, this lounge would've scored far better.
Score: 55%
Boarding
The Good

Boarding was being called by groups and being enforced
Our seat was straight up the stairs from the aircraft door!

The Bad

With only a single door in use for boarding, arriving at the gate after the boarding group was called would've meant a lengthy wait
Boarding had just started when we reached the gate. On hearing Boarding Group 1 over the tannoy, we shouted "that's us" and shuffled into the priority boarding lane with about 20 other passengers. Seconds later, we were walking down the air bridge towards friendly BA cabin crew, who greeted us at the door of the aircraft. Our seats were on the upper deck of British Airways 747 business class cabin, which meant we went straight up the stairs. No shuffling down the plane behind a long line of passengers. Nice!
The upper deck cabin was spacious and, with some of the 20 seats unoccupied, even quieter than normal. I jumped into 62A and my partner in crime jumped into 62B. The 2 cabin crew both greeted us as we settled into our seats, offering us a menu and welcome drink.
Score: 75%
Aircraft Configuration
G-CIVO
Aircraft type: Boeing 747-400
Number of classes: 4
Number of seats in flying class: 52 (32 on the main deck, 20 on the upper deck)
Position: Upper deck, left hand side of the aircraft, 3 rows from the front
In addition to 52 Club World seats, the aircraft also carries:
14 First seats
36 Premium Economy seats
243 Economy seats at the rear of the aircraft
Amenity Kit & Washrooms
The Good

Nice White Company leather pouch and products
Two washrooms for 20 passengers
Very clean washrooms with White Company toiletries

The Bad

The bathrooms in the ageing 747 are small
The taps don't run unless you're pressing the lever
Washrooms
The washrooms, while very dated, were immaculately clean. They were well-stocked with geranium, neroli and eucalyptus White Company Spa hand wash and moisturiser.
Amenity Kit
The White Company amenity kit is a big step up from the school PE bag British Airways used to give its business class passengers. While not industry-leading, it does at least put them in the same league as other business class products.
The zip-up leather-effect pouch contained White Company Spa moisturiser and lip balm, a toothbrush and Colgate toothpaste. These toiletries were complemented with a pen, flight socks, ear plugs and an eye mask.
Score: 65%
Seat
The Good

Great storage
Comfortable sleep
Relatively private (for a Club World seat)

The Bad

The Club World seat lacks the sophistication of newer products
Broken cover just lying on floor
Despite its age and unusual top-to-tail configuration, the Club World seat is a comfortable one. It lacks the privacy offered by the newer British Airways Club Suite, as you and your neighbour face each other. If you don't know your neighbour, this gets quite awkward during take-off, landing and meal services, as the privacy divider must be lowered.
While everything appeared in good working order, a loose maintenance cover was lying on the floor. After a failed attempt to put it back on, it remained there for the rest of the flight.
Access & Storage
Seat 62A and neighbouring 62B both had direct aisle access. This is because 62 is next to the emergency exit door. The foot stool and door safety equipment does slightly obstruct the seat's access, but most will be happy stepping in.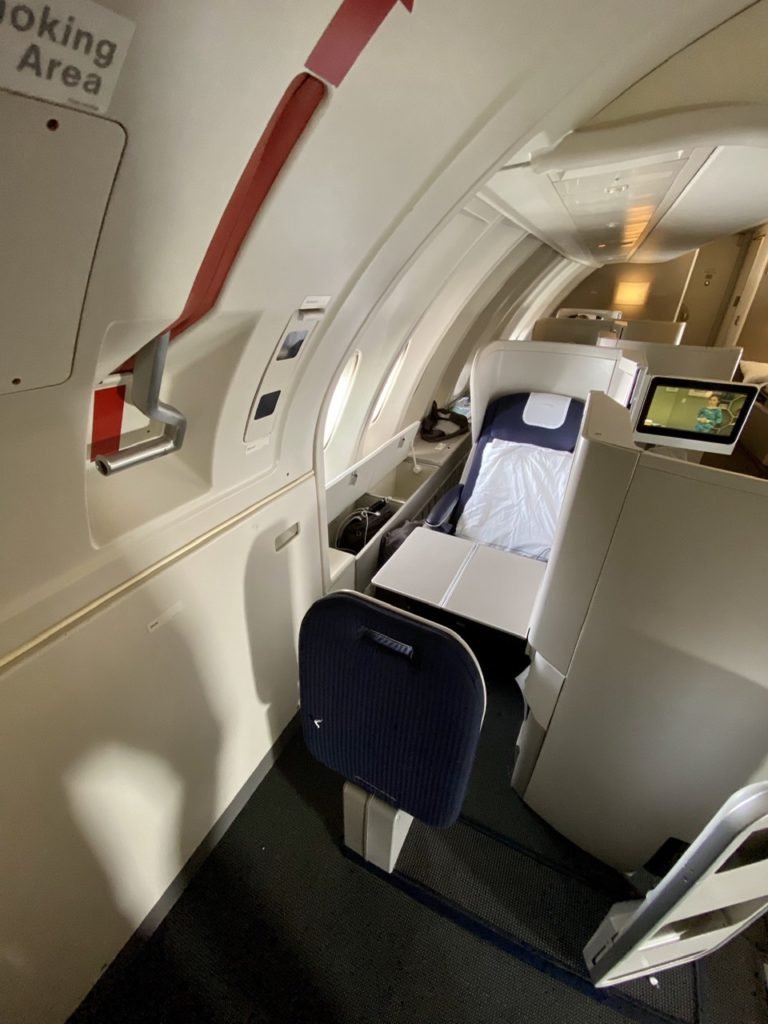 Sleeping
British Airways have a habit of calling its business class cabin the "Club World Sleeper Cabin". It's a fair description. The top to tail seats, while cosy, do deliver a fairly comfortable night's sleep. We can't recall any BA Club flight where we've had an uncomfortable sleep and this flight was no exception.
The seat converted into a fully-flat bed by pressing the bed button on the seat controls, and then manually lowering the foot stool.
A White Company sleeping pack was provided, which included a pillow, seat topper (sheet) and blanket. All seemed to be made from good quality cotton. While we weren't offered assistance making the bed, the crew didn't appear to he helping those who asked.
Cleanliness
After a very grubby outbound flight in the First cabin, we were very surprised to find the business class cabin was very well cleaned. With the emerging COVID-19 risk, we decided to give the plastic parts of the seat a quick clean with an antibacterial wipe. It probably did nothing, but the placebo worked!
Power & Wi-Fi
Both USB and 110v mains power was provided at each seat. Both were functional gate-to-gate.
There was no Wi-Fi on-board. The aircraft was one of the 50% of BA 747-400s not getting Wi-Fi before being retired.
Score: 70%
What is the best seat on British Airways 747 business class?
It's rare we get to sit in the best seat, but we did on this flight! 62A is by far the nicest place to sit on a British Airways 747. We might go so far as to say it's probably better than any of the seats in the congested first class cabin… We won't though, as that dessert was incredible!
See the seating plan on SeatGuru.
In-flight Entertainment
The Good

Upgraded screen
Good choice of up-to-date content

The Bad

Not gate-to-gate entertaining – screen must be folded away for take-off/landing
Headphone jack was a bit temperamental
Equipment
There was an upgraded at-seat in-flight entertainment (IFE) system on this British Airways 747 business class flight. Because the screen folded out, it was not gate-to-gate entertainment. The screen had to be folded away for take-off and landing.
Sound was delivered through a pair of BA-branded noise-cancelling headphones.
Content
There was a great selection of Movie and TV content on the flight. We'd started season 2 of Big Little Lies before we left and were very pleased to continue binging on it during our flight back to London! As well as big-budget box sets, there was a good range of new release movies from a variety of genres. There was also an extensive back catalogue of film, music, and children's content. Had we been able to finish our episode while the plane was landing and taxiing, we'd have scored the IFE a bit higher.
Score: 70%
Drinks Service
The Good

Ample choice of wines, sprits, beers and non-alcoholic beverages
Upgraded glassware

The Bad

Very small welcome drink
Never really offered another drink or top-up
Despite there being a full at seat bar being offered in the business cabin, the way it was delivered was typical of BA. Tight.
After taking our seats, we were served a mouthful of "champagne" in a glass. The serving was so small, we honestly think they had a single bottle to last the whole flight!
There was once a time when a flight in Club meant a satisfying "I've tried enough wine" hangover. This was entirely down to the generous pour-to-to-the-top (and repeat) cabin crew. Those times seem to have passed and we no longer experience at-seat pours on any BA flights. Only on request, drinks are brought to the seat in a glass, having being carefully measured in the galley. This approach slows service considerably, leaving lots of wine in the bottle and cash in BA's pocket. The illusion would have worked, had it not been so painfully obvious.
There were two meal services on our overnight British Airways 747 business class flight to London. A main evening meal was served about 45 minutes after take-off from Vancouver. We were asked to preorder a breakfast, which was served 90 minutes before landing at Heathrow.
Score: 60%
Food Service
The Good

The main meal food quality was an improvement on previous Club World flights
The service was efficient

The Bad

It's tray service. Everything comes on the tray, even the drink you asked for
The breakfast was a very weak show
There were two meal services on our overnight British Airways 747 business class flight to London.
Main meal
The main meal was an enjoyable affair: three courses, washed down with some wines we'd chosen to match.
Starter
I went for the British Columbia salmon and asparagus to start. The deeper red colour is typical of BC salmon and the flavour is slightly stronger. Very nice with the asparagus, creme fraiche and dill… and champagne. The starter was delivered with bread and a small salad, on a tray covered by a grey cloth. The presentation was great. Could this be the start of a new era in BA Club World catering?
Main
The starter plate was switched on the tray with the main plate: a filet of beef with various vegetables and a red wine gravy. It was a little tougher than I'd have hoped, but it was still possible to tear shreds off it with the blunt knife. The temperature was probably medium-well. I found the veg had a decent bite to it – no sogginess or excess water on the plate. The red wine jus was nicely rich and complemented the dish, as did the juicy zinfandel I ordered with it! As you'll see from the picture, the presentation was average. You'll notice the salad and bread were finished, but weren't cleared.
Dessert/Cheese
Rather than a sweet dessert, I opted for the cheese board. It was nicely presented and had a sufficient amount of the three cheeses to prevent me finishing it! I washed it down with the Spanish red wine. The presentation of the cheese plate was good, but I didn't understand why I was still staring at my empty salad and bread plate, and an empty glass.
After that, I was done-in and it was time for some sleep. The meal had been a vast improvement on some of the watery disasters we'd previously seen in BA business class. That said, there was still a little room for improvement on food presentation, the quality of the filet, and plate clearing. They obviously want to leave as much on the tray as possible, as it can be cleared in one efficient sweep at the end. It doesn't make for a good dining experience, though. If you've ever worked in the food service industry, and even if you haven't, no diner wants to be sat looking at empty plates. This is even more true when you've no space!
Second Meal Service
After a pretty good dinner and a comfortable sleep, breakfast was quite a disappointment. A small panini with warm rubbery ham, egg and cheese was served alongside some soggy bircher muesli and a microscopic croissant. It was largely inedible, with both of us only being able to stomach micro-croisssant.
Score: 55%
Arrival
The Good

Smooth on-time landing
Friendly flight crew who invited us to sit in the seats on the flight deck

The Bad

Refused access to the American Airlines arrival lounge
Customary Heathrow baggage delays
After a very smooth but slightly behind schedule landing at London Heathrow Airport we were invited by the crew to see the flight deck. We're always amazed at the numbers of controls packed into such a tight space. It's starting to look a little retro when compared to the flight decks on the A350 and 787.
We disembarked and made our way to the Terminal 3 baggage carousel, where we waited, and waited. After retrieving our bags, we headed over to the American Airlines arrival lounge, which is available for all Oneworld Sapphire and Emerald passengers arriving on long-haul flight. Or so we thought…
Presenting our boarding passes at the reception of the AA arrival lounge, the agent informed us that our flight wasn't on the list and so we couldn't come in. We explained that we'd arrived on a scheduled BA long-haul flight and have adequate Oneworld status. They made a call for us, then came back and said "sorry, the flight is not on the list so you can't enter." We were a little disappointed by this, as we'd hoped to shower before we headed into London. We'd also hoped to eat something, after the inedible in-flight breakfast.
Terminal 3 is a dump of a terminal and the BA business and first lounges are grotty. We accept this inconvenience because we can use the Oneworld partner lounges when we depart and arrive. Given this withdrawal of benefit, we'll avoid taking any future long-haul BA flights out of Terminal 3.
Score: 50%
BG1 Verdict
The Good

Quiet, comfortable seat in the spacious upper deck cabin
Good quality in-flight entertainment
Great White Company products and bedding

The Bad

Despite the maintenance and cleaning, the aircraft was showing its age
The dining experience has improved, but still lags behind competitors
The rudeness in the lounge tainted the experience
Great cabin and flight crew made this British Airways 747 business class flight both comfortable and enjoyable. The Club World seat made for a good night's sleep and the at seat entertainment was decent. The unwelcoming staff member at the BA lounge in Vancouver soured the departure. Then, the strange per-flight agreement between BA and the American Airlines arrivals lounge made for an uncomfortable arrival in London.
We like the 747, but it is starting to get old. Combined with the second-class experience at Terminal 3, we don't think we'll hurry to book this combo again. We'll gladly still take the 747 from Terminal 5.
Total: 64%
BG1 Tip
The main business class (Club World) cabin on BA's 747s is sat right on the wing. This part of the plane is prone to engine noise and vibration. For a quieter journey, book one of the business class seats on the upper deck.
When booking, check whether the departure is from Terminal 3 or Terminal 5. The latter is BA's main base and boasts far better terminal facilities and flagship lounges.
Don't forget to sign-up to our weekly newsletter to get our latest updates delivered straight to your inbox.