After an extensive search to find reward seats to redeem our American Express 2-4-1 voucher, we found two First Class reward flights from London to Vancouver in the Boeing 747. Finding a reward seat can be a work of art, so we jumped at the opportunity when we found these seats.

We were doubly happy when we saw that we will be flying the Boeing 747 aka The Queen of the Skies. As this can only mean one thing, and that's flying at the front of the plane in the nose of the aircraft. Our experience in BA First has always been mixed with both positive and negative elements – and our flight from London to Vancouver was exactly the same. There were positives and negative elements, which we'll discuss in this blog.

Flying 747 First Class with British Airways was a pleasant experience, but if it wasn't for being a reward flight, we would think long and hard before paying the full fare to fly in the cabin. The service is often inconsistent, the cabin is outdated and the IFE is in strong need of an update.
Flight Details
Flight No: BA085
From/To: London (LHR) to Vancouver (YVR)
Departure time: 5:30 pm
Aircraft: B747-400
Ticket Class: First Class
Seat: 1A and 1K
Flight time: 8 hours
Oneworld Tier Points: 0
Avios: 147,500 and £647 in taxes each
In this review:
Check-in & Fast Track
The London to Vancouver flight, is one of the few destinations that take-off from Heathrow Terminal 3 instead of Terminal 5 for BA. As the BA flight doesn't fly from the airline's flagship terminal, it doesn't have the grandiose First check-in wing you see at Terminal 5. Instead, there is a small check-in cubicle, shared with JAL, in a separate cubicle to the other classes.
When we arrived at the check-in counter only one desk was open and there was a queue, which moved quickly. She told us that Storm Ciara, which happened the day before, caused a lot of havoc but our flight was departing on time. We started chatting, and spoke to her about the impact of coronavirus and flying – she said she's definitely noticed a drop in passenger numbers at the airport.
Knowing that we had multiple oneworld lounge options open to us at Terminal 3, we probed further and asked which one is best to go to. Her verdict "Cathay Pacific for food" and "British Airways for drinks". Fair enough, but as avid travellers and obsessed with lounges, we were going to try ALL four First and Business Class lounge that were open to us.
The fast-track security lanes were very busy and when we peered at the normal security lanes, it was so long it was snaking out of the terminal. Given the crowds, it contradicts what our check-in attendant was saying about the reduce passenger numbers. Anyhow, security took a lot longer than I expected and wasn't fast at all.
Score: 60%
Lounge
No Concorde Room and no First check-in wing might sounds like a disaster but don't despair! Travelling from T3 opens up a whole new world of possibilities, as you get the choice of four different Oneworld lounges to make up for it. The options opened to us are:
British Airways Galleries Lounge (First and Business) – we think this is best for wine and alcohol
Cathay Pacific Lounge (First and Business) – we think this is best for dining and food
Qantas London Lounge – we think this is the best looking lounge and has a fantastic gin bar
American Airlines Admirals Lounge – this is the quietest of all lounges, so if you're looking to take conference calls, or a very quiet space to relax, we would recommend heading to the AA lounge
For a write up about the lounges please visit our blog where we travelled First Class to Cape Town.
Departure airlines lounges can be amazing spaces to enjoy with great food and wine to try! We love exploring these spaces, so we arrived the airport about 3 hours before our departure time to fully enjoy the benefits! If we were to chose just one lounge to spend our time in, we would recommend the Cathay Pacific First lounge, it's quiet and has great views of the runway.
Score: 80%
Boarding
We were still in the BA First Lounge when we saw the 'Final Call' sign for our flight to Vancouver. We quickly downed the English sparkling wine and made our way to the gate. When we arrived, boarding was already underway and they were starting to board passengers in Group 4 and 5 passengers. Whoops! But as we had Boarding Group 1 on our tickets, we joined the queue for passengers in Group 1 and 2. Boarding was very organised and after our documents were checked, we found ourselves at the entrance of the plane, albeit a small queue on the bridge.

We were greeted by cabin crew when we got to the plane, they checked our tickets and promptly welcomed us on board "Hello, Mr X, how are you? Let me show you to your seat". After a few pleasantries we were guided to our seat at the front of the plane into seats in 1A and 1K.

We settled into our seats quickly, and before long our cabin crew came to introduce themselves and asked if we wanted a drink. Yes! Champagne please, and make it the Laurent Perrier Grande Sicle, as we didn't have this in the terminal. In record speed, they brought us our welcome drink accompanied by warm nuts. Along with the drink, they also shared the food and drinks menu, pyjamas and amenity kit.
Score: 70%
Aircraft Configuration
G-XWBA
Aircraft type: Airbus B747-400
Number of classes: 4
Number of seats in flying class: 14
Position: Front of the airplane
Amenity Kit & Washrooms
Washrooms
There were two washrooms near the galley for first class passengers. These were kitted our with the signature (very fragrant) Elemis White Lotus and Lime soap and moisturiser. It's a shame that there were no windows in the toilets but the rose added a sense of luxury. However, the sink was very small and it's a challenge to get both hands under the tap! There is no fanfare in the washrooms like the showers you get with Middle Eastern carriers, so there's nothing special to write about. The cabin crew kept the washrooms clean and tidy.
Amenity Kit
In First Class, you're given a Temperly Amenity Kit with (apparently) £100 worth of cosmetics from Elemis.
Also, included are an eye mask, socks, ear plugs and disposable toothbrush.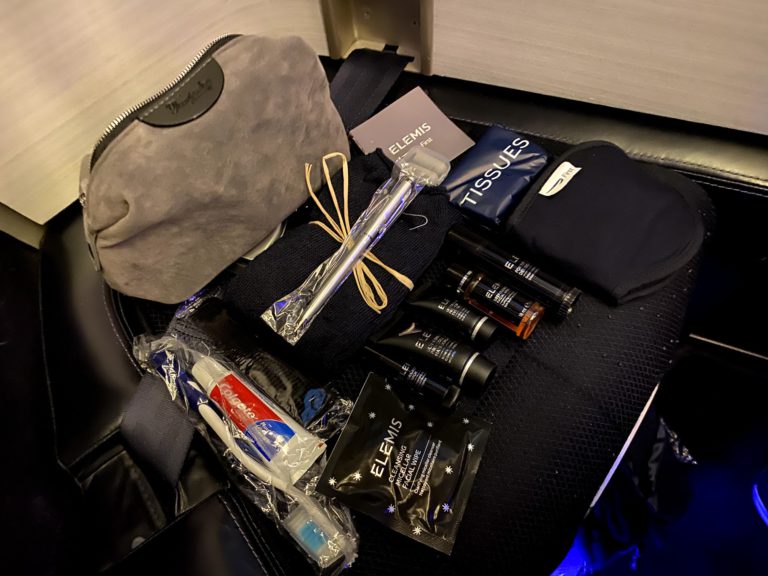 Score: 60%
Seat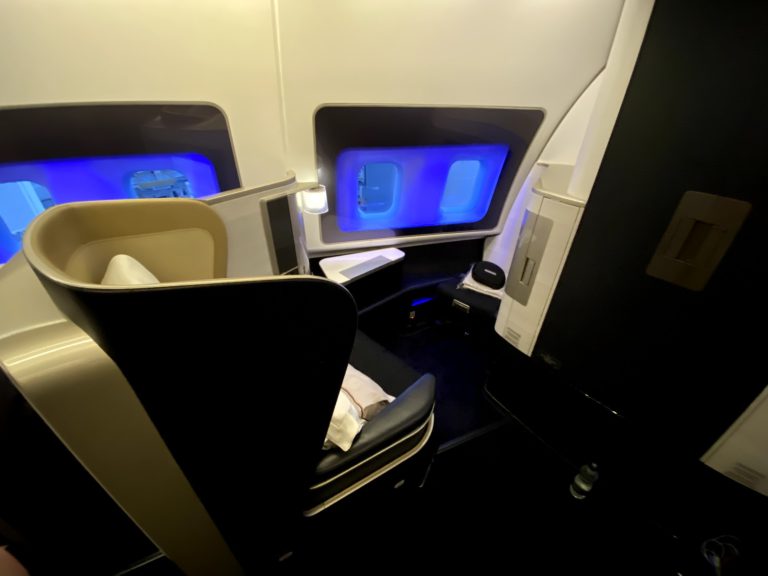 BA intend to retire the 38 Boeing 747s in its fleet by 2035, which is a real shame as flying in the front of these gracious Queens of the Skies makes for a wonderful experience. As a result of retiring these planes, it does seem like BA has forgotten about the upkeep of the cabins.

Although comfortable and spacious, the seats and cabin were in dire need of a refresh! Let me start with the what's good about the seat. It's comfortable, spacious and moulds into the shape of your body. The adjustable settings allowed us to choose a comfortable position, complete with movable arm and foot rest. The seat reclined fully into a comfortable bed in the sky.
The cleanliness was disappointing
Now the bad. The seats are in dire need of a refresh. In fact the whole First Class cabin needs an update. The seats looked tired, made worse by the fact that we found remnants left by previous passengers on the flight including used tissues, a used lollipop stick, used items from the amenity kit items, and food crumbs. Having travelled on BA many times, we can conclude that cleanliness is not BA's forte. It has been a consistent issue when we board a BA flight. It's was unpleasant, with no due care or attention from the ground cleaning staff.
We believe that although the cabin crew should keep an eye out for rubbish, it is fundamentally not their jobs to clean the seats when passengers have already sat down. Although the service on the flight was great, the cleanliness and dirt was unacceptable, and we'll be writing a letter to BA to share our disappointment. In the age of preventing the spread of coronavirus I was shocked to find used tissues in my seat. We aired our concerns to BA customer support on Twitter, and the response that we got were far from satisfactory.
Access & Storage
If you're seated in row 1, there are no overhead compartments for luggage storage. Instead, there's a large storage cupboard in front of you. The seat is also equipped with a coat storage space. Most seats have a shoe storage compartment which seats 1A and 1K aren't equipped with. Incidentally, because there's no front pocket or other cupboard space in the seat as with other airlines, we managed to leave our mobile phone in the seat without realising. Testament to the attentive cabin crew, the phone was quickly found by the crew and delivered to the luggage area. Golden ticket was given.
Sleeping
Being in the nose of the Boeing 747 has a lot of advantages when it comes to sleeping, as it's super quiet. The distance from the engines means that we could barely hear a squeak from it, making sleeping an absolute joy. Soon after dinner was over, the cabin crew offered to turn our seat into a bed. The seat was topped with comfortable bedding making it an alluring bed in the sky. Once my head touched the pillow I was fast asleep until one hour before landing when I was woken up by the sound of clanking cutlery and the smell of coffee. This was help by an incredibly smooth flight, free from turbulence and disturbances. As an added bonus seat 1A and 1K was in itself like a small private cabin, as we were free from the thoroughfare of people walking past our seats and the cabin crew only came up if they were serving us. We imagine that what flying on a private jet would be like!
Score: 60%
What is the best seat on BA First class?
If you get the opportunity and travelling as a pair, book into Seats 1A and 1K, as really does feel like you're on a private jet. Due to where the seats are located, no one will walk to your cabin unless they are there to see you. In addition, you both get window and ailse access, and yet you're close enough to speak with each other. Unfortunately, seats 1A and 1K are saved for BA Executive Club Gold members.
If you're traveling on your own, any of the seats by the windows are great. We recommend to be closer to the front, away from the galley and washrooms.
See the seating plan on SeatGuru.
In-flight Entertainment
Equipment
Well, it was very dated! The 80s called and want their entertainment system back! The built-in equipment was old and screen resolution was pretty bad. Not all of BA's 747s have been refurbished (at least half of its fleet) and it showed its age. In the modern world where High Definition TVs are readily available, what's on offer on this aircraft was poor.
BA's entertainment system on the Boeing 747 was poor made worse by the content they had on offer! Although they offered nice new Meridian headphones, it doesn't mask the old entertainment system. As it was a relatively short flight we opted to sleep instead of watching a movie.
The top of the range Meridian noise cancelling headphones will pair nicely to a high quality IFE, unfortunately it isn't the case here!
Content
Disappointing. None of the movies and film choices gripped our attention, with the added frustration of the old IFE system, we turned off and refrained from watching anything. There was a handful of new releases and TV shows but compared to long lists that other airlines offer now, we were not impressed.
Score: 50%
Drinks Service
The alcoholic drinks selection, in our opinion, has always been BA's forte. The variety is often good and the portions generous. On our flight was a choice of three sparkling wines, three whites and reds, a long list of spirits, one port and one dessert wine. We paired our wines with lunch, and the crew suggested we do a taste test with our cheese course. The description on the menu outlined which wine would go best with the cheese on offer – a really nice touch and addition. Although we love the generous pour, we think it might be too full at times! This might just be a way for the crew to stop coming back, freeing them to work on the food service.
Score: 70%
Food Service
Since changing caterers earlier in 2020, the food served in the First cabin was one of the best meals we've had on a flight. Credit has to be given where credit is due. DO&CO is a luxury caterers that BA signed a contract with, and we hope the level of finesse and quality of food continues to impress.
Main meal
We often think that a good inflight menu is when you're spoilt for choice and can't decide on what you want to eat. On this occasion we wanted everything on offer on the menu! Dinner was the main meal being served. So that we can try everything on the menu (greedily) we opted to have all five courses for lunch. We started with canapés, starter, mains, dessert and a cheese course. For the mains, we opted for the seared fillet of beef and with this you got to choose your sides. It's not often easy to cook steak right at 35,000 feet, and the fact that it came out pink is frankly impressive. One of the best things one the menu was definitely the chocolate dessert.
Although the service was slow, it was paced correctly and we didn't feel rushed to finish our food, instead we were given the opportunity to savour our meal.
Second Meal Service
We got afternoon tea served before landing and as our second meal. The presentation was exquisite, served on designer China the bite sized cakes and sandwiches fit perfectly on the tiered plates, making it look very appetising and appealing. There's something very special being able to have scones and jam while cruising at 35,000 feet.
Score: 95%
Arrival
Arrival was smooth and speedy. They were using both doors of the 747 for disembarkation, which made it very efficient. The luggage took a while to arrive, but our priority tags meant that our luggage was one of the first to arrive. Unfortunately, there were no arrival lounges at Vancouver Airport for BA or oneworld.
Score: 70%
BG1 Verdict
BA has certainly upped their game when it comes to the dining. The food was exquisite! However, the cabin is in dire dire need of an update and the cleanliness left us disappointed. If it wasn't for the cabin crew who were very young, and eager to please, our experience might be completely different. The fresh faced cabin crew were well trained and did everything they had to, but lacked the experience of the older crew. They often try to build a rapport with their passengers, and we suspected that the younger cabin crew were scared of making any mistakes. Saying that, they would always stop and chat when we spoke to them, making sure we were well looked after.
Total: 70%
BG1 Tip
Wine tasting! If you can't decide which wine to have ask whether the cabin crew would do a mini wine tasting for you. Just make sure you ask them for tiny tiny amounts. When we tasted the wines on offer with our cheese course, the cabin crew were very generous with their portions. Suffice to say we indulged in the wine resulting us in going to bed shortly after.
Don't forget to sign-up to our weekly newsletter to get our latest updates delivered straight to your inbox.