After great their last offer finished at the start of February, Swiss and Lufthansa are back with some jaw-droppingly good business class fares. Whereas the previous offer was for departures from London Heathrow, departures for this new offer are from Amsterdam Schiphol. There are lots of attractive destinations available, including South America, Africa, and New Zealand. So, if you fancy a couple of weeks in Colombia (Bogota) over the Easter period for £965 in business class, keep on reading.
Destinations
Return prices in business class from Amsterdam
Bogota – £965 (€1,161) in Business Class
Johannesburg – £972 (€1,169) in Business Class
The Catch
The departure point is Amsterdam Schiphol. If you aren't lucky enough to call Amsterdam home, you'll first need to fly yourself there and pay for that flight on top. As the onward flights are in business class or first class, you'll be able to use the lounge in Amsterdam before you take your intra-European flight to connect with your long-haul sector, in either Frankfurt (Lufthansa) or Zurich (Swiss).
There are no weekend departures, so you'll have to be comfortable flying mid-week.
Travel Dates
We're seeing very good availability from next week all the way up until 15 December 2020.
Small Print
These tickets have very strict no refund and no changes rules. Be careful entering your dates and typing passenger names when you book.
Departure points: Amsterdam
Book by: 1 March 2020
Travel until: 19 December 2020
Minimum stay: 3 nights
Weekend departures: No
Sectors: 2 each way (connect in either Frankfurt or Zurich)
Booking class: P
Stopovers: Not Permitted.
Frequent flyer points accrual: Yes. 100% miles flown (Miles & More) or 125% (KrisFlyer).
Refundable: No
Changes after booking: No.
How to Book
Use Google Flights calendar feature to find the cheap travel dates. Lufthansa and Swiss enable you to complete the booking directly through Google (read more about how that works here).
Fares are available at relatively short notice, just book 7 days or more in advance.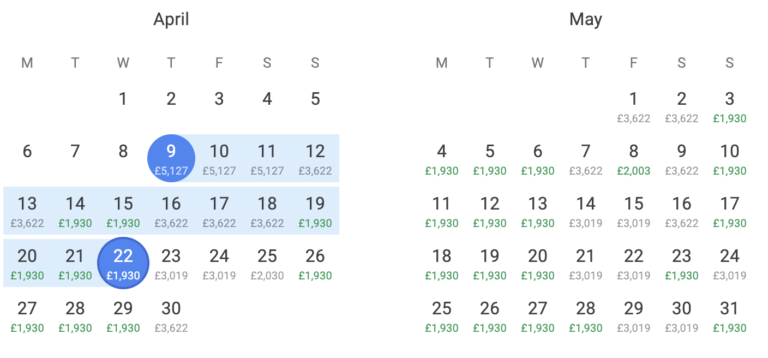 Where to credit the Points?
Lufthansa and Swiss are members of Star Alliance, so we'd recommend crediting the points to Singapore Airlines' KrisFlyer, where you'll earn 125% miles flown. Alternatively, Lufthansa's Miles and More programme for a 100% accrual rate.
BG1 Verdict
£965 (€1,161) is about as cheap as you can expect to find business class seats on 4- and 5-star airlines flying to Colombia. We say this is a definite BUY and are looking to see if any of these itineraries fit with our plans for 2020.
BG1 Tip
Don't forget to sign-up to our weekly newsletter to get our latest updates delivered straight to your inbox.