If you're looking for an ideal place to visit in April, we've put together a mini-guide series to share our favourite destinations for each and every month of the year. Having visited them ourselves, we'll share why it's a good time to go, how to get there, who to fly with, and where to stay. We'll also share our target prices, which we aim to get as close to as we can. Read on for our tips on where to go in April:
Where to go in April
Ningaloo, Western Australia
1001 km north of Perth, perched on the top-left corner of Australia, is Ningaloo Reef and its associated national parks. Lying just inside the Tropic of Capricorn, this remote and beautiful part of Australia offers an opportunity to get close to some of the country's wildlife. Grab a snorkel and jump in the warm blue water to see the largest, and most gentle, of all the fish in the sea, the whale shark.
Further north, on the North West Cape, is a rarely visited dive site within an active military installation. The Navy Pier is a world-famous dive destination, known for its schooling fish, giant grouper, and several species of shark. It's all found under a pier, right by the shoreline!
Why April?
It's whale shark season and the weather is still lovely and warm! As the south of Australia slips into autumn, Ningaloo is still bathing in hot summer sun and warm waters. The reef is just 1km off the shore and is 260km long. As the plankton bloom begins in March, whale shark begin to congregate by the reef. They stay to feed on the rich plankton until June.
How to get there
If you're flying in, you'll arrive at Learmonth Airport, which is about 25km south of Exmouth. It's served by daily Qantas Link regional flights from Perth. Expect to pay about £250-350 for the 2-hour flight – Qantas seems to operate a monopoly on many regional routes in Australia.
Business class deals from Europe to Perth are common with Qatar Airways and Singapore Airlines. Our target price is £2,000 return.
For a Premium Economy seat our target is £1,000. In Economy we'd be looking for something nearer £700 return. Like all targets, we may not hit them, but we'll try to get as close as we can.
Keep an eye on our Deals & Offers section for fares that hit our targets.
Where to stay
While Coral Bay has the best access to the reef, there are no hotels, only campsites. Exmouth has a couple of mid-class hotels, as well as some budget backpacker places, and the obligatory campsites. With Exmouth also boasting a town centre with shops and bars, we'd recommend it over Coral Bay. It'll take about 2 hours to drive between Exmouth and Coral Bay.
BG1 Tip
Avoid Easter weekend or other public holidays. Western Australians will drive from as far as Magaret River to spend a week or two at Ningaloo. The main tourist towns of Coral Bay and Exmouth get booked-up very quickly, as do many of the local activities and attractions.
April is the warmest month you'll be guaranteed a whale shark sighting at Ningaloo. After that, temperature begin to fall. If you want to maximise your wildlife experiences, June could be a better months to visit. While average temperatures are 10c cooler, the whale sharks are usually a still around and Humpback whales begin migrating past Ningaloo Reef.
Cusco & Machu Picchu, Peru
Perched in the Andes is the classical town of Cusco, gateway to the Sacred Valley and Machu Picchu. Designated a UNESCO World Heritage Site, the city's colonial architecture and terracotta roofs fool you into thinking you're in an Italian city. The towering Andes mountains on the fringes quickly remind you that you're in South America. It's a cultural hotpot that attracts 2m visitors per year.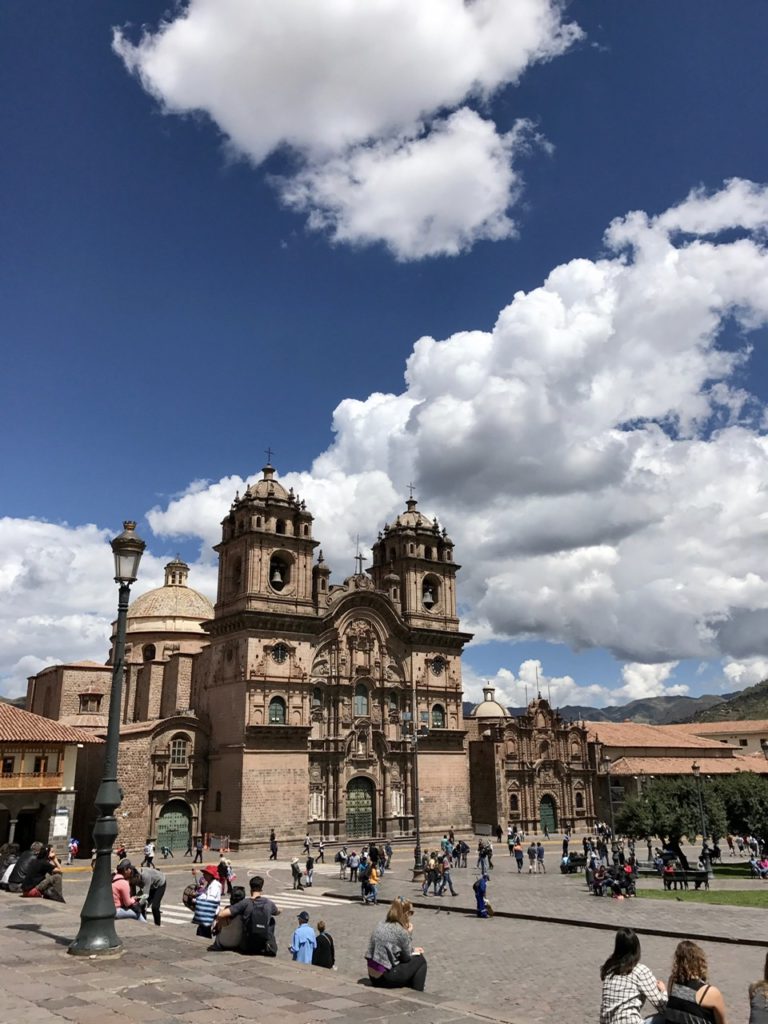 At a dizzying 3,399m above sea level, visitors arriving in Cusco by plane often feel the effects altitude sickness. The trick is to acclimatise gradually to the altitude. Some decide to take it very slow by traveling from Lima by bus.
No trip to Cusco would be complete without a visit to Machu Picchu, a famed 15th century Inca citadel perched precariously on top of mountains. Like Cusco, Machu Picchu is also a UNESCO World Heritage Site and was also named as one of the New Seven Wonders of the World.
Why April?
April is shoulder season so, while the weather remains warm, the tourist numbers are lower. Despite limiting daily numbers into the monument, Machu Picchu can get painfully busy. Shoulder season sees a few extra damp days, which have the effect of keeping the tourists away.
How to get there
Lima is the gateway to this part of the world. There are daily scheduled flights from European and US airports.
Cusco is reached by regular daily flights from Lima, as well as one daily flight from La Paz (Bolivia). Expect to pay £60-100 for an economy flight.
Business class seats to Lima can be picked up at £1,400 return for a non-stop from Europe. Average prices hover around the £1,600 mark.
Our price target for Premium Economy is £700 and our price target for Economy is £350.
Keep an eye on our Deals & Offers section for fares that hit our targets.
Where to stay
There's a wide range of accommodation options in Cusco and along the Sacred Valley. The standards drop the further from Cusco you go. The towns of Aguas Calientes (Spanish for Hot Waters because of a nearby hot spring) and Ollantaytambo offer basic lodging and are also the closer to Machu Picchu than Cusco – essential if you want an early start. We stayed at the Hotel Sol in Ollantaytambo and then the Palacio del Inka in Cusco.
BG1 Tip
If you arrive by plane, consider staying the first night or two in the Sacred Valley towns of Ollantaytambo (2,700m) and Aguas Calientes (2,000m). Being lower than Cusco, you're likely to better acclimatise to the altitude. Visit Machu Picchu, then work your way up to Cusco.
Order a grilled guinea pig at one of the restaurants around the main square.
Kyoto, Japan
Kyoto is a shining example of ancient Japan. After an exhausting few days in Tokyo or Osaka, nothing is more welcome than a few days relaxing in the relative calm of ancient Kyoto. It's a real urban detox. If the tranquility isn't enough to tempt you away from urban Japan, perhaps Kyoto's 17 UNESCO World Heritage Sites will.
Wander through Arashiyama bamboo forest in the morning. After, climb to the top of Mount Hiei and look-out over Lake Biwa, Japan's largest lake.
Visit Nijō Castle, seat of the imperial Japan's Tokugawa Shōguns, which dates back to 1600.
Take an evening walk along the lantern-lit Nineizaka and Gion areas, with their tiny shops, restaurants and tea houses.
Grab a bike and visit all the temples and shrines along the city's northern fringes. Kiyomizu-dera, Takaosan Jingoji, Kinkaku-ji, Enkoji and Kamigamo-jinja, to name but a few.
Why April?
Temperatures are mild, but without the oppressive heat and humidity that develops in the summer. With much of the activities being outdoors, you'll appreciate the mild and generally dry conditions. In early April, you can also catch the end of the blossom season without the heaving crowds and soaring prices of March.
How to get there
Kyoto is well connected to Tokyo and Osaka, both of which are well-served by airlines from most parts of the globe. Once in Japan, use the high-speed train network to move between the major cities.
Deals can be hard to come by, but there are a few tricks to getting a cheaper seat. Non-stop flights are always the most expensive, so consider a flight with a layover on the way. Avoid starting your journey in big hub airports like London, Amsterdam and Frankfurt.
Business class fares from Europe to Tokyo can drop as low as £1,200 return. A realistic fare target at the time of writing is £1,300.
Our price target for Premium Economy is £700 and our target in Economy is £350.
Keep an eye on our Deals & Offers section for fares that hit our targets.
Where to stay
If you want to stay in old Kyoto, nearest to the temples and shrines, consider staying in a traditional ryokan. They're traditional Japanese inns that date back to the 1700s, often still operating in the traditional ways. While basic, they're very comfortable and give you a distinctly Japanese experience. Our ryokan was very quiet all the time we were there; think of a cross between a guest house, a spa and a retreat, and you're almost there!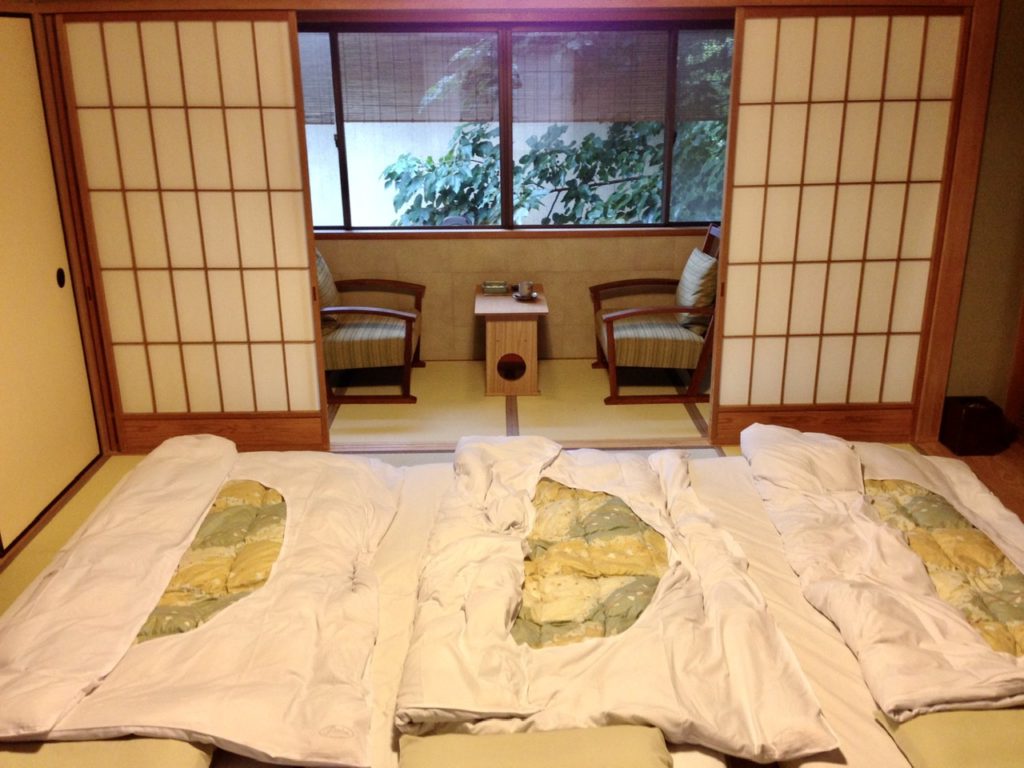 Big hotels can be found in new Kyoto to the south. You'll also find capsule/pod hotels there too! For a bit of variety, we spent one night at 9 Hours Capsule Hotel. It was a bizarre experience we recommend everyone tries once!
BG1 Tip
Japan is one of the few countries flying 747 aircraft on short-haul routes. While you absolutely must try the bullet trains while you're there, book a short-haul 747 ride with JAL too.
We'd like to hear from you!
Got a tip for where to go in April that we haven't included? Put a comment below and we'll gladly go investigate! Why not also have a look at our recommendations for Where to go in March.