What was it like to fly in Qatar Airways Qsuites? In this blog, we review the second part of our journey from Sofia to Shanghai in Qatar Airways. You can read our review for the first part of our journey from Sofia to Doha here.

As it was our first time in the Qsuites, we had high expectations and were excited about trying the product, so did it meet our expectations? Read on to find out more.
Flight Details
Flight No: QR870
From/To: Doha Hamad International Airport (DOH) to Shanghai Pudong Airport (PVG)
Starting location: Sofia
Departure time: 02:00
Aircraft: B777-300ER (Qsuite configuration)
Ticket Class: Business Class / Class I
Seat: 2G & 2E
Flight time: 9 hours 20 minutes
OneWorld Tier Points: 140
Check-in & Fast Track
Check-in was smooth, hassle free and speedy. We had an eight hour layover in Doha, so we made use of the Oryx Hotel provided by Qatar Airways. This meant that we have already checked-in and have our flight tickets with us.

As we arrived the airport in a Qatar Airways organised transfer, we were met with a large impressive entrance. It led us straight to a private check-in area, where we were quickly whisked through the immigration counter to a lounge. There were dedicated business class security lanes and we were in the lounge within 10 minutes of arriving at the airport. It gave the term "fast-track" a completely new meaning!
Lounge
The Al Mourjan Business Class Lounge was exquisite. It's spacious and has a lot of facilities, depending on what takes your fancy. There were multiple dining options opened to us and on this occasion, we made our way to the restaurant on the mezzanine floor. Drinks were brought to us by the waiters, and we sampled the middle eastern and continental buffet.

We have spent a lot of time transiting through Doha, so have used the lounge multiple times. Look out for our review on the Al Mourjan lounge in a future blog and what's on offers. The lounge offers private quiet cabana areas, two shower areas, family areas, different dining areas, bar, and WiFi.
Note: Qatar Airways has a policy only allowing passengers travelling in Business and First Class access to the Al Mourjan and Al Safwa lounges. Passengers travelling on OneWorld Airlines with Emerald/Sapphire or Gold/Silver status in Economy Class are directed to separate lounges.
Boarding
There were separate queues and passport check areas for passengers travelling on premium classes, which made boarding an organised process.

With separate sky bridges for premium and economy passengers, there were no queues to get on the plane. We were shown to our seats by the cabin crew, who also introduced themselves. They asked if we wanted a pre-flight drink once we were settled.

As it was our first time in the Qsuites, the cabin crew showed us the different features of the seat and explained the use of the privacy shutters in case there was an emergency. A really nice touch for Qsuites amateurs like us.
Aircraft Configuration
We travelled on the B777-300ER (Qsuite configuration), which had two classes; 42 Qsuites in business class and 312 economy seats. The Qsuites were in a 2-2-2 configuration.

We made sure we booked a plane with the Qsuite configuration, as not all Qatar Airways business class flights have these seats.

For more information on the B777-300ER seat map visit SeatGuru.
Amenity Kit
We got a hard case Bric amenity kit, which was standard for all passengers travelling in premium cabins. The contents featured the Castello Monte Vibiano Vecchio skin care products. The range included a lip balm, hydrating facial mist and anti-ageing moisturiser in Business Class. Socks, eye-shades and earplugs completed the amenity kit.

The women's kit had a new added feature of an adjustable strap that allows the kit to be transformed into a cross-body bag. The men's kit can be reused as a wash-bag.

As it was an evening flight we were also offered The White Company pyjamas. It came in several sizes, however, they do run out of the small pyjamas pretty quickly.
Seat
As we were travelling as a pair, there were a couple of important considerations for us when we were choosing our seats. Instead of getting our own window seats, we decided to sit together as we wanted to chat, dine and watch a film together during the flight. After all, this was what the Qsuites were built for so best for us to try this out. However, if you are travelling alone, the Qsuites offer unprecedented privacy by the window.

We did wonder how it would feel if we were travelling solo in one of the middle seats, as the small partition between the two seats meant that we would be very close to other passengers.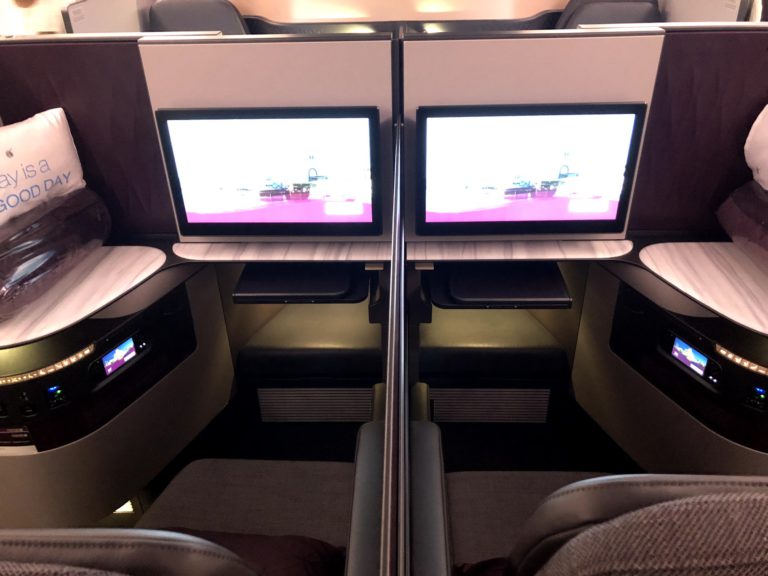 We opted for the forward facing seats in the middle, as we thought the rear facing seats were a little bit too close for our liking.
There was ample storage space in the Qsuites; with lots of little nooks for you to put your things in, so much so that we left our laptop on the flight. So do remember where you have left your items. Recalling where you left your items were made worse by the Qsuites being quite dark, due to all the compartments, you're guided by dim lighting through the cabin. Natural light from the windows was also generally blocked by the closed cabins.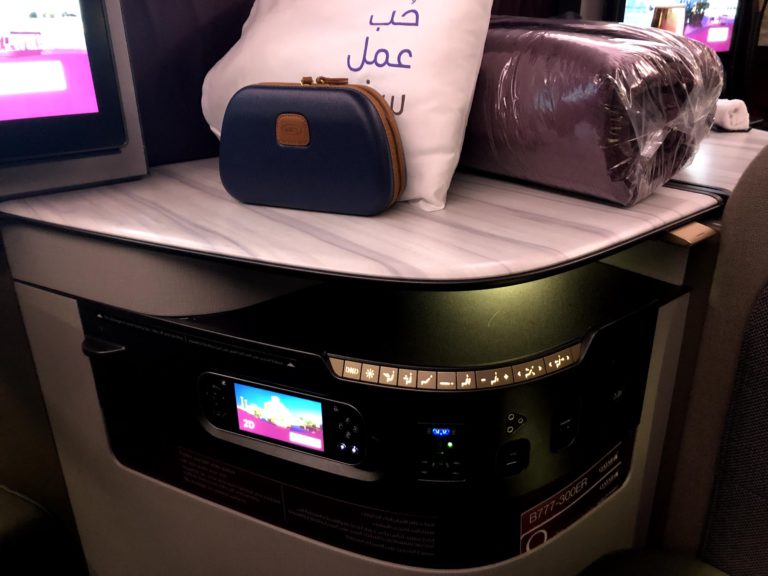 We were lucky that our flight wasn't full, so the cabin crew set up a separate Qsuite cabin for us to sleep in. Talk about flying in luxury! It was one of the best sleep we have had in the air. The bedding and seats were very comfortable and put you into a gentle slumber.

If you're a solo traveller and there is no one in the seat next to you, ask the cabin crew if you could use the seat next to you. However, it doesn't quite work as a double bed as your legs will be tucked inside the little nook with the seat in front, you can't move or roll your legs around between the two leg compartments.
Inflight Entertainment
The screen was ample and in-flight entertainment was very responsive. One of the reasons why we opted not to sit in the seats right next to each other was that the screens were too close together. It was too distracting to have two screens showing different films. There was good selection of movies, music, TV programmes, and there's so much content you're unlikely to be bored on the flight.
Drinks Service
Typical on most Qatar Airways Business Class flights, the number of different wines you get on board is the same. We got a choice of two types of champagne (Brut and Rose), three whites (Chardonnay, Sauvignon Blanc and a Discovery Austrian Gruner Veltliner), three reds (Bordeaux, Shiraz and a Discovery Chilean Carmenere), a dessert wine and port. We asked for different wine pairings with our food and thoroughly enjoyed it.
Food Service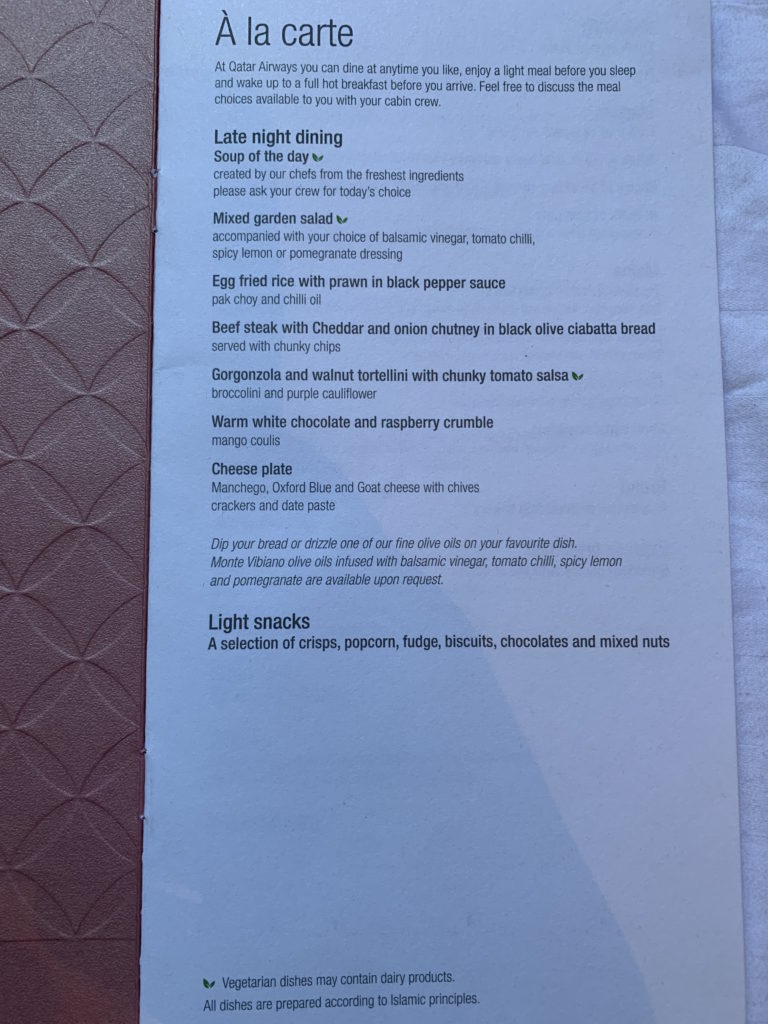 Once again, the foodservice from Qatar Airways was delicious. As we were travelling together, we asked for our meals to be served at the same time. The cabin crew were more than obliged to coordinate our meal service.

Even though we were on an evening flight, we got a full three-course meal after take off.

About two hours before landing, breakfast service began.
Arrival
There were no fast track lanes at Shanghai Pudong Airport, and arrival was well signposted. Once the sky bridge connected to the plane we were off.
BG1 Verdict
Once again, the business class product Qatar Airways offers, was superb. It was completed by the excellent service the cabin crew provided. It was our first time in the Qsuites and we loved the experience, namely around the unprecedented privacy it offered. It redefined business class for the industry with many airlines following the trend and upping their game (e.g. British Airways Club Suites, DeltaOne). We do wonder how they airlines are going to differentiate between First and Business class products. However, as much as we loved the Qsuites, we thought it may be quite claustrophobic, especially as a solo traveller in the middle seats. It was also quite dark, relying on dim lighting to light up the cabin.
We strongly believe that the service can make a flight. The business class product offered by Qatar Airways is fantastic… it's no wonder it's been named Skytrax's best business class product by customers in 2019, and we hope they continue to invest and finesse their offering.
BG1 Tip
So our tip here would be not to feel disparaged if you're not travelling in the Qsuites. The herringbone seats in the A350, A380 and B787s are equally as good in our opinion. We love how spacious and open these cabins feel.