As a Christmas treat, and because we saw rare availability on the BA website, we redeemed a chunk of Avios and an American Express 2-for-1 companion voucher for a British Airways 747 First Class trip from London Heathrow to San Francisco. We were very excited, as this would allow us to try both the First Wing and Concorde Room at Heathrow for the first time. Not only that, we'd reserved seats 2A and 2K, right in the nose of a jumbo jet. The journey managed to challenge our expectations of flying First, as it may also yours.
Flight Details
Flight No: BA0285
From/To: London (LHR) to San Francisco (SFO)
Departure time: 10:40
Aircraft: Boeing 747-400
Ticket Class: First
Seat: 2A
Flight time: 10 hours 50 mins
Oneworld Tier Points: 210
In this review:
Check-in & Fast Track
Check-in at the BA First Wing, Heathrow Terminal 5

(Not so) Fast track security at the BA First Wing
Arriving early in the morning for our flight, we found the Terminal 5 check-in areas to be expectedly busy, although coping well with the morning rush. Approaching the entrance to the first class check-in area, a member of British Airways staff greeted us and guided us straight to an available check-in desk.
After noticing the long lines at the First Wing security, we asked our check-in agent whether it was normally as busy as this. She told us that the run up to Christmas brings more families through the First Wing and sometimes causes hold-ups in security. She suggested we used the fast track at south security instead. This was a great suggestion, as we were through in no time. The BA Concorde Room can then be reached via a small door on the right, straight after security. We felt like VIPs being whisked in the side door of a music venue!
Score: 75%
Lounge
Having been waived straight through any lounge check-in or boarding pass checks, we entered the Concorde Room's lounge area.
Heading straight to the dining area for some much needed breakfast, we found most tables were either occupied, or waiting to be cleared of plates. A host found us a small table in a corner that gave us both a view across the restaurant to survey the action. It was busy and service looked as though it might be suffering a little. While there were a fair few service staff rushing around, we were quickly greeted by a server and soon had a couple of glasses of Laurent Perrier Grand Siécle in front of us.
Concorde Room dining at London Heathrow

LPGS in the Concorde Room at London Heathrow

Pancakes served in the Concorde Room at London Heathrow
Ordering from the á la carte menu, one of us had the full English, while the other went for pancakes and poached eggs. The dishes came to the table quickly and, while not the best looking, they tasted fine.
Given everything we'd heard about the Concorde Room, we left a little surprised. The table service and high-quality experience were somewhat let down by the place clearly being right in the weeds when we walked in. Too many passengers must've hit it at once and, unlike a conventional restaurant that would turned guests away or put them on a wait, they felt the pressure to sit us. Holding a first class ticket, we know we'd have felt more aggrieved if we'd been turned away. We concluded the dining experience was still better than the self-service and á la carte options available in BA's other Heathrow lounges.
After the Concorde Room, we moved through into the main BA Galleries First lounge for a quick drink. We then headed to the gate to board.
Score: 75%
Boarding
The aircraft was parked at Terminal 5B, which is a satellite terminal reach by train or underground walkway. We took the walkway, as we like to give our legs a good stretch before a long-haul flight. Take the train if you're not much of a walker.
BA 747-400 at the gate at Heathrow Terminal 5

Seat 2A in First on BA 747-400
After spending a lot of far too much time enjoying the lounges, we arrived at the gate when boarding was almost complete. We only waited in a short line on the air bridge to board the aircraft and we warmly greeted at the main door. A member of the crew took our tickets and walked us through a small business class (Club World) cabin through to the First cabin at the front. As BA Exec Club members, we were also welcomed back. Once at our seats, we were left to settle into our seat, while a member of the crew working in the First cabin came to say hello and offer a glass of champagne. After all the Laurent Perrier Grand Siécle in the terminal, we thought we'd try the rosé.
Score: 85%
Aircraft Configuration
G-BYGF
Aircraft type: Boeing 747-400 (Super-high J)
Number of classes: 4
Number of seats in flying class: 14
Position: left hand side of the aircraft, 1 row from the front
The aircraft also carried:
86 Business Class (Club World) seats
30 Premium Economy seats – the smallest cabin
145 Economy seats at the rear of the aircraft
Amenity Kit & Washrooms
Washrooms
Two washrooms were dedicated to the 14 first class passengers, that was a 1:7 ratio. We think that could only be beaten by newer BA First cabins, which are smaller, or some of the first class Middle Eastern carriers. As you can imagine, there was never a queue for the loo. Inside, we found White Company hand soap and moisturiser, accompanied by a fresh little white rose. With the exception of a couple of stray paper towels, the washrooms were kept in good order throughout the flight.
Amenity Kit
BA First Liberty Amenity Kit

BA First Liberty Amenity Kit
The amenity kit on this British Airways 747 First Class was a very attractive design by Liberty London, exclusively for BA. There were two variations; male in a black pattern and a female one in a striking blue and white design.
Inside was a whole host of niceties to keep feeling comfortable and fresh throughout the flight. The cosmetics products were the Refinery men's brand from Aromatherapy Associates London and included lip balm, deodorant stick, moisturiser and shaving gel. The kit also contained flight socks, an eye mask, a razor, a toothbrush and toothpaste, a folding hairbrush, and a BA First pen.
Overall, we thought it a very stylish amenity kit and found its contents were very practical.
Score: 90%
Seat
The first class seat on the 747 is the type first rolled-out across the BA fleet in 2000. Regarded as the best business class seat in the sky, the iconic BA throne has been somewhat left behind while other first class products have evolved into enclosed suites and rooms. At the same time, business class seats have rapidly caught up and overtaken – you only have to look at Qatar QSuites and BA's own Club Suite. With all that said, it's still a very comfortable way to spend a long-haul flight; no matter if you have the seat reclined to a lazy armchair position, as a lie-flat bed, or bolt upright for landing.
Access & Storage
First class seat storage on BA 747

Window ledge on BA 747 first class
Storage isn't too bad around the seat in the BA 747 first class cabin. With the exception of 1A and K, all window seats have overhead luggage bins. Passengers in the 4 middle seats, and those on row 1, needed to find space in the bins above the window seats. Despite being a full flight, there appeared to be ample space for everyone's carry-ons.
Most seats have access to a narrow cupboard with a hanger, which is suitable for most mid-length coats and jackets. Longer length coats can be handed to the crew for hanging in the larger wardrobe at the front of the cabin.
Window seats had a large window ledge, with middle seats having a narrower one.
Sleeping
First class seat on BA 747

First class seat on BA 747

First class seat on BA 747
In the sleeping position, the seat converted into a completely flat bed. The crew prepared this for us by putting a padded cover/topper on the seat and a luxurious cotton duvet over the top.
Because the nose is a very quiet place to be sat on the 747, we both had a lovely and peaceful rest. We experienced no engine noise or vibration. The cabin temperature did seem to fluctuate a fair bit, getting very stuffy at one point, then cooling to be quite chilly for an hour before landing. We've remarked that newer aircraft have far better climate control and air quality. Our trip on this old 747 reinforced that.
Score: 65%
What is the best seat on British Airways 747 First Class?
Unless you're keen to sit as close as possible to a travelling companion, avoid the middle 4 seats. They're not as private, have less space, and experience plenty of traffic along the aisle.
If you can book it, 1A and K are very private and have the both a window and the space along the ledge. 2A and K are equally good, although they're a little further apart. After that, we'd go for 3A and K.
See the seating plan on SeatGuru.
In-flight Entertainment
Seat 2A BA First 747

Refurbished IFE screen in First on BA 747
Equipment
Each seat had a screen that folded out sideways from the seat in front. We were lucky to discover the screen had been refurbished on this aircraft. The grainy old square 15" TV display had been updated with a widescreen model that had a far better resolution. It was controlled with a touchscreen interface, although a controller could also be used to navigate it. We found the handheld controller stowed in a small cupboard above the seat controls. One small gripe is the screen has to be folded away for takeoff and landing, so the entertainment wasn't gate-to-gate. We know BA have resolved this in the seat design on their 787 aircraft.
The noise cancelling headphones completely covered the ear with a soft leather muffler and had a comfortable padded headband. The noise cancellation was good, but the hum from the socket made quiet listening a little uncomfortable.
Content
There were a wide range of on-demand movies and TV shows for adults and kids alike. Fans of music and radio were also well-catered for with a broad range of content, from classical to comedy. Given most of us are used to watching movies at home on widescreen HD TVs, it was an odd experience watching recent blockbusters on such poor equipment. The blurry picture had us both wondering whether we'd picked up astigmatisms since leaving Heathrow.
The gap between newer and older first class IFE products appears to be growing. The inconsistency across the fleet means some people will end up disappointed.
Score: 65%
Drinks Service
There was a good wine list on this British Airways 747 First Class flight to San Francisco. Laurent Perrier Grand Siécle champagne (~€140/bottle) was served as we boarded, and continued to be offered around the cabin until the meal service began. There was also a rose champagne on offer.
After the fizz, the wine list broke down into 3 white, 3 red, a dessert wine and a port.
The whites features a vintage French chardonnay, a light Californian Chenin/Viognier blend, and a zesty New Zealand Sauvignon Blanc.
Our first class reds were a big Bordeaux blend, a medium-bodied blend from Mendoza, Argentina, and a lighter Pinot Noir from the colder climes of Oregon.
The alcohol menu also included premium spirits and aperitifs.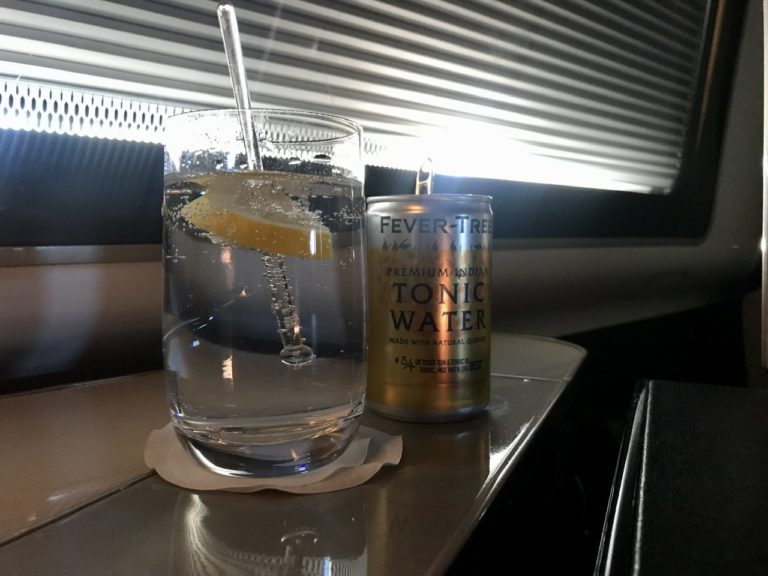 Away from the booze, the menu offered a wide selection of non-alcoholic beverages that included mocktails and smoothies. Hot coffee and a range of teas (including camomile) finished off beverage selection on this flight.
Score: 85%
Food Service
There were two meal services on the British Airways 747 First Class trip to San Francisco. While we were told we could pretty much dine any time, there were two services on offer so we opted to have a main meal straightaway and the second meal just before landing.
Main Meal
Being just a couple of days before Christmas, we were pleasantly surprised to be handed a second menu card offering a traditional Christmas dinner with all the trimmings. Thinking this would be one of those rare life events, we decided it would be remiss not to try festive fayre at 35,000 ft on a British Airways 747 First Class flight. Turkey, stuffing, all the vegetables and a thick gravy came to the tray table looking like classic British comfort food. Roast dinners are always difficult to get to the table piping hot and this one was no exception. What it lacked in temperature was made up in flavour. The Sokol Blosser Pinot Noir made a very good pairing with the turkey.
Continuing the traditional British theme, we felt it only right to order the apple and blackberry crumble. We paired it with the Royal Tokaji dessert wine, which softened the acidity of the fruit with a syrupy honey palate.
Already full-to-bursting, we were desperate to experience the cheese course. A massive, and we mean MASSIVE, cheese plate came to the tray table with the continued compliments of the crew. Perhaps they were testing whether we could be broken? The plate contained two slices each of Camembert, hard blue cheese, Gouda, cheddar and chutney. Three varieties of crackers and some salted butter was served on the side. The Chateau Lagrange Bordeaux washed all down all four varieties perfectly. Despite us both working on the same plate, we couldn't finish it!
Second meal service
After some quiet time in the cabin, the crew returned to deliver a second meal service. One of us skipped on food and opted for a little more kip. The other decided there was still plenty of room for some more first class food. The five scallops served on the scallop salad were tender and had their delicate flavour, even at altitude. Ciabatta bread was served on the side and the Pine Ridge Chenin Blanc/Viognier made a great pair. A good show for a second meal service.
Score: 70%
Arrival
After a few minutes in a holding pattern, we began an incredibly picturesque approach into San Francisco International Airport (SFO), which took us over the Golden Gate Bridge and along the full length of the city. We touched down slightly ahead of our scheduled arrival time. Departing Heathrow, we'd boarded at the second door and walked through business class to our seats. At San Francisco, an air bridge was connected to the first aircraft door behind the first cabin, meaning we didn't have to wait for the business passengers to disembark before us. Bidding the crew farewell at the door, we arrived into the International Terminal and headed for US immigration.
Score: 75%
BGI Verdict
Overall, we really enjoyed our British Airways 747 First Class Avios redemption flight to San Francisco. What the seat and entertainment technology lacked was made up by the attentive service, excellent wine selection, and some plane food that surprised us. We'd happily spend our points and 2-for-1 vouchers on another BA First flight. Given the quality of other business and first class products, we'd think long and hard before paying cash for a BA First ticket.
Total: 76%
BG1 Tip
If your flight is departing from the remote gates at Heathrow Terminal 5B or 5C, consider using the quieter Terminal 5B Lounge as you'll have a much shorter journey to the aircraft.
Don't forget to sign-up to our weekly newsletter to get our latest updates delivered straight to your inbox.