This was the first of my two sector business class trip from London Heathrow to Sydney Kingsford Smith Airport, via Tan Son Nhut Airport, Ho Chi Minh City with Vietnam Airlines. I was pretty excited not only to be heading down-under, but also getting to see a little bit of Vietnam on the way. You see, I had a 15-hour layover and Vietnam Airlines have a nice arrangement for business class passengers transiting in Vietnam…
Vietnam Airlines is the state-owned flag carrier airline of Vietnam, operating to 64 destinations from Hanoi and Ho Chi Minh City. In recent years the airline has undergone a major overhaul, which saw the arrival of 14 new Airbus A350 and 13 Boeing 787 long-haul aircraft and the introduction of new international routes. Following the revamp of its products, the airline received a Skytrax 4-star rating in 2015. They became a full member of the Skyteam alliance in 2010. Vietnam Airlines operate direct flights to Hanoi and Ho Chi Minh from Frankfurt, London, and Paris.
Flight Details
Flight No: VN50
From/To: London Heathrow (LHR) to Tan Son Nhut Airport, Ho Chi Minh City (SGN)
Final destination: Sydney
Departure time: 11:00
Aircraft: Boeing 787-900
Ticket Class: Business
Seat: 3K
Flight time: 11 hours 30 minutes
Skyteam/Flying Blue Tier Points: 36
Check-in & Fast Track
Check-in at Terminal 4 was relatively straightforward with a couple of dedicated desks manned by handling agent staff alongside self-service check-in kiosks. With business class tickets permitting a generous 40kg of checked baggage, there's always the risk of getting stuck behind a family checking in everything including the kitchen sink and (honestly) a freezer. Luckily, no sign of that and I had my boarding pass and directions to fast track security in just a couple of minutes.
Terminal 4 Fast track security was typically efficient for Heathrow. While there was a queue, it moved fairly quickly and I was standing in front of the terminal's high-end shops within ten minutes of leaving the check-in desk.
Lounge
Vietnam Airlines uses the Skyteam lounge at Heathrow Terminal 4, which is shared with all of the other Skyteam carriers operating out of Terminal 4. Annoyingly, it's also possible to pay for entry to this lounge, which means its value to premium and frequent flyers is significantly diminished during busy periods.
It was a well-appointed lounge, with a good selection of beverages and self-service hot and cold buffet food.
Cleanliness was a problem in places. I struggled to find a clean cup in the pile stacked by the coffee machine, and the glasses hanging decoratively above the bar top we're all filthy. I pointed this out to a member of staff who quickly took them all away to be washed.
There were plenty of places to plug-in and there were also some fairly private alcoves in which sleeping seats had been installed. Showers were available, although I didn't use them so can't comment on capacity/quality.
Boarding
To say boarding was a little chaotic would be putting it mildly. While there was a sign for priority boarding, the area around the gate was a melee of pushing passengers and shouting. When I got to the front, the flustered/agitated man who didn't greet me told me my ticket needed to be changed. He took my 3K ticket and promptly handed me back one with 4E printed on it. My automatic response was "erm, what's this?" He then embarked on a diabolical explanation about the cabin being overbooked, the seat not working, the middle seat being better. You name it, it was thrown down as the reason I'd been moved. Anyway, we eventually concluded it would be better for everyone if I just sat in 3K and we got the aircraft away before they missed the takeoff slot. I still don't really understand what happened and I didn't notice anything defective with the seat during the whole 11.5 hours I sat in it.
Aircraft Configuration
Aircraft type: Boeing 787-900
Number of classes: 3
Number of seats in flying class: 28
Position: 3 rows from the front of the aircraft
Amenity Kit
The amenity kit was presented in a Charriol zip-up pouch. Inside were an eye mask, ear plugs, a folding hairbrush, toothbrush and paste, lip balm and moisturiser. Additionally, there was a fun pack of stickers you could apply to your sleeping body to request wake-ups for food, and duty-free!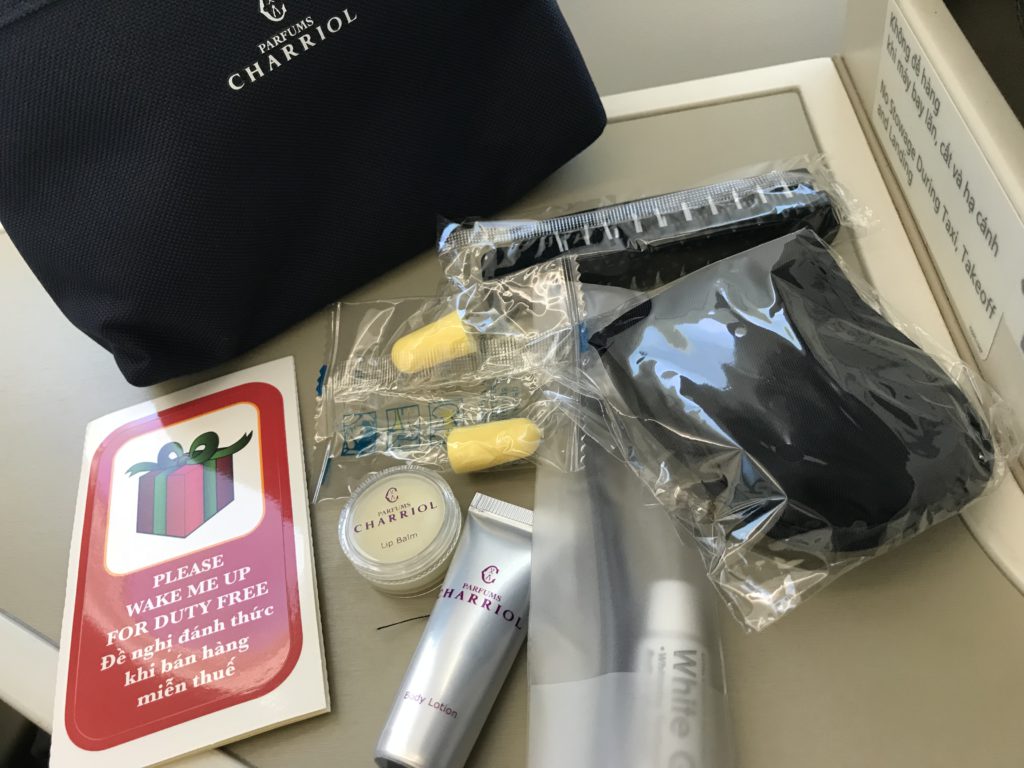 Seat
The seat in Vietnam Airlines 787 business class is the Zodiac Cirrus III lie-flat, auto-sliding seats in a 1-2-1 reverse herringbone configuration. All seats have direct aisle access. I was travelling alone, so chose a window seat midway along the cabin.
First impressions were how snug the seat was. There only about a foot (30cm) of space at the floor between the base of seat and that of the seat in front, which requires careful navigation. The low arm rest increases the accessibility of this seat type from the aisle. Once in, the space does feel a great deal "cosier" than other pod-like seats. I'm 5'10" and found the seating and bed configurations comfortable but snug. If you were any taller or built larger, you might not find it as comfortable. Storage looked a little bit sorry around the seat with little in the way of compartments. There is, however, a small space under the armrest and a decent-sized side shelf on the other side. There's a small cubby underneath the foot rest for shoe storage. Overhead bin storage easily provides room for 3 carry-on bags per seat.
For those needing to plug-in, the seat provided a USB and mains power socket.
Dust! I have to mention the cleanliness of the aircraft at this point. In places, it was immaculate – the toilets especially. There were, however, a couple of areas where poor housekeeping were evident. Firstly, the cabin was plagued by airborne dust throughout the entire flight. I used a lint roller to remove a layer of white dust that had settled on my black jeans, only for it to have formed again within 30 minutes. You could pick up a finger-full of dust if you ran it along to tops of the seats. I came to the conclusion the aircraft just needed a really good vacuum. Hopefully Vietnam Airlines have since recognised this, if only from their cabin air filters becoming blocked too frequently. Additionally, the windows on the aircraft needed a good wipe as the blue tint really showed the oily finger prints.
The 787 is a great aircraft for long-haul journeys. The cabin is much quieter than its 777 and 747 siblings, and better cabin pressurisation leaves you arriving feeling just that little bit fresher. That said, we love the A350 slightly more than this aircraft.
What is the best seat on Vietnam Airlines 787 business class? Once again, row 3 didn't disappoint; not too close to be affect by the noise from the galley at the front and not too close to toilets. If you want a window seat, take 3A or 3K. If you're traveling together like we were, you might prefer 3E and 3F. Avoid window seats on row 5 as the windows are obstructed. See the seating plan on SeatGuru.
In-flight Entertainment
The onboard In-flight Entertainment (IFE) system was presented on a large, fold-out touchscreen. The software was responsive and transitioned efficiently between menu options. The movie selection was good, although the content editing was noticeable on almost everything I watched. It became laughable in places. Don't expect to watch a 15- or 18- rated film without excessive dubbing of "flipping" and "crap". That aside, the entertainment was most enjoyable!
Drinks Service
While wine and champagne were on offer, there was no wine list. On asking the crew what the wines were, I was told white, red, or champagne. Accepting this aspect of the onboard service would lag behind other business class products, I ordered a nice pre-takeoff glass of Pommery champagne, which was chilled and rather delicious. After takeoff this was followed by at least one more, possible even more than that. I forget! Before food service commenced, a member of the crew came to show me the bottles of red and white wines, one was a Bordeaux, the other a Chardonnay – regretfully, I didn't get a picture! I opted for the Bordeaux and found it easily drinkable on its own as well as with the food. Water and soft drinks were provided regularly throughout the flight.
Food Service
There were two meals served on the 11.5 hour flight: lunch and then breakfast.
Lunch
The crew took the food order shortly after take-off. Being a huge fan of Vietnamese food and heading to Vietnam for the first time, I was disappointed not to see traditional Vietnamese dishes on the menu. While the Asian influences were present, phô, bun noodles, and curry were noticeably absent. That is where my grumbling about the food will stop; the meal service was a lot better than I'd anticipated. I chose the smoked salmon and fennel salad to start, which was particularly tasty with the fresh lemon squeezed over it. This was served on a tray along with a salad and asparagus and courgette soup. Off to a great start! For main, I thought I'd try the herb crusted lamb loin, which I hoped would pair OK with the Bordeaux. While appearing processed and perhaps cooked a little overdone (medium-well rather than medium), the lamb was still tender and tasted good with the vegetables and gravy. It also paired well with my Bordeaux, phew! This would've been a mediocre show were it not for the roast potatoes. First of all, ROAST POTATOES ON A PLANE! Secondly, they were crispy and lightly glazed with oil. They were so good, I asked the crew if they had any more, which they didn't. Ah well! After that triumph, I finished with the most unimpressive, high-austerity cheese plate I'd ever seen: a slice of Red Leicester, a slice of Brie, 2 crackers, and a celery stick. It was more than enough for me, but it did look sorry for itself on that big plate!
Breakfast
After an obligatory nap, the crew kindly woke me 2 hours before landing for some breakfast. On the tray was a generous spread of sultana bran flakes, fresh fruit, natural yogurt, and omelette with two sausages, mushrooms & tomato. I'd happily stick my neck out and say this is still one of the heartiest and best breakfasts I've been served on a business class flight. Suffice to say I arrived in Vietnam well-fuelled for the day's activities.
Arrival
With no first class passengers to wait for, we were first down the steps to the apron, where business class passengers boarded a fancy bus to the terminal.
Transit Tour
One of the highlights of this itinerary is the ability to take advantage of the long layover in Ho Chi Minh to go out and sample Vietnam, for free! Email reservation.uk@vietnamairlines.com well ahead of your departure and request a transit tour, stating the flights you'll arrive and depart Vietnam on.
Upon arriving at immigration, I was greeted by a lady to explained she'd be my guide for the day and I should wait in a seating area while she arranged my transit visa with the immigration officials. I waited while she did this for a couple more passengers, then we were all on the move out of the terminal and into a minibus.
It's worth pointing out that you don't collect baggage when transiting in Vietnam. Make sure you have everything you need in your hand-luggage as your hold bags are checked through to your final destination.
After a short minibus ride into the centre of Ho Chi Minh City, we arrived at a hotel that would become the transit tour passengers' base for the next 12 hours. The hotel surpassed expectations, both in terms of class and extras.
After 3 of hours rest and refreshments, those wanting to to take the city tour met the guide in the hotel lobby. We turned out to be I as the 3 other passengers had either declined the the tour or no-showed. My guide insisted it go ahead as planned, so we jumped into the minibus and off we went around some of the sights of Ho Chi Minh City. The guide's English was great and she was as keen to tell me about everything we were passing as much as I was to listen. I came away feeling I learnt a lot about.
After the tour, there was just enough time to freshen-up in the hotel after the city's gruelling heat & humidity, before checking out and heading back to the airport for the check-in to Sydney. Departing the gate for Sydney, I reflected on a very memorable way to spend what otherwise would've been an entirely forgettable layover.
BGI Verdict
Vietnam Airlines went to great lengths to ensure their business class passengers enjoyed their experience of their aircraft and Vietnamese hospitality.o
While some aspects around the gate and the general cleanliness of the aircraft were definite detractors, the overall experience was good and represented good value for money. We'd gladly consider Vietnam Airlines for future travel to SE Asia and Australia.
BG1 Tip
Vietnam Airlines's website is terrible, with pages failing to perform their primary function. Email or call Vietnam Airlines for additional services such as seat reservations, meal requests, or layover arrangements. Insist on written confirmation.