As aviation enthusiasts with a strong sense of adventure, we were really excited to find that we could go on a panoramic tour of Vancouver city from a seaplane! Harbour Air, which has the largest seaplane fleet in North America, offers aerial tours of the city. We thought we would only experience flying on a seaplanes from one of the Atols of the Maldives, so when we found out that Harbour Air were offering a panorama tour with views of Vancouver on a seaplane, we knew it was too good of an opportunity to miss because we've never taken-off from water before.
We flew on the Harbour Air Panorama Tour before the coronavirus lockdown.
Harbour Air Seaplanes operates seasonal flights to the areas surrounding Vancouver. It also flies all the way to Seattle in the US (something for us to try in the future!). As you'd expect, this is a rather different type of flight review, but we'll still write this as one. Not only was this the first time we've flown with Harbour Air, it was also the first time we've ever flown on a seaplane. Taking-off from the sea with the added bonus of spectacular aerial views of the city and the iconic North Shore Mountains as our in-flight entertainment, can only be a good thing!
There were multiple options available to us for booking the panorama tour, from a 20, 30 and 45 minute tour, at varying cost. Naturally, we went for the longest tour available to make the most out of the experience, and we were not disappointed. If you ever find yourself in Vancouver, we would highly recommend getting on a seaplane to see the city and surrounding areas from the skies.
Flight Details of our Harbour Air Panorama Tour
Harbour Air Seaplanes has the largest fleet of seaplanes in North America. They have a fleet ranging from a capacity of 19 to 6 passengers. We've read several reviews online and supposedly the best experience would be from their smaller 6 passenger plane – the DHC-2 de Havilland Beaver – affectionately known as the Beaver.
When we booked our tickets, Harbour Air didn't confirm which aircraft we would board for our panorama tour. We suspected this was down to how many other tourists would fly at the same time as us. Luckily for us, there were only three other passengers, so we were assigned the Beaver for our tour!
Flight No: Extended Harbour Air Panorama City Tour
From/To: Vancouver to Vancouver (via the North Shore Mountains)
Departure time: 13:00
Aircraft: DHC-2 de Havilland Beaver
Seat: at the back of the plane
Ticket type: scenicTOUR
Flight time: 45 minutes with a 35-minute flight time (although what we got was longer than that)
In this review:
Check-in
As well as serving tourists on Vancouver city panoramic tours, the Harbour Air terminal was also a functioning airport that served passengers travelling to other locations in the vicinity. Like what you'd expect with any flight check-ins, the attendant checked our National ID (we used our UK driving licence), the weight of our day bag and provided us with our boarding passes. You're allowed 25 pounds/ ~11 kg of hand luggage with our flight.
If you have more luggage, you can leave it with the airline for your tour. Check-in was quick and efficient, and after a short tour of the gift shop in the check-in area, we were in the lounge waiting area. At this point, our excitement was mounting and the luckily the weather looked amazing meaning we'll hopefully get great uninterrupted views. Not to mention a steady, and turbulence free flight.
Lounge
The lounge was spacious with ample seating. Free WiFi was available allowing you to post enthusiastically on your social media channels before your flight! The lounge also offered views of the runway. Complimentary coffee was offered to all Harbour Air passenger. If you're feeling peckish there was a selection of sandwiches and pastries on offer.
Boarding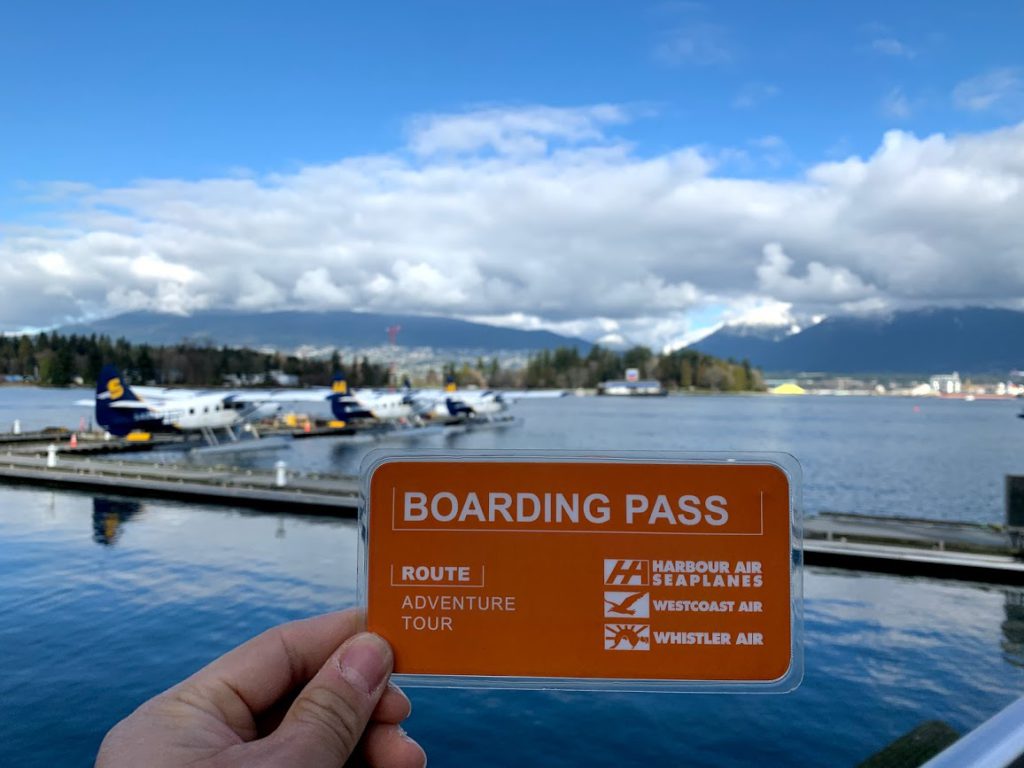 We were told to listen out for an announcement when our flight was ready to board. Boarding was called less 10 minutes before our scheduled flight and we were escorted through Gate 2 to our plane. Our orange boarding passes were checked and our pilot escorted us to the plane. It was obvious that we couldn't contain our excitement, as we snapped continuously as we walked towards our aircraft. As we were with five other passengers speedy boarding was not required!
It was a short walk from the gates to our plane, and as we approached we could see our small little Beaver at the end of the jetty. Although there was a sense of excitement, there was also a sense of apprehension about how tiny the Beaver was.
Aircraft Configuration

Aircraft type: DHC-2 Havilland Beaver
Number of classes: 1
Number of seats in flying class: 6 passengers (it would be very tight though)

…
Amenity Kit
Due to how loud the engines were, we were given disposable earplugs and sick-bag as part of the "amenity kit". We didn't pay for the portable audio tour so we had to use the earplugs to minimise the sounds of the engine.
Seat
Unlike the larger seaplanes as part of Harbour Air's fleet, where you could select your seat before you fly, it was unnecessary on this occasion. When we got to the plane, the pilot simply asked "Who would like to sit at the front?". As we were travelling as a pair, we offered to sit at the back which didn't obstruct our view as it allowed the both of us to have a window seat 🙂 The Beaver is tiny, so some might find it claustrophobic but the rewards of seeing the city from the air, makes it worthwhile.
In-flight Entertainment
The In-flight Entertainment was some of the best we've had. The breathtaking panoramic views of the city and mountains were incredible, and we were really lucky to be accompanied by lovely weather.
We took off from Vancouver Harbour, flying across the busy downtown skyline and over iconic landmarks like Stanley Park, the English Bay, and the Lion Gate Bridge. We then flew north towards the North Shore Mountains before circling back over the islands of Howe Sound before safely landing on the runway.
A steady and smooth flight
The flight was steady and smooth. Due to the size of the aircraft we thought it would be a lot shakier, but we were also blessed with really good weather.
The views were breathtaking but we'll let the videos and pictures do the talking! Enjoy!
One of the best, and perhaps, most exhilarating part of our flight was flying between the saddle of two mountain peaks. We knew we were in good hands with the pilot but it still made our heart beat a little quicker. You can decide from the video if you think we were too close to the mountains.
Arrival and landing
We usually associate water landings with emergency landings, so we thought landing on the water could be bumpy. We were wrong. Landing was very smooth and felt like we were landing on cotton wool. When we arrived, we spent more time taking photos with the pilot and walked back towards the terminal. After the highs of being onboard a seaplane and taking our eyes on a workout, walking back to the hotel felt rather boring.
BGI Verdict
If you ever find yourself in Vancouver, we would highly recommend adding a flight with Harbour Air Seaplanes. It was a memorable and amazing experience for us, to see the city from the skies and fly on a seaplane for the first time. Taking off and landing on water was part of the experience.
BG1 Tip
In the future, we would consider looking at booking a scheduled flight from Vancouver Harbour to one of the other airports. If we had more time, we would've loved to fly from Vancouver Harbour to Victoria Harbour – and spend the day exploring Victoria Island. You won't necessarily get the views of the city or of the North Shore Mountains but we'll still get breathtaking views of the surrounding areas. Happy flying!
Don't forget to sign-up to our weekly newsletter to get our latest updates delivered straight to your inbox.