US low-cost carrier JetBlue Airways has revealed new lie-flat business class seats. Despite being delayed because of COVID-19, JetBlue say we can soon book the seats on flights between New York and London later in 2021.
Mint Premium Cabin
JetBlue calls its business class "Mint Premium" and describes its bespoke business class seat as a suite. There will be 24 seats at the front of their long range Airbus A321 aircraft in a 1-1 all-aisle configuration.
The cabin layout is herringbone, which sees seats facing towards the aisle. This is similar to the configuration in Virgin Atlantic's Upper Class. One downside to this layout is the restricted view from the window. Reverse herringbone is a better seating layout for window gazers!
The seat has been designed by UK manufacturer Thompson Aero Seating and features a sliding cabin door.
The 2 seats on the front row are named studios and come with extra seating space, perhaps for a neighbour to visit. The extra space means you get an extra folding table. Studio seats are priced differently to the other 22 suite seats.
JetBlue Mint Premium is already bookable on flights between New York and LAX departing from June. Seats aren't yet available to book on the London route, but should be by the middle of the year. Flights will arrive into London Gatwick or Heathrow. We originally thought JetBlue had been unsuccessful in acquiring slots at London Heathrow. Then a report from Heathrow "leaked" that JetBlue had been offered enough slots to operate daily round-trips from JFK. It will operate its new transatlantic service into Heathrow Terminal 2. It's not yet clear if JetBlue will hang on to its slots at Gatwick for further route expansions.
The risky business of business-only long-haul
With the launch of a new long-haul, small aircraft business class product, we thought we'd reminisce on previous business class product launches.
British Airways 001
Until Coronavirus destroyed business travel, British Airways was operating a daily all-business service from London City Airport to New York JFK.
Referred to as the "banker shuttle" – or more affectionately the "baby bus" – the all-business (Club World) Airbus A318 carried just 32 passengers in a 2-2 single aisle configuration.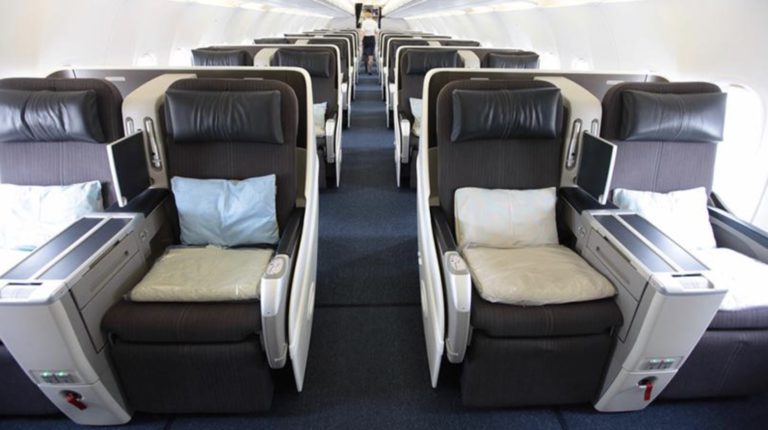 BA001 stopped at Shannon Airport in Ireland on the outbound flight to JFK. Passengers would disembark and clear US immigration while the aircraft was refuelled. The advanced immigration screening meant the flight could arrive into a domestic gate a JFK and passengers cleared the terminal faster. We're not sure what happened to passengers who we denied entry to the US… Perhaps a long wait a Shannon for a flight back to London?!
Qatar Airways QR16
Between May 2014 and November 2015, Qatar Airways operated a 40-seat, Airbus A319 between London Heathrow and Doha. It was the first all-business class service from London Heathrow to the Persian Gulf area.
We were fortunate to fly this product to Doha in June 2014. Here are a few rare pictures of that trip.
Like BA, cabin configuration on the all-business A319 was 2-2. Window seat passengers had to climb over their sleeping neighbour's legs to reach the aisle.
La Compagnie
The only all-business service currently flying across the Atlantic is operated by French carrier La Compagnie. Their two Airbus A321neo carry 76 business class passengers from Paris Orly to Newark Liberty Interational. The staggered, reverse herringbone B/E Aerospace Diamond seats are lie-flat and arranged in a 2-2 configuration. La Compagnie has been grounded since March 2020, due to the Coronavirus travel restrictions. At the time of writing it intended to resume flying on 31 August 2021.
JetBlue's New Business Class could be a winner
While continuing the trend of using short-haul Airbus aircraft, JetBlue's new cabin product offers an all aisle 1-1 configuration. This sets it apart from La Compagnie's transatlantic 2-2 business product. By flying mixed class aircraft, they're following a proven formula that makes London to New York one of the most profitable routes on the planet. It's a fiercely competitive route, though, and seat alone won't cut it. We look forward to seeing the quality of the soft product, particularly the food.