If you're looking for ideal places to visit in June, we've put together a mini-guide series to share our favourite destinations for each and every month of the year. In this guide, we share our best June destinations. Having been there ourselves, we'll share why it's a good time to go, how to get there, who to fly with, and where to stay. We'll also share our target prices, which we aim to get as close to as we can. Read on for our tips on where to visit in June:
Places We Recommend Visiting In June
Copenhagen, Denmark
The capital of Denmark is a picturesque city, straddling several islands and countless waterways. The skyline filled with eye-pleasing green copper roofs and gold-topped green spires. It has to rank as one of the prettier world capitals. It's also steeped in culture; once home to Hans Christian Andersen, his Little Mermaid still sits in the harbour and attracts lots of visitors.
Sat on the gateway to the Baltic, Copenhagen is exposed to wrath of both the North and Baltic seas through the winter. By summer, it basks in same long days enjoyed by its Scandinavian neighbours.
Follow the locals for a brisk swim in the crystal clear ocean waters. You'll find ladders for swimmers in the most unusual places!
Copenhagen is a foodie's dream destination and boasts famous Michelin-stared restaurants. Even if fine dining isn't your thing, be sure to try the local delicacies, the most famous being the Smørrebrød – a rye bread open sandwich with cold cuts. You'll find them all over the city.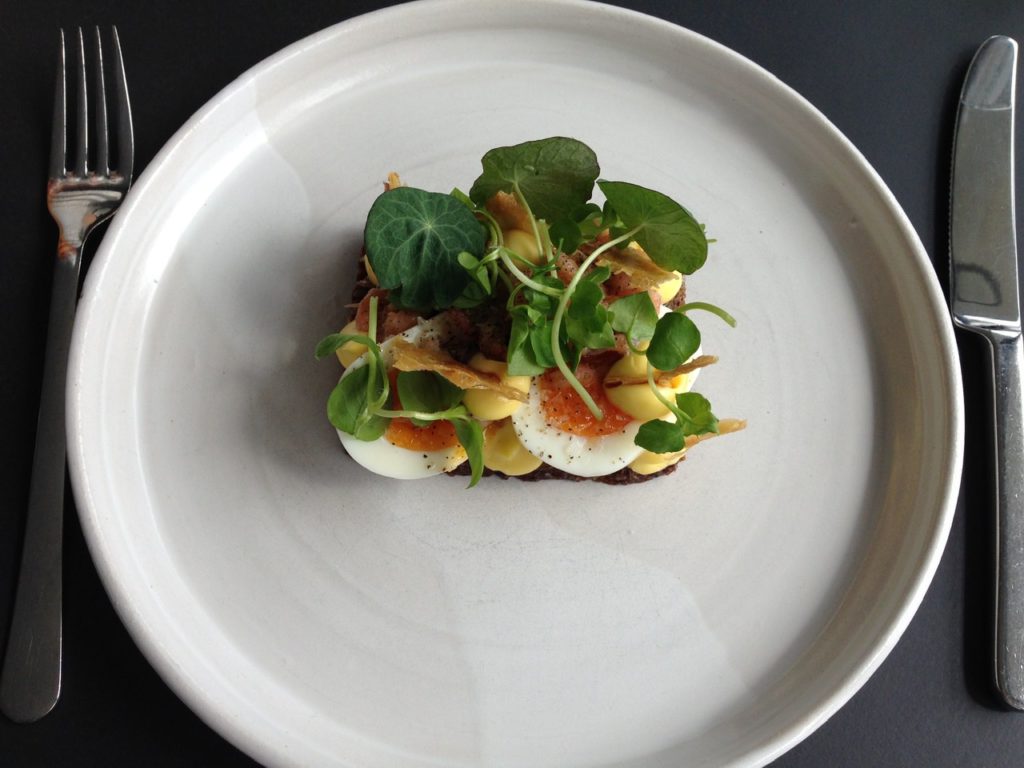 Visit Tivoli Gardens, one of the world's oldest amusements parks, which is set right in the middle of the city. We're not fans of theme parks, but really liked how pretty Tivoli was.
Why Visit In June?
Copenhagen is an ideal June destination because the days are at their longest and temperatures are the warmest. Also being one of the drier months, Copenhagen's outdoor cafe culture comes alive. June is the perfect time to be wandering around the parks and waterways. Being so flat, seeing the city on a rental bike is an delight on a sunny June afternoon.
How To Get There
The international airport is well-connected to most European cities and world capitals.
For an intra-European business class seat, expect a price range of £150-£350 return. Our target price is £200 return.
In Economy we'd be looking for something under £100 return. Like all targets, we may not hit them, but we'll try to get as close as we can.
Business class seats to Copenhagen from North America can sometimes be picked up under $1,000 return for a non-stop flight. Our price target is anything under $1,100.
Keep an eye on our Deals & Offers section for fares that hit our targets.
Where To Stay
Upscale hotels and quirky Airbnb apartments are the way to stay in Copenhagen. Prices are generally on the high end, reflecting the higher cost of living in Denmark.
Most of the big chains have a presence, although we'd recommend the iconic Nimb Hotel or the 71 Nyhavn Hotel if you're looking for something special.
BG1 Tip
Get a table at Noma, the 2 Michelin star restaurant by René Redzepi. Remember to book well in advance, though!
The Jurassic Coast, UK
Next on our list of places to visit in June is a destination we know quite well. Running for 96 miles along the south coast of England is a piece of beautiful coastline that holds prehistoric fossils in its cliffs. Although the breathtaking geology will leave amateurs and experts aghast, the magnificent beaches, beautiful coves and picturesque Dorset and Devon countryside is what attracts most.
At the eastern end of the Jurassic Coast is the Dorset seaside town of Swanage. It's one of the largest towns in a part of the county known as Purbeck; a quintessentially English vista of rolling green hills that give way to majestic chalk cliffs. A little further along are the famous beaches of Lulworth Cove and Durdle Door. The water features a natural stone archway in the sea and makes for great sunrise and sunset photos.
Heading past the large seaside town of Weymouth, the Jurassic Coast enters Devon, famed for its golden beaches and seaside towns. Things get a little quieter but no less beautiful. For a quiet place on the beach away from the masses, head for the area between West Bay and Sidmouth.
It's not all about the seaside, though. Hidden in the rolling countryside behind the beaches are a growing number of English vineyards. The climate in this part of the world is becoming ideal for grape cultivation, with English fizz gaining world notoriety. We visited Langham Wine Estate and were very impressed by their take on champagne.
Why Visit In June?
The seaside towns along England's Jurassic Coast make a great June destination because summer is in full swing, but peak season is still a few weeks away. The kids are still in school, which means quieter beaches and slightly cheaper accommodation prices. The days are long and often warm. While you're never far from a shower in the UK, the drier days are more plentiful! Of all the places to visit in June, Dorset and Devon rank very high. This is the best time to visit.
How To Get There
The start of the Jurassic Coast is in Swanage, which is about 2 hours' drive from London's Heathrow Airport. Add another hour to Devon.
From Europe, we wouldn't waste our money on a business class seat. The short 1-2 hour economy flight can be picked up as low as £60 return.
Business class seats to London from North America can be picked up as low as $1,000 return for a non-stop flight. Our price target is anything under $1,200.
Our price target for Premium Economy is $700 and our price target for Economy is $400.
Keep an eye on our Deals & Offers section for fares that hit our targets.
Where To Stay
Big chain hotels are rare and not really the best choice in Dorset and Devon. We'd recommend renting a holiday cottage in one of the many quaint villages. There are also many holiday parks along the coastline that provide wooden lodges – some even feature jacuzzis.
BG1 Tip
Visit a few of the local vineyards. Their product are generally very good and you get to explore the English countryside in all its summer glory.
The Turquoise Coast, Turkey
The jagged coastline of Turkey's Turquoise Coast provides the shelter and beautiful backdrop to some of the finest beaches Turkey has to offer. The coves of golden sand and white cliffs are complemented by the piercing turquoise of the Aegean Sea. So clear are the waters here, you can often see right to the bottom.
The area is also steeped in Greco-Roman history. You'll find the tourist sites of Knidos and Side are as impressive as those in Istanbul, but with far fewer tourists.
A lesser known attraction in this area is scuba diving. The crystal clear waters hold a host of natural and man-made treasurers that make for a great day out. Dive down and see ancient ruins, shipwrecks, and even turtles!
Finally, we have to mention the value for money you get in Turkey. Prices are considerably cheaper than elsewhere in The Med, but the quality remains typically high.
Why Visit In June?
The Tuquoise Coast in Turkey is another one our top places to visit in June because temperatures are high, the Aegean Sea is warm, but the masses of tourists from Western Europe haven't yet arrived. Everything is open, but you won't be jostling for space. If you want affordable luxury without sharing it with the world and their kids, head to Turkey in June.
How To Get There
Dalaman is the nearest airport, although it is also possible to access the resorts of the Turquoise Coast from Bodrum airport.
Seasonal flights to Dalaman and Bodrum are fairly cheap and take about 4 hours from northern Europe. An economy fare should cost you no more than £100 return. Add another £200 if you want to fly European business class (same seat, upgraded meal service and lounge access).
From North America, you'll need to transit in Istanbul. Business class fares can be picked up in Turkish Airlines seat sales for $1,500 return.
Our price target for Premium Economy is $800 and our target in Economy is $550.
Arrange a private transfer or pick-up a local taxi outside the airport for the drive to the Turquoise Coast resort towns.
Keep an eye on our Deals & Offers section for fares that hit our targets.
Where To Stay
We stayed on the beach in Mamaris, where we found an abundance of high-quality hotels at very good prices. The adults only Cettia Beach was a smallish boutique hotel with a great all-inclusive meal option. The hotel also boasted a lovely sundeck from which we could dive into the sea. It also featured an in-house hamam spa offering a range of treatments at very reasonable prices.
Money generally goes a lot further in this part of the world. You'll find accommodation for £50/night and be able to stay in relative luxury for £100.
BG1 Tip
Hire a kayak or a motor boat and go exploring the secluded coves and inaccessible beaches.
We'd Like To Hear From You!
Got a tip for places to visit in June that we haven't included? Put a comment below and we'll gladly go investigate! Why not also have a look at our recommendations for place to visit in April and where to go in May.