To set the context, this flight was the cheapest, most comfortable way I could get to my brother's stag party in the mother of all party destinations… Miami! Work meant I could only make a couple of days of the festivities (which I'm now very grateful about), so there was zero chance I was doing this trip in economy. Direct fares from London were at their usual extortionate prices. However, I found a direct ex-EU route with Finnair on an A350 in business class from Stockholm for less than the premium economy price on any other route. I bagged it with cash and booked positioning flights with BA using some Avios. In this review, find out if the extra time I spent was worth the money I saved.
Flight Details
Flight No: AY17
From/To: Stockholm Arlanda (ARN) to Miami (MIA)
Departure time: 14:35 15:28
Aircraft: A350-900
Ticket Class: Business
Seat: 2A
Flight time: 9 hours 1 min
Oneworld Tier Points: 140
In this review:
Check-in & Fast Track
At the advice of border guards, I attempted an airside transit from my earlier BA flight from London. Unfortunately, this left me trapped at a remote gate with no access to the main departure area amenities, including the lounges. I opted to clear immigration and try to come back through security as a "new" passenger.
Although I'd checked in online and uploaded my COVID documentation, the man at security told me that the QR code for my mobile boarding pass didn't contain this information. There's no mention in the Finnair app about this, you're simply issued a useless mobile boarding pass. Having being denied entry, I went to the check-in desks to correct the problem. There were 3 check-in desks for the Miami flight at Arlanda, one was reserved for priority passengers. I went to the one that was free and the lady quickly got me a printed boarding card that included the missing details in the barcode. If I learnt anything through this experience, it's just how much personal data QR codes can contain (and possibly not to rely on the Finnair app in future).
With the amended boarding pass, I was able to quickly pass through quiet security lanes and into the departure area.
Score: 45%
Lounge
All three lounges at Arlanda Terminal 5 are clustered around gate 1, at one end of the terminal. Finnair gives you access to the Menzies-operated "Norsken Lounge". After some hassle finding it, the greeting at reception was highly efficient but friendly.
The lounge was fairly basic. There were a few food items, various soft beverages on taps, beer on tap and, bizarrely, wine on tap! I tried it and it was as dreadful as you'd expect.
Tea and coffee were available, but coffee was only served black. No joke, there was no milk and I saw people being reprimanded for asking.
Score: 45%
Boarding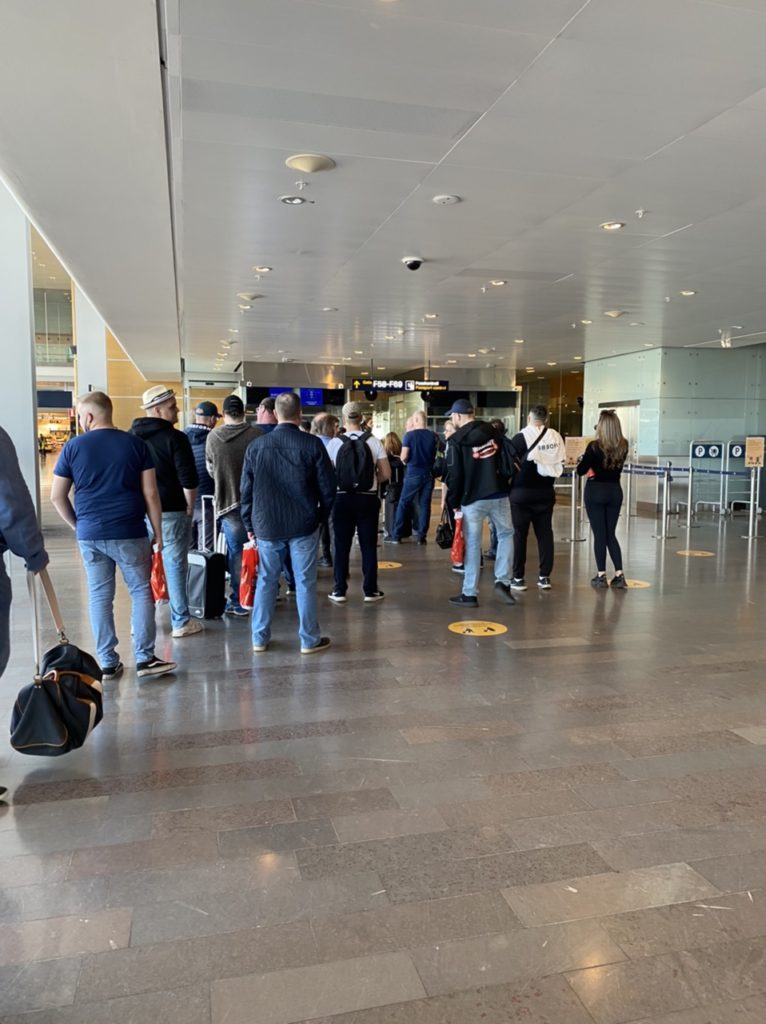 After the long walk to the gate from the lounge, via the queue at passport control, the formalities at the boarding gate were handled very efficiently. I was welcomed at the door to the aircraft and directed to my seat on the left hand aisle.
Score: 65%
Cabin Configuration & Amenities
OH-LWA
Aircraft type: Airbus A350-900
Number of classes: 3
Number of seats in flying class: 46
Position: left hand side of the aircraft, 2 rows from the front
In addition to 46 business class seats, the aircraft type also carries: 43 Economy Comfort seats over the next 5 rows and 208 Economy seats at the rear of the aircraft
Washrooms
The business cabin has well-appointed washrooms, with mirror lighting that was both functional and stylish. They were kept very clean and stocked with paper throughout the flight.
I noticed a minor maintenance defect had been repaired with some tape, although I expect this was temporary until the aircraft next went in for a service.
Amenity Kit
A traveller's amenity kit was provided in an attractive Marimekko zip-up pouch. It contained a very stylish matching eye mask and some supposedly "eco-friendly" toiletry items by L:A Bruket. Slippers and a blanket were left on the footrest.
Score: 80%
Seat
Reading about the business class seat is probably why you're here, so let's go into the specifics.
The seats are laid out in a 1-2-1 reverse herringbone configuration.
The seats themselves looked very much like the Zodiac Cirrus III lie-flat, auto-sliding seats. These same seats are found on Delta, Cathay Pacific, Vietnam Airlines and KLM 787s.
The width of the seat is quite narrow.
The distance between the arm rests is a little too wide and at an odd angle when compared to the orientation of the seat. I think this is because the outer armrest is aligned to the aisle rather than the angle of the seat.
Access & Storage
While there were no storage bins over the middle seats, there was still plenty of room in the bins over the window seats on either side. There was a small space for storage under the armrest and a cubby for shoes underneath the footrest.
Access to the seats were pretty good because of the 1-2-1 all aisle access configuration of the seats. That being said, the aisles aren't especially wide and the gap into the seat isn't much over 50cm. The armrest lowers, so those with mobility issues should be able to sit from the aisle and twist across.
Sleeping
The seat reclined into a fully-flat bed. It was a little cramped – lying flat, the foot cubby hole was big enough for an average-sized person. I'm 5'10" and found the seating and bed configurations comfortable but snug. If you were any taller or built larger, you probably won't find it that comfortable.
Boeing 787s have dynamic glass instead of window blinds. The windows were dimmed or entirely "closed" using the buttons beneath it.
Cleanliness
The seat and the area around it were generally clean. There was a fair amount of dust blowing around the cabin and was trapped between the external and internal window panes.
Power & Wi-Fi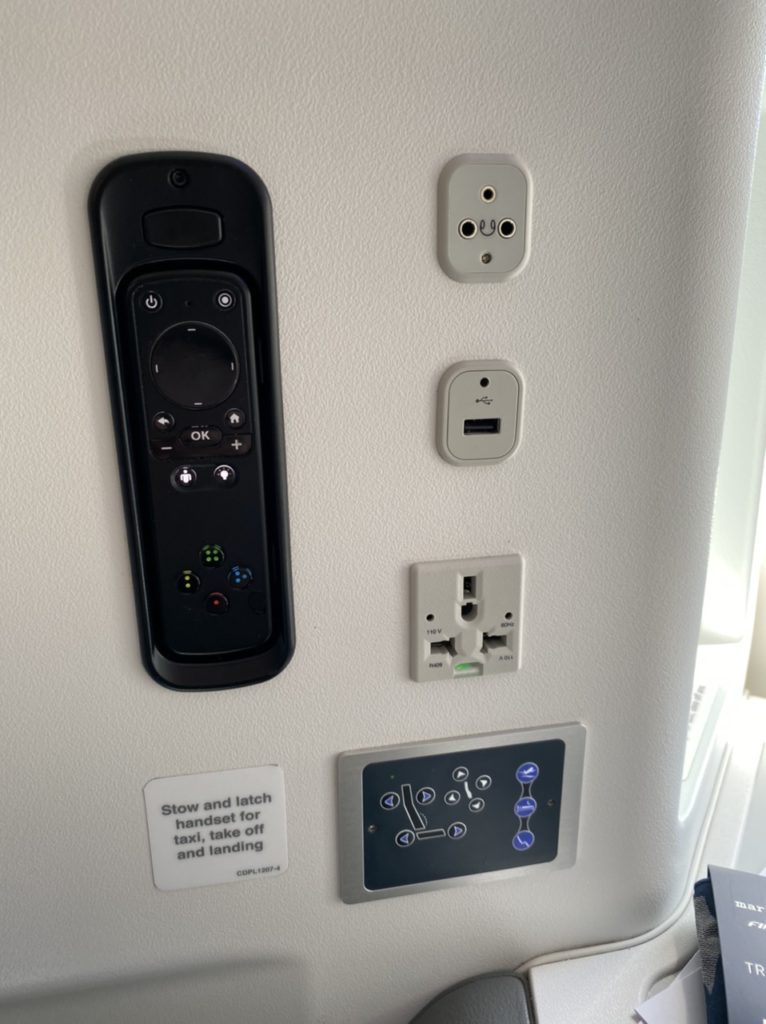 There were mains and USB-A power available at the seat. These were turned-off during take-off and landing, but were otherwise functional throughout the whole flight.
One perk of Finnair business is the 1-hour of free Wi-Fi offered to business passengers. I saved this until I was approaching the USA, so I could connect with others I was meeting in Miami. While the performance was slow, the consistency of the connection was good. Fine for messaging, light browsing and perhaps social media without video.
Score: 70%
What is the best seat on Finnair A350 business class?
Mid cabin – Seats 2-5 A or L are best
Avoid all seats on row 1

1A and 1K only have one window
Snacks are left on top of seats on row 1
Toilets and busy galley are directly in front of row 1

Also avoid the mini business cabin (rows 9-12) as you'll be on the wing and feel more engine vibration. The proximity to both toilets and a gallery will result in many distractions.
See the seating plan on SeatGuru.
In-flight Entertainment
Equipment
Each seat had a large interactive touch-screen that provided film, TV and audio. PhiTek noise cancelling headphones were supplied, which were pretty good at drowning out the ambient aircraft and cabin noise. There were no crying babies in the cabin (hooray), so couldn't gauge how they'd perform in that setting.
Content
I found it a passable range of content, but not anything to get overly excited about. Better choice on other transatlantic carriers.
The interactive flight map was really good and included a couple of live cameras to view the outside of the aircraft. Very cool to watch the landing from the tail cam.
Score: 70%
Drinks Service
A member of the crew introduced themselves and offered champagne or blueberry juice as a welcome drink shortly after taking my seat.
Champagne was liberally served throughout the flight in the signature Marimekko glasses.
In addition to champagne, wine selections consisted of two red, two white, a sweet dessert wine and a port. I tried them all, with zero eye-rolling from the crew – they seemed happy delivering the booze! The wine selection was comparable to what you'd find in BA Club World and better than Virgin Upper Class.
The crew poured tea and coffee from a pot and served in Marimekko cups.
Score: 65%
Food Service
Finnair didn't appear to offer dining at anytime. Meal times were largely fixed and choices fairly limited.
The main meal was fairly basic: starter and main served on a tray. The salmon and prawn was nice and served reassuringly piping hot.
On ordering the trout main, I was told there was an error on the printed menu and that salmon had been loaded instead. I decided against it and went for the chicken instead.
The chicken was a decidedly average attempt at an Asian chicken and rice dish. The mushroom and aubergine was a good accompaniment, but we make this dish nicer at home. It's comfort food and I really wouldn't expect to see this as a business class main course.
Dessert was a slice of apple tart served with whipped cream. I paired it with the dessert wine. Again, simple, but tasty enough.
The second meal service was better than I'd expected. It was a fairly unattractive-looking pasta dish – luckily it tasted better than it looked! It was served on a tray with bread and a small plate of fruit.
I finished up thinking that the wine paring I attempted was too much for this kind of food. This was comfort food at best and certainly not airline fine dining. Luckily, I knew what to expect and wasn't overly disappointed. Together with the wine, I felt I got good value for money for my low-priced fare.
Score: 50%
Journey and Arrival
Despite being an hour late departing Stockholm, we landed in Miami 15 minutes ahead of schedule. After a short wait on the taxiway, the air bridge docked with the aircraft and I was off pretty quickly.
In the hope of still being able to get to South Beach on time, I hurried through the terminal and reached a deserted passport control area with 3 open desks.
With no baggage to collect, I bypassed the carousel and inevitable wait.
I was in a taxi within 15 minutes of the aircraft door opening and arrived in South Beach just 25 minutes after – feeling very relieved that I'd left the larger suitcase at home!
Score: 80%
BG1 Verdict
The seat is good, albeit snug, and the drink service is attentive.
The drink selection is good and sufficient to satisfy most palates on a long haul flight. Glassware, amenity kits and textiles are a standout feature of this product. I enjoyed the uniqueness of it.
Food is more like premium economy than business class. Perfectly edible, but don't waste your time trying to pair the wines!
The A350 is a wonderful aircraft. It's usually a smooth and quiet journey. I always seem to arrive feeling fresher than on other long-haul aircraft.
If I can get a discounted ticket then I would always consider flying Finnair A350 business class. Value for money diminishes once fares are comparable to other airlines on the same route.
Total: 59%
BG1 Tip
The lounge Finnair uses at Stockholm Arlanda is awful. Get an Amex Platinum card and use the Centurion partner lounge instead.
Don't forget to sign-up to our newsletter to get our latest updates delivered straight to your inbox.