Every once in a while it's nice to treat your mum to a well-deserved break in the sun. With a lengthy winter dragging along in the UK, and some exceptionally good fares on British Airways (BA), it felt like the right time to book a week in Barbados. We flew the outbound leg in British Airways 777 Premium Economy – BA calls it World Traveller Plus – and here's what we thought.
Flight Details
Flight No: BA2153
From/To: London (LGW) to Bridgetown, Barbados (BGI)
Departure time: 13:35
Aircraft: Boeing 777-200
Ticket Class: Premium Economy
Seat: 22A, 22B
Flight time: 8 hours 20 minutes
Oneworld Tier Points: 90
Check-in & Fast Track
We arrived at London Gatwick about 3 hours before the flight and found the check-in areas to be extremely quiet – exactly as we'd expect, mid-morning on Wednesday!
While BA Exec Bronze+ members are able to use Club World check-in desks, it really made no difference, as there was nobody queuing at any desk. We just went to the nearest open counter and handed over our bags.
Both main and Gatwick Premium security lanes were looking quiet. We breezed through the Premium lane thanks to BA Silver being printed on at least one of our boarding passes! If you hold BA status, you're allowed to bring a guest through with you.
Lounge
As BA doesn't provide lounge access for passengers travelling in Premium Economy, we decided to (once again) take advantage of BA Silver to get us both into British Airways' Gatwick Club Lounge. It's a nice place to wait for a flight, while enjoying a full bar and snacks. It's also a million miles from the mayhem of the South Terminal, especially at busy periods. If you don't have BA Silver, don't fret; there are also paid lounges at Gatwick South Terminal that we've visited and inspected for you.
As we'd already eaten, Mum and I enjoyed a bucks fizz – mainly fizz – and sat back in our armchairs to enjoy a commanding view over the runway.
Boarding
We didn't bother leaving the lounge until the information screens said the flight was boarding. Boarding was well underway by the time we'd walked to the gates. We squeezed down the air bridge with Boarding Group 3 (along with some rogue 4s and 5s).
We were welcomed by smiley cabin crew at the door of the 777. They signalled for us to turn right and wander down the left-hand aisle of the aircraft.
Arriving at our seat, we were delighted to find we were seated in a newly refreshed 777 Premium Economy cabin. Result! It smelt and looked very fresh indeed. The cabin was the smallest on the plane – only 5 rows.
Upon taking our seats, we were offered a glass of sparkling wine, orange juice, or water and handed the meal menu. We were also told the cabin would only be half full on today's flight, so there may be opportunity to spread out after take-off. We were happy in our two seats by the window, though it was nice to hear the crew wouldn't be rushed off their feet.
Aircraft Configuration
G-VIIV
Aircraft type: Boeing 777-200
Number of classes: 4
Number of seats in flying class: 40
Position: left hand side of the aircraft on the second row of Premium Economy
In addition to 40 Premium Economy seats, the aircraft also carried:
Amenity Kit & Washrooms
British Airways Premium Economy and Economy passengers use the same onboard washrooms. On our flight, there were two located directly behind the Premium Economy cabin. This is one of many reasons not to sit on the back row of Premium Economy – read on for the other reasons to avoid that row. There were 3 more washrooms at the very back of the aircraft, making 5 in total between the 162 Economy and Premium Economy passengers. While it doesn't sound a lot, we weren't on a full flight, so didn't experience any lengthy waits for the loo. Cleanliness was maintained throughout the flight.
While we got the refurbed cabin, the new amenity kits were still being rolled-out, so we got the old Premium Economy amenity kit. It contained flight socks, eye mask, ear plugs, toothbrush and paste, and a pen.
You can read about the new World Traveller Plus Amenity Kit in our British Airways A350 London to Dubai review.
Seat
We'll cut to the chase, as like us you're probably only reading about British Airways 777 Premium Economy for one reason: is the seat enough of a step up from Economy to warrant the price? The short answer is yes, although we'd never pay more than our target prices for a premium seat.
BA Premium Economy seats on 777

Legroom in BA Premium Economy on 777

BA Premium Economy seats on 777
Our aircraft was newly refurbished, so the seats were the newer type of Premium Economy seats. BA has been rolling these out across of all their long-haul fleet. Very few, if any, long-haul aircraft operating from Gatwick now carry the older seat.
Compared to Economy class, the seat in front was 7 inches (approx 18 cm) further away in Premium Economy. The seat was also an inch (2.5 cm) wider.
The seat reclined by 8 inches (20 cm), compared to 5 inches (12 cm) in Economy. It sounds measly, but it did make a big difference to our comfort. Although it was a day flight, we found the seat recline was sufficient to allow us to snooze without our heads rolling forward and waking us up. The recline and leg rest on the seat was controlled by manual buttons in the arm.
There were also folding side flaps on the head rest that cradled our heads left and right.
Legroom was good in 22A, although slightly obstructed in 22B by the control unit for the seat-back screen. There was, however, a fair amount of room either side, including the aisle! My leg may have found its way out there a few times.
Storage around the Premium Economy seat was very limited. In addition to the seat-back pocket containing magazines, there was another space just below the IFE screen that could be used to carefully store a few bits. We say carefully because it was open at the bottom, so smaller items fell out. We found it held the menu card or a thin book nicely. There was also a bottle holder between the two footwells.
There was ample room in the overhead luggage bins, partly due to the cabin only being 50% occupied. It would be interesting to see if everything squeezes in on a full flight.
A British Airways premium economy pillow and blanket were left on each seat – both were comfortable to use.
Cleanliness around the seat was very good, better than we've seen on a lot of BA flights of-late. We wondered whether it was simply that the interior was new, or whether the ground crew were now taking better care of the new cabins. Either way, we felt very comfortable settling into clean upholstery and carpets.
What is the best seat on British Airways 777 Premium Economy?
History has taught us that the further back you sit in the Premium Economy cabin, the worse the service gets – last to get drinks, food menu becomes "whatever's left", and you're often ignored. We were one row from the front and experience great service. We also had no issues with our meal choices. Row 21 was a front-row bulkhead seat. These can be a blessing and a curse. While nobody will recline onto you or bounce your movie screen around, we don't think you can stretch out quite as far as the row behind and your screen pops out of your armrest – that gets really fiddly when you're eating, and if you're prone to neck pain on flights you might not like looking downwards at it.
Our vote goes firmly to window seats on rows 2-4 in the Premium Economy cabin (A and K), That would be 22, 23, and 24 on a 4-class 777 like ours. The neighbouring seats B and J are still good, but legroom is slightly obstructed by those IFE boxes under the seat in front. B & J seats get direct aisle access, though.
See the seating plan on SeatGuru.
In-flight Entertainment
Other than the comfy seat, we were just as delighted about the cabin refresh because it gave us a brand-new, larger seat-back IFE screen. The large touchscreen display was clean and scratch-free. The system was loaded with movies, TV shows, and a range of audio titles. There literally was something for every taste, and kids were very well catered for. We opted for new releases – often still on at the cinema – which we watched from start to finish without any issues.
Noise-cancelling headphones were supplied in a plastic bag. The volume range was good – didn't need to max it out – and the noise cancellation was reasonable. The headphones aren't the most comfortable to wear for a few hours, so we switched to our own headphones.
There was a detachable remote control mounted in the seat armrest. Given the responsiveness of touch-screen, we didn't find much use for it. We did also knock against it every once in a while, causing accidental button presses, but nothing that detracted from the entertainment.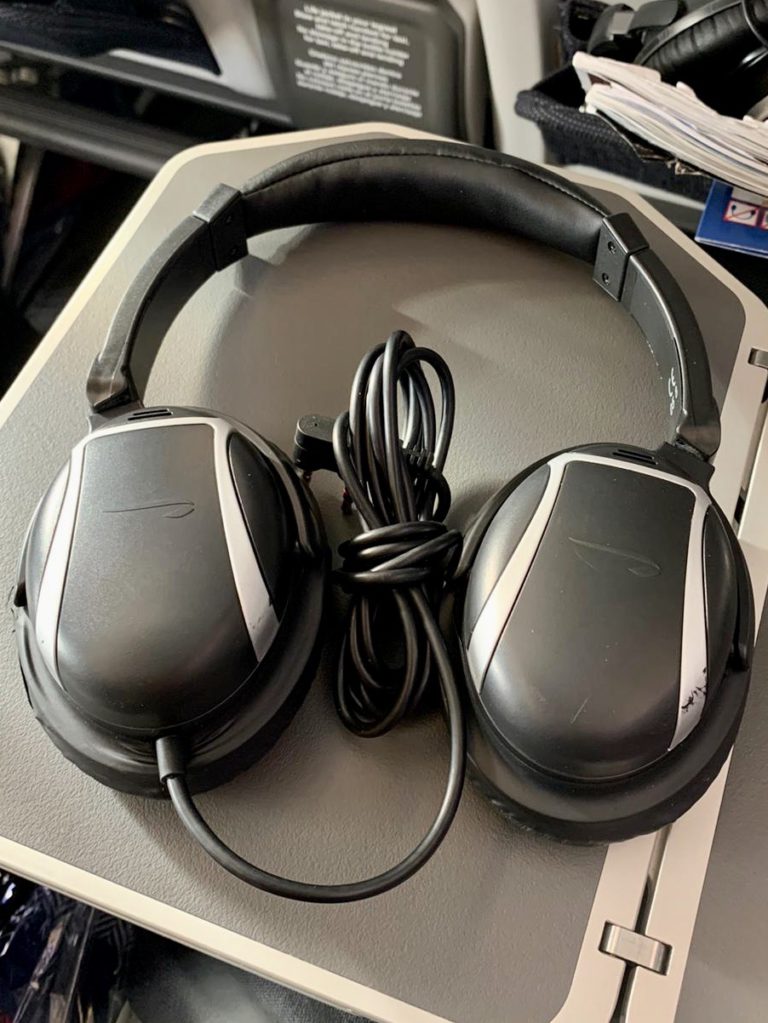 Drinks Service
The cabin service started with a hot towel, then drinks about 30 minutes after take-off, which were served with a mini bag of pretzels.
Getting drinks in Premium Economy is all about knowing how to play the game. While drinks are included, we've found you always have to ask. Nobody will volunteer to top you up. There are 2 ways around this (1) Get the crew's attention when they walk past, no matter how busy they might seem. They will always walk purposely through the cabin like they're dealing with an emergency, but this is so you don't ask them for a top-up. (2) Stick your head through the curtain, shake your glass and ask for a top-up.
Food Service
There were two meal services on the flight to Barbados. A big main meal was served as lunch about an hour after leaving London, then a light snack was served about 90 minutes before we landed.
First up was that big lunch. The starter was nice – it's hard to mess-up a tomato and mozzarella salad and they thankfully didn't.
The main course was nice, albeit the beef a little overcooked for my liking. The dauphinoise potatoes were a good accompaniment, as was the Rioja it was washed down with. Mum being a veggie had the pasta; she said it was OK, although a little uninspiring for a vegetarian meal in 2019. She paired with a Chardonnay.
Dessert was a lovely cheesecake, which went down down with a little more red.
After all that, it was near impossible to stay awake, which isn't a bad thing on an 8-hour flight over the Atlantic.
About 90 minutes from landing we had our light refreshments. This was a couple of finger sandwiches and a scone, which was served with clotted cream and jam. This sugar hit was exactly what was needed, and we both felt it went down perfectly with a cup of tea.
Arrival
Despite a 15-minute delay to our departure, we arrived at Bridgetown Airport ahead of schedule. We glided onto the runway just as the sun dropped below the horizon. Very pretty!
There were no air bridges at the terminal, so we disembarked down steps attached to the front and middle doors of the aircraft. We quickly left the tarmac to walk into the terminal along a path with well-tended lawns and shrubs. The warm air made it little more pleasant than most airport arrivals.
We quickly passed through immigration and, with stamped passports, waited 15 minutes at the carousel for the bags to be delivered.
Fitts Village, Barbados

East Coast, Barbados
BGI Verdict
It was a half-full flight, so it was a relaxed affair from gate-to-gate. The cabin wasn't packed, the temperature remained comfortable, and the crew weren't running on short fuses. We liked it.
Overall, it is enough of a step-up from Economy to warrant paying a bit more. You get a more comfortable seat with more legroom and a greater recline. Service isn't much of a step up from Economy, but the food and drinks service is better. Things are worsening right down the back, though, so expect the service gap between Economy and Premium to widen. If your flight is overnight, you'll be thankful of the Premium Economy seat. Just don't sit on the last row of any Premium Economy cabin.
BG1 Tip
If you know you're booked on the last couple of rows of Premium Economy (24 and 25 on the 4-class 777), and it's still more than 48 hours before your flight, book a special meal through the BA website or call centre to ensure you can get the food you want.
Arm rests in BA Premium Economy don't fold-up like they do in Economy. Don't be tempted to take the middle 4 seats in an empty cabin in the hope of being able to lie flat across them.