We heard that Virgin Atlantic offer the best premium economy product crossing the Atlantic. Having tried Upper Class on the outbound, we thought we'd try premium on a short overnight return flight from Boston. We've flown premium economy a few times with BA, so we were interested to see the comparison. Read on to learn about our experience flying on a Virgin Atlantic 787 in premium economy.
Flight Details
Flight No: VS12
From/To: Boston (BOS) to London (LHR)
Departure time: 20:05
Aircraft: Boeing 787-900
Ticket Class: Premium Economy
Seat: 25D
Flight time: 5 hours 35 mins
Flying Club Tier Points: 50
In this review:
Check-in & Fast Track
The Good

Nobody queuing for any of the 4 open check-in desks.
Efficient checks of COVID travel documents at a desk in front of the check-in desks.
We were offered information about the lounge we could use.

The Bad

The staff at the document check were a little hostile. We showed each of the 3 documents that was tersely demanded and then told "you're good". It was clear that they don't deal in pleasantries or show appreciation for the efforts passengers are making to show-up with everything in order.

Our boarding passes weren't stamped for lounge access. See the lounge for that debacle.
The check-in hall at Logan Airport Terminal E is very large and spacious. Virgin occupied several desks at the far end. The whole check-in experience was largely unremarkable, with the exception of the "guard dog" document checking agents who stood between us and the check-in desks. We appreciate they have to do their jobs and expect they encounter some unprepared and uncooperative passengers. That being said, the hostile, authoritarian interaction style and presumption of guilt isn't acceptable. It felt almost as unpleasant as the typically awful TSA staff we encounter in the U.S. While Virgin can't correct the superior behaviour of that government agency, they can correct the behaviour of their own staff. If they simply tone down the authoritarian communication style, this additional hurdle will be welcomed by all.
Score: 50%
Lounge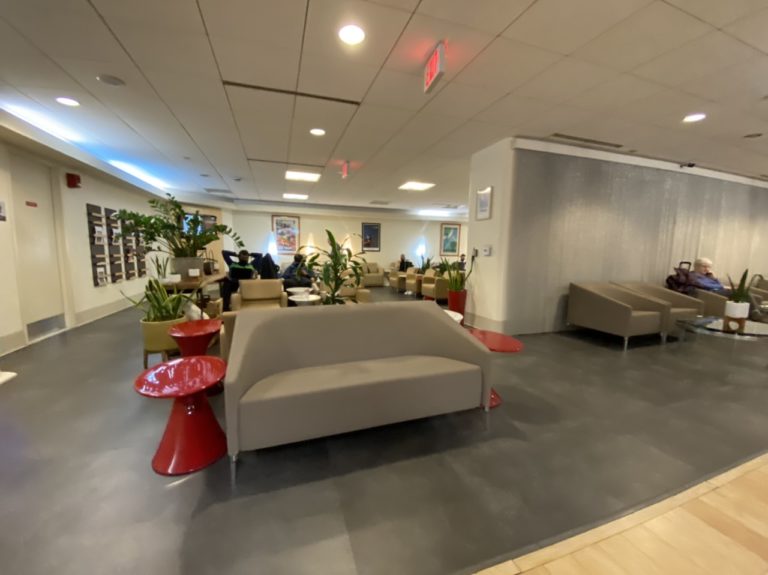 The Good

Priority Pass saved the day when Virgin check-in staff messed up.
We managed to find a seat!

The Bad

Virgin's own Clubhouse lounge was closed and we were instead directed to the Air France lounge.
The Air France lounge refused us access because Virgin hadn't stamped the boarding pass. As gold flying club members, we should've had lounge access when flying on any class of ticket. We had to use Priority Pass to gain entry.
They call it a first class lounge, although it was anything but. It was one of those depressing and uncomfortable waiting room type of lounges with token morsels of food and a bit of drink around the edges.
While lounge access isn't offered as standard on a Premium Economy ticket, gold Flying Club members can use the lounge on any ticket. Virgin's clubhouse at Boston Logan is still closed. The Air France lounge was offered as a substitute but wasn't a particularly nice lounge. Somewhere to wait, although it was very busy. Check-in staff told us that we could use the lounge, but we were refused entry with our Virgin Atlantic boarding pass. We spotted that the Air France lounge accepted Priority Pass, so whipped our cards out and gained access that way. Not everyone may have this as a back-up, so make sure you ask the check-in desk to mark your boarding card if you're using status to gain access to the lounge (especially if it's a partner lounge).
Perhaps the Air France lounge is better when it's not overrun by Virgin Atlantic passengers. Nevertheless, we didn't enjoy it.
Score: 45%
Boarding
The Good

The gate staff were boarding priority groups when we arrived and only waited in line for a couple of minutes before we were boarded.
Low passenger traffic when we boarded meant we quickly reached our seats.

The Bad

There was a lengthy queue when we arrived at the gate and not everyone understood which groups had been called.
It was great to see Virgin boarding passengers in priority groups first. While the announcements could've been better, there were staff walking the lines to check boarding cards and filter the relevant people through. We received a warm welcome on boarding the aircraft and were directed to our seats, which were no distance from the door.
Score: 75%
Cabin Configuration & Amenities
G-VZIG
Aircraft type: Boeing 787-900
Number of classes: 3
Number of seats in flying class: 35
Position: Middle of the aircraft, 5 rows from the front of the premium economy cabin
The Good

Washrooms were 2 standard economy ones for 35 passengers.
Washrooms were clean and well-stocked.
Softened mood lighting made the cabin feel like a cosy lounge.

The Bad

No fancy toiletries or extra frills in the washrooms.
Amenity kit looked a little lean and punched-up.
The coloured cabin lights made for some very pink photos.
Washrooms
Nothing really to remark on here. They were small and clean at the start of the flight. At the end of the flight they were still small but looking a bit unclean. At one point, one of us was asked to wait and let an impatient Upper Class passenger use the washroom. He emerged proclaiming how disgusting they were. The toilets weren't disgusting, but we suspect a night in the old Virgin Upper Class seats left him in a bad mood.
Amenity Kit
One of the bonuses of flying premium is you usually get a little goody bag. It's never much to write home about, but usually enough to make the flight a bit more comfortable. Ours contained toothpaste and a toothbrush, an eye mask, ear plugs and a pen. The scruffy appearance was justified by it being responsibly-sourced and better for the environment. Given the energy that goes into making some of these products, and a low chance of the waste actually being recycled, we saw this as little more than a gimmick. We'd support saving waste and just hand people the items they need – we'd have been happy with an eye mask and a pen.
Score: 60%
Seat
The Good

Plenty of legroom.
Good recline.
Middle seat was left empty.
Ample room in the overhead bins.

The Bad

No adjustable "wings" on the head rest.
The premium economy seat had extra width and a much greater recline than a standard economy seat. There was sufficient legroom to stretch out without reaching the seat in front. We found it very comfortable to lounge in and watch movies. Our seat was at the back of the premium economy cabin and there was a bulkhead divider screen directly behind. There was no problem with the seat recline.
Access & Storage
The seat had direct aisle access but the armrests couldn't be raised. There was plenty of room in the standard overhead bin and a pocket in the seat-back for storage.
Sleeping
As far as recliner seats go, we found the Virgin Atlantic 787 premium economy seat comfortable enough to sleep in. Being on the final row of the cabin meant nobody behind to kick the seat or grab onto our headrest to stand-up. There was a footrest that lowered from the seat in front. This didn't feel like it was in the right position
To help with the comfort, we were given a small pillow and blanket. There was also an eye mask in the amenity kit.
Cleanliness
The seat and the surrounding area had undergone a sufficiently detailed clean. No crumbs on seats or a used tissue in the seat-back pocket.
Power & Wi-Fi
There was a USB socket beneath the TV screen on the seat in front. It was fine for charging charging phones, watches and power banks during the flight.
There was a chargeable onboard Wi-Fi service. We found it a too patchy to browse websites, but messaging apps seemed to cope with it. This poor performance is fairly common on flights across large oceans, but we wonder whether airlines should make this a little clearer. i.e. If you're on a flight to the US East Coast, you probably won't get speeds that enable you to browse.
Score: 75%
What is the best seat on Virgin Atlantic 787 premium economy?
Don't sit on any of the front row seats – they're by the toilets and this is also where baby cots will be attached. A seat anywhere else in the cabin is much the same as another. We'd avoid all the F seats as they don't have aisle access and you'll be sandwiched between two other passengers. Window views are our preference, so we'd opt for A or K seats. If you want undisturbed rest, or dislike your seat being moved by the passenger behind, the final row (25) might be worth considering.
See the seating plan on SeatGuru.
In-flight Entertainment
The Good

Responsive 13.3″ seat-back touch-screen.
Loaded with movies and TV content for both adults and younger family members.

The Bad

The headphone jack below the screen means the cable is trailing across your dinner tray. If your own headphones have a short cable, you might not be able to watch while reclined. Luckily, there's a second jack in the arm – use that one!
Two
Score: 75%
Drinks Service
The Good

We we served a glass of sparkling wine or orange juice shortly after boarding.
Beers, wines and spirits offered throughout the flight.
The crew we able to make us a rather nice Bloody Mary.

The Bad

Wine selection limited to one red and one white. Both tasted cheap.
They serve Amarula Cream instead of Baileys. It's not the same!
From the moment we boarded, the crew were hospitable with the at-seat drinks service. We were offered drinks on many occasions and had no problem getting glasses refilled. There was definitely no feeling of rationing or requests being too much for the crew.
Score: 60%
Food Service
The Good

The meal was served an hour after take-off.
3 choices of main, all available.
There was a generous serving of succulent salmon atop diced vegetables. Quite a good dish for clean eating.
Virgin's often stolen Wilbur and Orville salt and pepper shakers made an appearance on the tray.
The Bad

While the salmon was moist, the dish as a whole was rather dry and needed a sauce.
The chicken teriyaki was very salty and lacked flavour.
Dessert was a 50 pence individual cheesecake from your local supermarket. Sickly sweet compote on top of stale biscuit.
Tricky to escape to the loo mid service as the tray table folds from the armrest, which also doesn't raise.
Main meal
Dinner service commenced immediately after reaching our cruising altitude. There were two options for main course, all served by two crew from a trolley on a single tray. Accompanying beverages were served from the same trolley. Service was very efficient and friendly.
Second Meal Service
Breakfast was served about an hour before landing at Heathrow. The options were something resembling a sausage and egg McMuffin or a cheese croissant as the veggie option. Bircher muesli, fruit and orange juice were served on the tray. It all looked a bit average and only 3 hours after we'd eaten dinner… Decided to just go back to sleep!
Score: 60%
Arrival
The Good

Arrived ahead of schedule
Fairly quiet at UK immigration.

The Bad

Long walk from the arrival gate.
Bags took an age to be delivered to the carousel.
The Virgin Atlantic Revivals lounge was still closed because of COVID.
We landed at London Heathrow just 5 hours and 35 minutes after leaving Boston. There were delays attaching the air bridge to the aircraft and delivering bags, so much of the time saved in the air was instead spent air-side at Heathrow. Our aircraft parked on one of the furthest stands at Terminal 3. It was a very long walk from the gate to immigration and baggage reclaim. Despite us taking a while to get to the baggage belt, we had to wait a further 20 minutes for the bags to arrive. They were delivered in priority order.
Score: 60%
BG1 Verdict
The Good

Great cabin service from helpful and friendly crew.
Cabin and meal products are a clear step up from economy.
Far better value for money than the dated Upper Class product.

The Bad

Ground services on both sides damaged the overall experience.
Overall, we were very impressed with our experience flying Virgin Atlantic 787 premium economy. The food was a decent step up economy from and not much worse than some of the plates we've been served in Upper Class. As average height travellers, we found the recliner seats comfortable enough to sleep in and the legroom sufficient to stretch out. Given the difference in price, we would choose this cabin over the older Upper Class product. It just represents better value for money and feels like a premium economy product. We haven't yet tried the new Premium Economy seats on the A350, but hope to soon.
The flying product was very good, but it was let down by the ground experiences. A lounge isn't typically offered with a premium economy ticket, but we included it as we were travelling as gold Flying Club members. If the lounge experience had been better, and if we'd experienced a little less friction in departures and arrivals, this would've been a 70%+ review.
Virgin is the clear winner when compared with British Airways World Traveller Plus. The crew were helpful and friendly, the food choices didn't run out mid-cabin and we were regularly offered drinks. OK, the wine is probably a bit better on BA, and they have Baileys, but the premium economy experience was nicer aboard Virgin Atlantic.
Total: 63%
BG1 Tip
Arm rests in premium economy don't fold-up like they do in economy. Don't be tempted to take the middle seats in an empty cabin in the hope of being able to lie flat across them.
Don't forget to sign-up to our weekly newsletter to get our latest updates delivered straight to your inbox.